Nancy Pelosi Says U.S. Is in a Constitutional Crisis: Here's What It Looks Like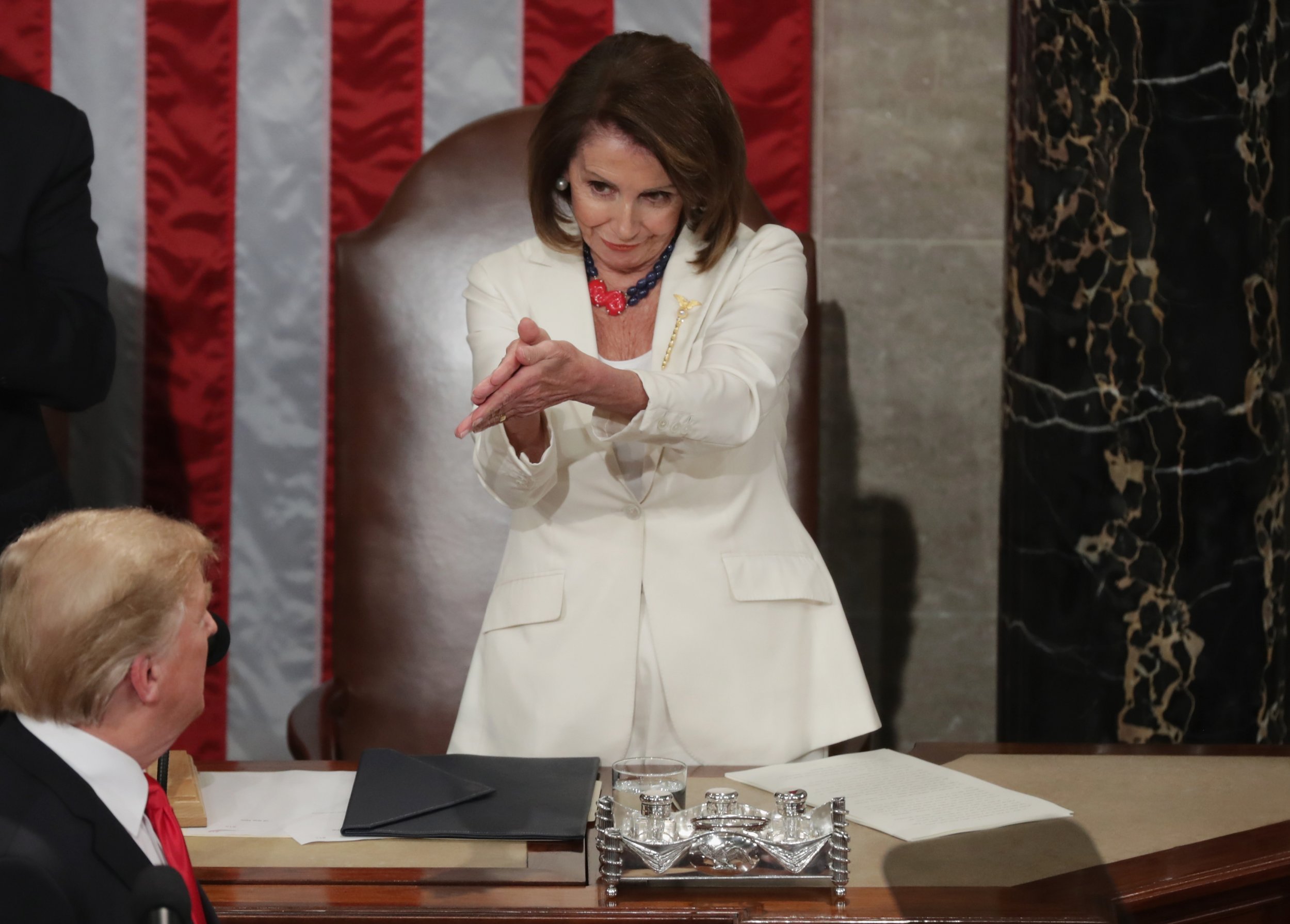 House Speaker Nancy Pelosi said Thursday that the United States was in the midst of a constitutional crisis over the Trump administration's refusal to submit to a subpoena for the full, unredacted report by Special Counsel Robert Mueller about Russian meddling in the 2016 presidential election.
"The administration has decided that they are not going to honor their oath of office," said Pelosi. "Every day, they are advertising their obstruction of justice by ignoring subpoenas and by declaring that people shouldn't come and speak to Congress."
Pelosi's comments followed similar remarks from Wednesday by House Judiciary Committee Chairman Jerry Nadler.
"The phrase 'constitutional crisis' has been overused, but certainly," Nadler told CNN when asked. "Certainly, it's a constitutional crisis, although I don't like to use that phrase because it's been used for far less dangerous situations."
The U.S. found itself in this situation, claimed Nadler, "because the president is disobeying the law, is refusing all information to Congress."
Nadler then indirectly compared the Trump administration to the reign of England's King George III, whose actions sparked the American Revolution.
"I mean, for him to come out and say he's going to oppose all subpoenas, that's a direct challenge to having a Congress that can function. It's a direct assertion that he wants to be a monarch," said Nadler. "We rebelled against (King) George III for that, we're not going to take it now."
The Trump administration played off these comments as partisan grandstanding.
But over the course of the last 48 hours, major events in Congress that have seen the threat of bringing articles of impeachment against President Donald Trump grow from being mere political blustering by opponents with nothing to lose to a real and imminent possibility.
Here's what this "constitutional crisis" looks like.
Donald Trump Jr.!
While few have been surprised by subpoenas and investigations by the Democratic-led House of Representatives, few expected the Republican-led Senate Intelligence Committee on Wednesday to subpoena the president's eldest son, Donald Trump Jr., to return and testify.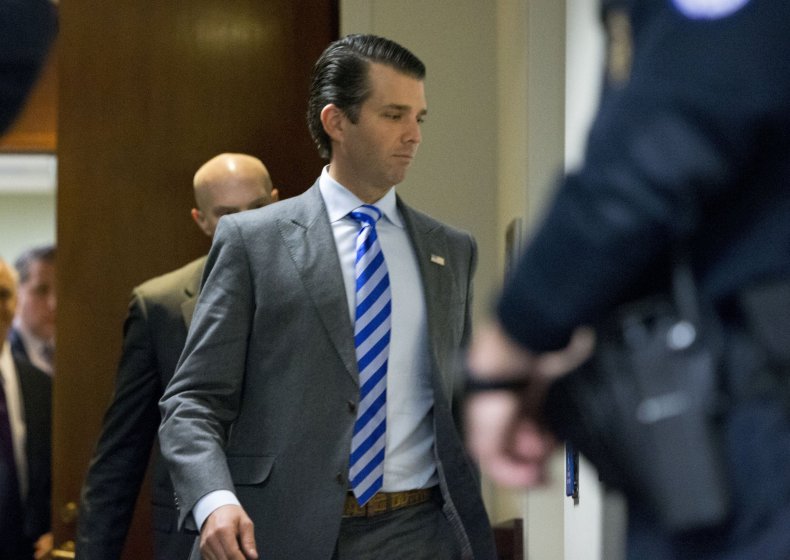 The committee's investigation, led by GOP Senator Richard Burr, into Russian meddling in the 2016 presidential election has been going on for more than two years, alongside Mueller's. The subpoena is a pretty clear indication that the committee had likely asked Trump Jr. to testify voluntarily, and that he declined.
If he does testify, this will be his second time in the hot seat. In September 2017, Trump Jr. told the Senate that he was only "peripherally aware" of plans for a Trump Organization project in Moscow, but former longtime Trump lawyer and fixer Michael Cohen testified to Congress in February that Trump Jr. and Ivanka Trump had been briefed on the project at least 10 times.
This is the first public Senate subpoena of one of the president's children, and it's a bipartisan one at that. The call comes just days after Senate Majority Leader Mitch McConnell referred to the Mueller investigation in a floor speech as "case closed."
"This investigation went on for two years," McConnell said. "It's finally over."
Apparently not.
Donald Trump Jr. released a statement through a "close friend" yesterday. There was an agreement made, said the friend "that he would only have to come in and testify a single time as long as he was willing to stay for as long as they'd like, which Don did."
The friend went on to attack Burr for not working to defend the first son.
"Don continues to cooperate by producing documents and is willing to answer written questions, but no lawyer would ever agree to allow their client to participate in what is an obvious PR stunt from a so-called 'Republican' senator too cowardly to stand up to his boss Mark Warner and the rest of the resistance Democrats on the committee," the source said.
Contempt!
Meanwhile, over in the Democratically controlled House, the Judiciary Committee voted to hold Attorney General William Barr in contempt of Congress for his failure to comply with a subpoena to turn over the full, unredacted Mueller report, and its underlying documents.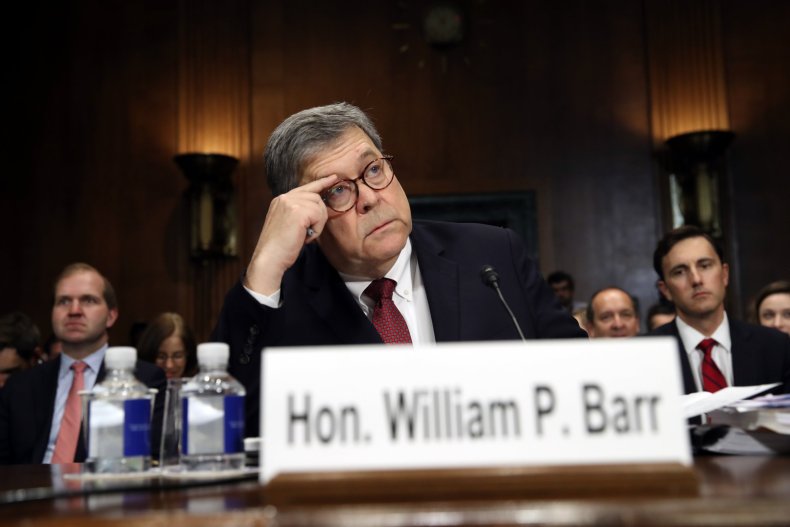 The 24-16 vote in favor of the contempt citation occurred after hours of debate, and marked the first official action taken by the House to present the Trump administration with any real consequences related to the release of the Mueller report.
"Our fight is not just about the Mueller report—although we must have access to the Mueller report," House Judiciary Committee Chairman Jerry Nadler said during the debate. "Our fight is about defending the rights of Congress, as an independent branch, to hold the president, any president, accountable."
The Department of Justice, meanwhile, dismissed the contempt vote as partisan play. DOJ spokeswoman Kerri Kupec called it "politically motivated and unnecessary," in a statement. "No one, including Chairman Nadler and his committee, will force the Department of Justice to break the law," Kupec said.
Executive Privilege!
Just before the contempt vote Wednesday, President Donald Trump announced he would use his "executive privilege" —which allows him to shield certain information from other branches of government and the American people if it is for their protection —to block any release of the full Mueller report.
"Regrettably, Chairman Nadler's actions have prematurely terminated the accommodation process and forced the president to assert executive privilege to preserve the status quo," said Kupec in a statement. The Department of Justice said that the move was "protective" and would allow the president to review and make a decision about all materials before handing them over to Congress.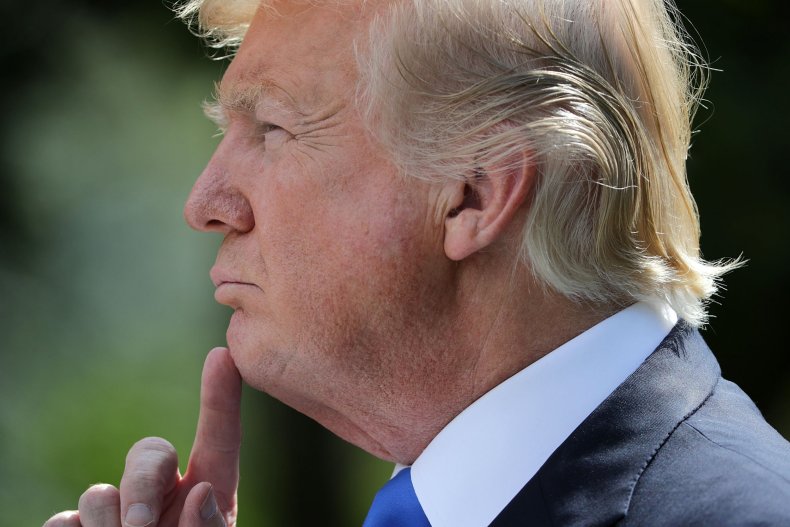 But the White House had stronger words.
"The American people see through Chairman Nadler's desperate ploy to distract from the president's historically successful agenda and our booming economy," said White House Press Secretary Sarah Huckabee Sanders.
Executive privilege is typically used in matters of national security, and some Democrats are already saying that this isn't a proper use of the tool. And while these matters are usually sorted out internally, it appeared likely that the executive and legislative branches will require the judicial branch to decide on both the contempt charge and use of executive privilege.
Self-Impeachment!
Pelosi also made comments about the possibility of an impeachment hearing for President Trump on Wednesday. In the past—despite growing calls in favor of impeachment from rank-and-file members and prominent presidential candidates—Pelosi had been reluctant to get behind the idea.
"There are many ways to hold the president of the United States accountable.... What matters is the truth, and the investigations that our committees will conduct will take us down fact-finding path and everybody should welcome that," Pelosi said at the Time 100 Summit last month. "If the fact-finding takes us [to impeachment], we have no choice, but we're not there yet. Impeachment is a step you have to take while bringing the American people with you, without prejudice, passion or partisanship but with a presentation of the facts."
But yesterday, things appeared to change.
"He's becoming self-impeachable in terms of some of the things he's doing," Pelosi told The Washington Post during a live interview. "Every single day, whether it's obstruction, obstruction, obstruction, obstruction of having people come to the table with facts or ignoring subpoenas. Every single day, the president is making a case."
This Pelosi comment then raises the question: What does it mean to be self-impeachable? The Speaker elaborated in a closed-door meeting with rank-and-file Democrats, according to NBC News.
"I just said to the Washington Post, they had a town hall meeting this morning, I said to them, the president is self-impeaching. He's putting out the case against himself, he's putting out the case against himself. Obstruction, obstruction, obstruction. Ignoring subpoenas and the rest," Pelosi reportedly said. "So, he's doing our work for us in a certain respect."
More Subpoenas!
House Intelligence Committee Chairman Adam Schiff said he subpoenaed the Department of Justice on Wednesday for the full Mueller report and corresponding documents. This request is separate from the House Judiciary Committee's subpoena that Barr refused to comply with.
What was remarkable about Schiff's attempt is that he made it alongside Republican Congressman and avid Trump supporter Devin Nunes.
"The department has repeatedly failed to respond, refused to schedule any testimony, and provided no documents responsive to our legitimate and duly authorized oversight activities," Schiff said in a statement.
"The department repeatedly pays lip service to the importance of a meaningful accommodation process, but it has only responded to our efforts with silence or outright defiance. Today, we have no choice but to issue a subpoena to compel their compliance."
The committee gave the Justice Department until May 15 to turn over the documents.