Nancy Pelosi Criticizes Trump's Early Coronavirus Response, Says President Thought 'It's Going to Magically Disappear'
Speaker of the House Nancy Pelosi strongly criticized President Donald Trump and his administration's early response to the coronavirus pandemic, saying that the president believed that the crisis would "magically" disappear.
Pelosi, a Democrat who represents California, made the remark during a Sunday morning interview with ABC News' This Week. She outlined how Trump had described the coronavirus as a "hoax" and had disregarded the scientific information put forward by health experts as the pandemic began to spread throughout the U.S.
"He failed," the Speaker asserted. "He's failed in the testing and the rest, and [said] 'it's a hoax' and 'it's going to magically disappear.' That's not based on science. This isn't magical. This is scientific," she said.
"So I've said if he continues to predicate the action that we take on a false premise, well then we're in further danger," Pelosi warned. "And his earlier delay, and denial, caused deaths."
As Pelosi explained, Trump previously referred to the coronavirus concerns as a "new hoax" from the Democrats, while also claiming that it would "disappear" like "a miracle."
"It's going to disappear. One day, it's like a miracle, it will disappear," Trump insisted on February 28. He argued that Democrats were raising alarm about the outbreak to criticize his administration.
Earlier in her interview with This Week, Pelosi also addressed criticism lobbed against her by the president. Trump has tweeted a series of attacks over the past couple days referring to the Speaker as "weak," "crazy" and "away on vacation."
"Frankly, I don't pay that much attention to the president's tweets against me. As I've said, he's a poor leader. He's always trying to avoid responsibility and assign blame," she said.
Speaking to Fox News on Sunday morning as well, Pelosi reiterated her criticism of the president.
"Leaders – leaders take responsibility. So I said he's a weak leader. He doesn't take responsibility. He places blame – blame on others," the Speaker said. "And that might have been OK before, but we cannot continue down a path that is, again I'll come back to science, science, science, evidence, data on how we should go forward."
Trump has faced significant criticism for his early response to the coronavirus. In addition to suggesting that it would "disappear," the president repeatedly downplayed the serious nature of the virus by comparing it to the common seasonal flu. But scientists have estimated that the coronavirus death rate is at least 10 to 20 times higher.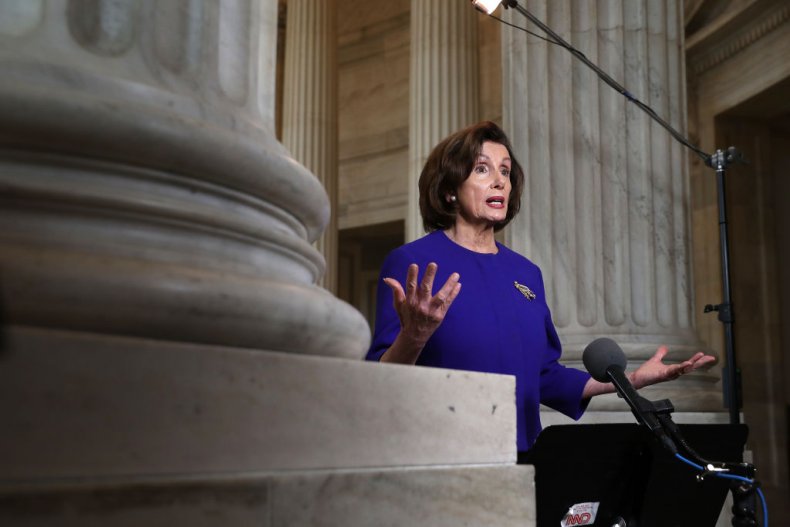 Furthermore, the federal government has struggled to rapidly ramp up testing for the novel virus, making it difficult for public health officials to accurately track the spread. As governors and other state leaders look to reopen their economies, widespread testing and the ability to trace those who may be infected will be vital to preventing further large-scale outbreaks moving forward.
A survey of U.S. adults by Pew Research Center, which was published on Thursday, found that 65 percent of respondents believed Trump was too slow to take major steps to prevent the spread of the coronavirus. Among American adults under 50 years old, three-quarters (75 percent) thought the president acted too slowly.
As of Sunday morning, there were more than 722,000 confirmed cases of the coronavirus nationwide, according to a tracker updated by Johns Hopkins University. Of those, nearly 34,000 people have died while close to 65,000 have already recovered.
This article was updated with additional comments Speaker Pelosi made in an interview with Fox News Sunday.