Nancy Pelosi's Daughter Says Clap at Trump 'Took Me Back to My Teen Years': 'She Knows That You Know'
House Speaker Nancy Pelosi became an internet sensation on Tuesday night after photos and videos caught her sarcastically clapping at President Donald Trump during his second State of the Union address.
Pelosi's daughter, Christine, said that it's a move that she's seen from her mother before.
"Oh yes that clap took me back to the teen years. She knows. And she knows that you know. And frankly she's disappointed that you thought this would work. But here's a clap," Christine Pelosi wrote on Twitter Wednesday morning, along with a photo capturing Pelosi's clap.
Seated alongside Vice President Mike Pence, Pelosi was directly behind the president's podium throughout the 82-minute address. The theme of the speech was "choosing American greatness," as Trump set out to make a bipartisan pitch on policy issues regarding health care, immigration and infrastructure.
"The agenda I will lay out this evening is not a Republican agenda or a Democrat agenda. It's the agenda of the American people," Trump said at the beginning of the address.
Throughout the speech, Pelosi limited her reactions to subtle eye rolls or pursed lips and occasionally shook her head as the president spoke. But for the most part, the veteran Democrat remained cordial, despite being involved in a contentious standoff with the president over the border wall during the partial government shutdown.
But when Trump told the crowd that Washington "must reject the politics of revenge, resistance and retribution" in favor of cooperation and compromise, Pelosi stood up and clapped in the president's direction. The move was widely interpreted as being of a mocking, sarcastic nature. Some Twitter users even referred to gesture as a literal "clapback."
Shortly after the address, Pelosi released a statement in which she criticized Trump for taking a swipe at Robert Mueller's special counsel investigation, which the president called "ridiculous" and "partisan."
"Tonight, the president spoke about the honor of being in the House chamber and all the progress that has been achieved here," she said. "But at the same time, he threatened the United States Congress not to exercise its constitutional responsibility of oversight. It will take days to fact-check all the misrepresentations that the president made tonight."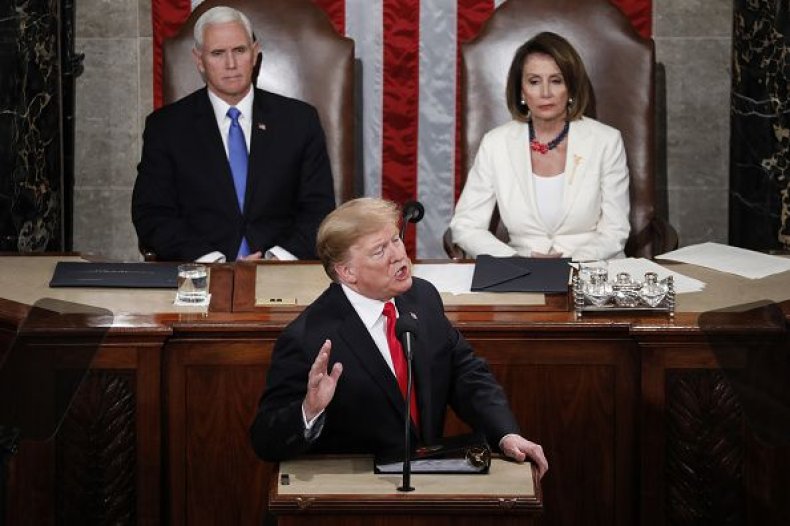 Georgia Democrat Stacey Abrams was tapped to give the party's formal response to Trump's State of the Union address. Appearing shortly after the president, Abrams outlined the Democratic vision on health care, immigration and voting rights policy.
The former state lawmaker also rebuked Trump for his tireless calls for a border wall between the United States and Mexico, telling the nation that "America is made stronger by the presence of immigrants, not walls."
Fox News anchor Chris Wallace praised Abrams for discussing education and climate change, two subjects that Trump did not talk about at all. Wallace added that "there are a lot of Americans who are struggling, and I thought she seemed to get more to what people's lives are like in the reality."
Abrams, who is seen as a rising star within the Democratic Party, was praised by party leaders following her rebuttal. Pelosi tweeted on Tuesday night that Abrams did a "masterful job" and was "an inspiration."
Senate Minority Leader Chuck Schumer told CNN that Abrams "showed the president what real leadership was last night. She was thoughtful, caring."