Nancy Pelosi Will 'Cut Your Head Off and You Won't Even Know You're Bleeding,' Says Daughter
Nancy Pelosi will "cut your head off and you won't even know you're bleeding," says the top Democrat's daughter.
"That's all you need to know about her," Alexandra Pelosi told CNN on Wednesday when asked about her mother's approach to meetings with President Donald Trump. "No one ever won betting against Nancy Pelosi. She's persevered."
Alexandra Pelosi's comments came just hours before her mother and other congressional leaders met with President Trump to discuss the ongoing government shutdown. The partial shutdown has entered its 12th day as lawmakers remain divided on border security funding.
Trump has refused to sign a spending bill that does not include his requested $5 billion to build his long-promised border wall. Democrats offered $1.3 billion in funding for border fencing and security but have opposed funding for Trump's wall. Nancy Pelosi has said that the new Democratic House will approve its own plan to end the shutdown—a plan Trump's White House has already deemed a "non-starter."
Following a heated exchange with Trump in early December about the border funds, Nancy Pelosi said that the wall was "like a manhood thing for him," before adding, "as if manhood could ever be associated with him."
Newsweek subscription offers >
Nancy Pelosi is expected to become the Speaker of the House of Representatives for the second time after Democrats take control of the chamber on Thursday. She previously served in the role from 2007 to 2011.
After the midterm elections Nancy Pelosi faced some challenges in her bid for speaker when 16 Democrats vowed to oppose her. But Pelosi quickly shut down her critics and was nominated for the position by a 203-32 vote.
"She's been around. This is not her first rodeo," Alexandra Pelosi told CNN about her mother assuming the leadership position. "And that should make you sleep at night knowing that at least somebody in this town knows what they're doing."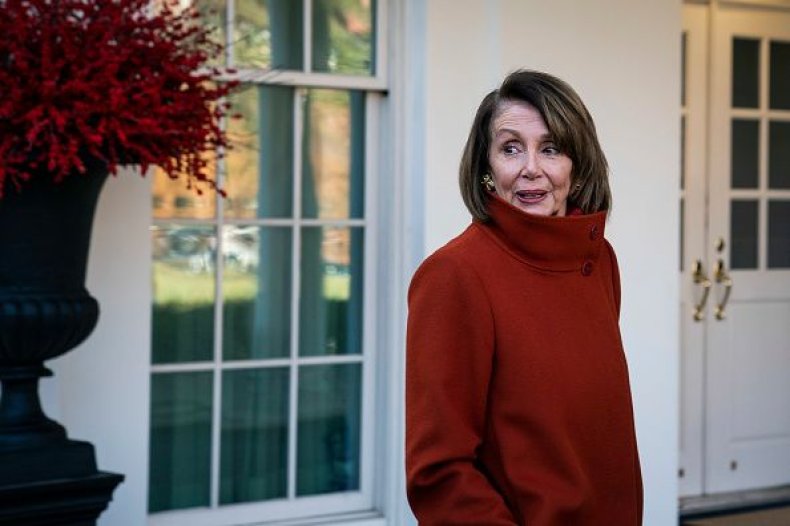 Alexandra Pelosi also said that her mother's leadership is coming at a very different time in politics as she applauded all of the women entering the 116th Congress.
"When Nancy Pelosi came to town, it was a boys' club. That was 30 years ago," she said. "Look around tomorrow. It's going to be a whole new America. You're going to see something so magical that you have not seen before."
Nancy Pelosi Will 'Cut Your Head Off and You Won't Even Know You're Bleeding,' Says Daughter | U.S.