Nancy Pelosi Defends Ilhan Omar Against Donald Trump's 9/11 Criticism, Says President Used Tragedy for 'Political Attack'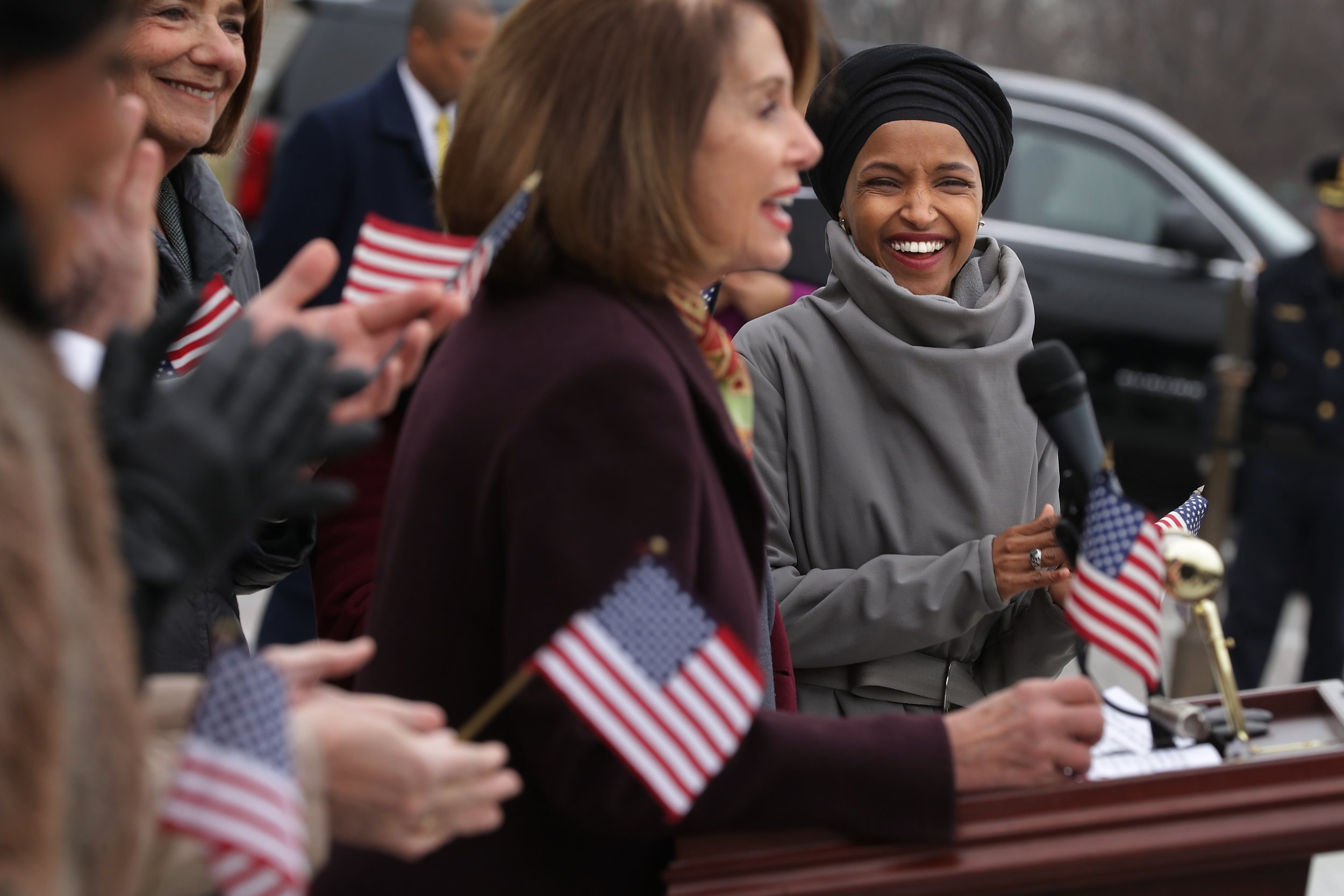 Speaker of the House Nancy Pelosi on Saturday came to the defense of Congresswoman Ilhan Omar, adding to the list of Democrats who have ridiculed the president for tweeting an edited video that cuts between clips of the Minnesota representatvie giving a speech and events from the terrorist attacks on September 11, 2001.
Pelosi accused Trump of trying to stir up further controversary over recent remarks by Omar that Republicans have said downplayed the terrorist attacks that killed nearly 3,000 people.
"The memory of 9/11 is sacred ground, and any discussion of it must be done with reverence. The President shouldn't use the painful images of 9/11 for a political attack," Pelosi said in a statement. "It is wrong for the President, as Commander-in-Chief, to fan the flames to make anyone less safe."
Fellow Democrats like Alexandria Ocasio-Cortez, Rashida Tlaib, Elizabeth Warren and Bernie Sanders have said Omar's comments were taken out of context. The lawmakers have since lambasted Trump.
Warren accused the president of "inciting violence against a sitting Congresswoman." Tlaib, another Muslim congresswoman, made a similar accusation of inciting violence.
The video, pinned to the top of Trump's Twitter account as of Saturday afternoon with the caption "WE WILL NEVER FORGET!," starts with a clip of Omar speaking at a banquet in California last month hosted by the Council on American-Islamic Relations (CAIR). She spoke on how she believed terrorism has increased Islamophobia sentiments.
"Far too long we have lived with the discomfort of being a second-class citizen and frankly, I'm tired of it, and every single Muslim in this country should be tired of it," Omar said.
The next portion of her speech led to outrage from Republicans, who accused the Muslim representative of playing down the impact of 9/11, and is included in the beginning of Trump's Twitter video.
"CAIR was founded after 9/11 because they recognized that some people did something and that all of us were starting to lose access to our civil liberties," Omar said.
CAIR was actually founded in 1994, according to the organization, and works to "promote a positive image of Islam and Muslims in America."
Trump's video goes on to show news footage from the morning of the terrorist attacks, including the second plane flying into the Twin Towers, their subsequent collapse and people escaping the debris.
Republicans have condemned Omar's "something people did something" remark — often presented in isolation from the rest of her speech from that evening — as "unbelievable." Trump's eldest son, Donald Trump, Jr., called Omar "a disgrace."
"You described an act of terrorism on American soil that killed thousands of innocent lives as 'some people did something,'" GOP Congressman Dan Crenshaw of Texas, who is a former Navy SEAL and lost an eye from a bombing in Afghanistan, tweeted. "It's still unbelievable."
Omar has defended her remarks, but not all Democrats agreed that she was taken out of context.
"Those statements were not only hurtful to me, but extremely hurtful to everyone that was personally impacted by those terrorist attacks," Congressman Ben Ray Luján of New Mexico and assistant speaker of the House told MSNBC.