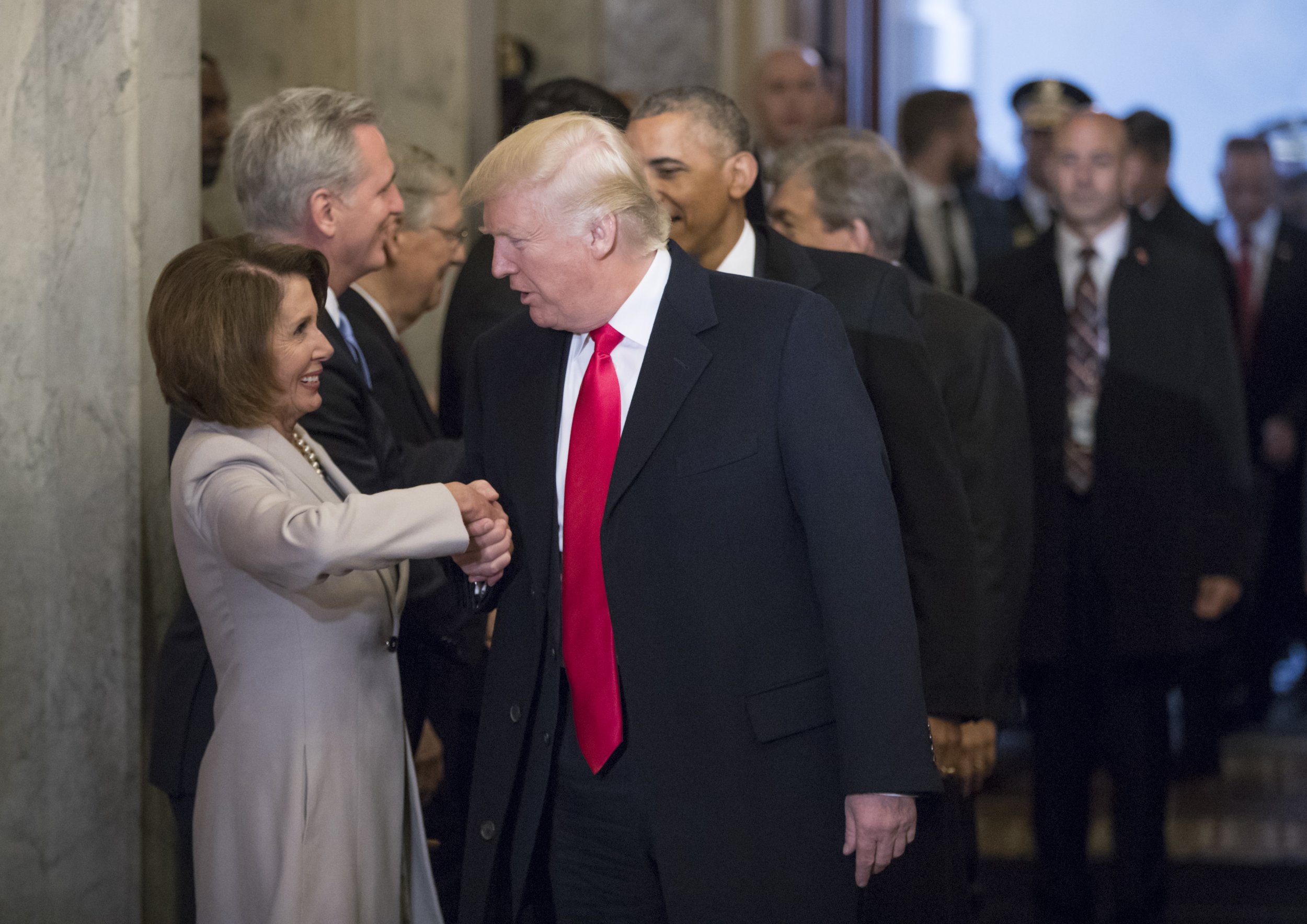 Ahead of a conference call with Democratic colleagues, House Speaker Nancy Pelosi suggested she still does not want to impeach Donald Trump, despite a call from some members to begin proceedings to remove the president.
In a letter released Monday afternoon, Pelosi wrote that the relevant committees spent the holiday weekend reviewing the redacted report by special counsel Robert Mueller on his Russia investigation. The conclusions that stood out, she said, were Russian election interference and Trump's "repeated efforts to thwart cooperation with the independent prosecutors in their pursuit of justice."
"While our views range from proceeding to investigate the findings of the Mueller report or proceeding directly to impeachment, we all firmly agree we should proceed down a path of finding the truth," Pelosi wrote.
But the House speaker showed reluctance about impeaching Trump, a position she has long held. "It is important to know that the facts regarding holding the President accountable can be gained outside of impeachment hearings," Pelosi wrote.
"As we proceed to uncover the truth and present additional needed reforms to protect our democracy, we must show the American people we are proceeding free from passion or prejudice, strictly on the presentation of fact," she added.
Some Democrats have argued that because the redacted Mueller report shows Trump repeatedly tried to impede Mueller's Russia probe, impeachment proceedings should begin. On April 19, Senator Elizabeth Warren became the first Democratic presidential candidate to call for impeaching Trump.
But Pelosi seems unmoved in her reluctance to take that step. Last month, she told The Washington Post she was "not for impeachment."
"I've been thinking about this: Impeachment is so divisive to the country that unless there's something so compelling and overwhelming and bipartisan, I don't think we should go down that path, because it divides the country," Pelosi said at the time. "And he's just not worth it."
In her letter, Pelosi may have stopped at calling for impeachment, but she still attacked Trump.
"Whether currently indictable or not, it is clear that the President has, at a minimum, engaged in highly unethical and unscrupulous behavior which does not bring honor to the office he holds," Pelosi wrote.
The House speaker also slammed the GOP.
"It is also clear that the Congressional Republicans have an unlimited appetite for such low standards," she wrote. "The GOP should be ashamed of what the Mueller report has revealed, instead of giving the President their blessings."
The Democrats are holding a conference call at 5 p.m. Monday for committee chairs to share the status of their reviews of the redacted Mueller report, where the request for the full report stands and to talk about the party's next steps.