Memes Of Nancy Pelosi Tearing Up Trump's SOTU Speech Flood Twitter
President Donald Trump's State of the Union address didn't come without some dramatic moments on Tuesday night.
For starters, Trump snubbed House Speaker Nancy Pelosi when she tried to shake his hand after introducing him. Then there was the eruption of Republicans chanting "four more years" during the speech. Meanwhile, dozens of Democrats wore white to protest the president and as a means to honor the 100th anniversary of the women's suffrage movement.
Trump spoke about the "blue-collar boom" and a "great American comeback" throughout his 78-minute speech while also outlining his plans for national security, the economy, health care and the overall future of the country. Many of his remarks garnered a wave of applause from Republicans. Pelosi, meanwhile, appeared unmoved by the president's words.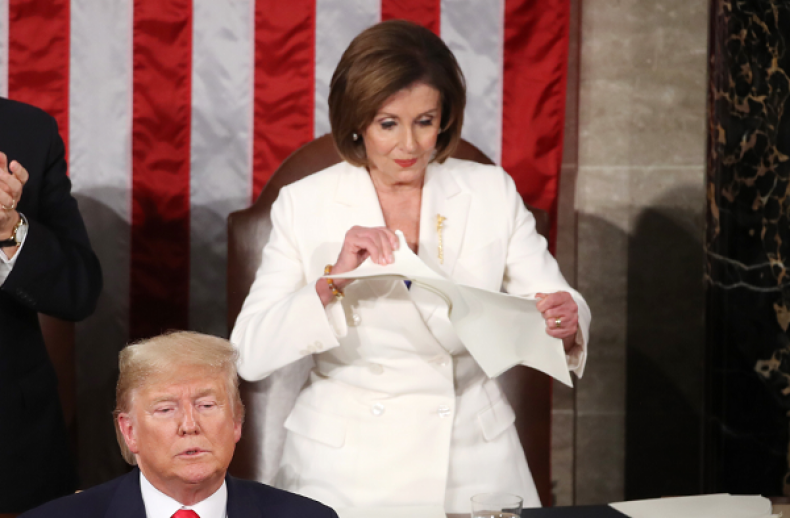 Pelosi barely clapped for Trump throughout the night, and on many occasions she was captured on camera mouthing the words "not true" in response to some of his statements. Perhaps her most startling act was ripping her copy of Trump's address into pieces after he had finished. Pelosi then waved the torn speech in the air for lawmakers to see.
Some viewers at home got quite a kick out of the display, and within minutes, memes of Pelosi ripping Trump's address flooded social media. Those in agreement with the House speaker praised her on Twitter by sharing memes of the moment she ripped up the speech, and hundreds of people began tweeting the hashtag #NancyTheRipper and #NancyPelosiROCKS in support.
"#NancyTheRipper means she wins again. What SOTU speech? All I saw was Nancy ripping her copy and that's all we will remember. She's a bada** and Trump is limp as usual," one Twitter user wrote.
"In less than 2 seconds, Nancy Pelosi completely negated Trump's entire speech. Brilliant. #NancyPelosiROCKS," wrote another.
Shortly after the address, Pelosi released a statement in response to some of the president's speech. She particularly took issue with Trump's remarks on health care. "President Trump's address tonight gave no comfort to the 130 million Americans with pre-existing conditions or the families struggling to afford the prescription drugs they need," her statement read.
"Once again, President Trump was not truthful about his actions in court to destroy pre-existing condition protections. Once again, President Trump pulled his punch on his promise to negotiate for lower prescription drug prices, which House Democrats delivered with the Elijah E. Cummings Lower Drug Costs Now Act, H.R. 3," Pelosi continued. "Next week, when the President presents his budget, the American people will see the stark reality of his agenda. A federal budget should be a statement of our national values, and the President has sadly shown that he does not value the good health of the American people."
She added: "Democrats continue to urge the President to abandon his assault on seniors and families and to join us to deliver real progress in lowering the price of prescription drugs and making the bold investments needed to rebuild America's infrastructure in a green and modern way."
See a few reactions to Pelosi's speech-ripping moment below.