Nancy Pelosi Says Trump Knows the Difference Between Right and Wrong, 'But I Don't Know That He Really Cares'
Speaker of the House Nancy Pelosi has said that there was no option but to try to impeach President Donald Trump because the claims that he pressured the president of Ukraine to get dirt on a political opponent presented a "challenge to our Constitution."
Pelosi had been reluctant to pursue impeachment, despite strident calls for it after the Mueller report into claims of Russian interference in the 2016 election, because politically, it may not serve the Democrats' purposes in the next election.
However, in an interview with The New Yorker, she said a line had been crossed with the revelations of the July 25 phone call in which a whistleblower claims Trump had asked Volodomyr Zelensky to investigate former vice president Joe Biden, and his son Hunter Biden.
Pelosi compared the case to impeach Trump with that of former president Richard Nixon.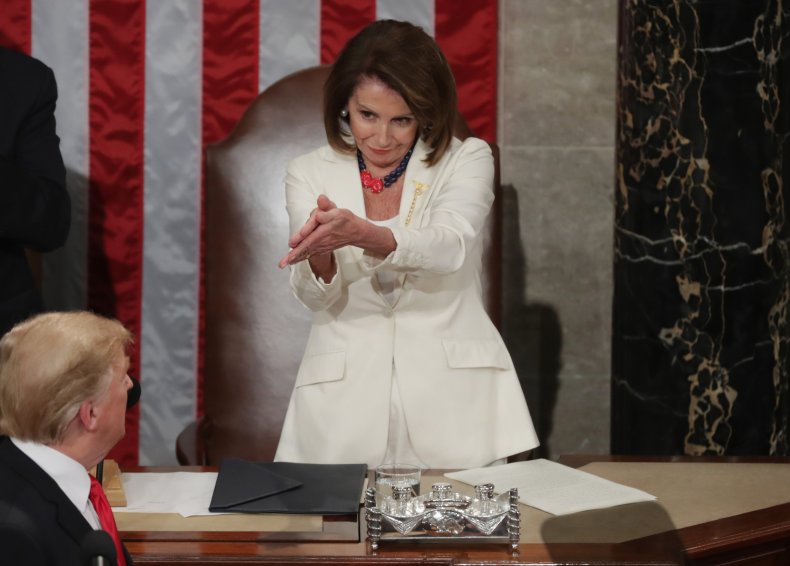 "I saw, as a young person, that the Republicans didn't come around until the tapes. It wasn't like they were saying, 'This behavior is not acceptable to us.' The tapes were dispositive of the issue.
"There was no vote to impeach, because it was so clear that he had to go. But even Nixon knew of his responsibility to the country. I'm not sure this person does."
Pelosi described how she took a phone call from Trump ostensibly about gun reform, which she is vehemently lobbying for, but during the conversation, he changed the subject.
"Then he somehow segued into what was happening now—that this phone call [with Zelensky] was 'perfect.' 'When you hear this phone call, it was perfect.' And I said, 'No, it was wrong. You understand your words weigh a ton. The words of the President of the United States weigh a ton.'"
When asked if Trump genuinely believed that he was wrong, she told the publication, "He knows the difference between right and wrong, but I don't know that he really cares."
"I do think his categorical imperative is what's good is what is right for him. In the campaign, he told us who he was. He said that he could shoot somebody on Fifth Avenue and nobody would care, that his supporters wouldn't care. Well, he could violate our Constitution, the integrity of our elections, and dishonor his oath of office, as he did in this call, and think that nobody cares," she added.
Trump's character was also questioned by Democratic 2020 candidate Bernie Sanders who told The Late Show With Stephen Colbert that he was "probably the most corrupt president in the modern history of this country," and that he "really is an embarrassment to our country."
"I honestly believe he does not know the difference between lying and truth-telling. I doubt very much that he understands what the Constitution of the United States of America is about. I don't think he understands we have an emolument clause which say that you cannot enrich yourself when you are President of the United States."
"He grew up as a very rich kid, I think he is a spoilt brat, and he thinks he can do anything that he wants to do... we have got to explain to him what the Constitution of the United States is about," Sanders told the CBS host on Thursday night.