Nancy Pelosi: Republicans Should Be 'Ashamed' of Donald Trump but Instead Give Him Their 'Blessing'
House Speaker Nancy Pelosi said Tuesday afternoon that President Donald Trump had "engaged in behavior that was unethical, unscrupulous and beneath the dignity of the office" by potentially obstructing justice as detailed in special counsel Robert Mueller's report on Russian meddling in the 2016 presidential election.
Republicans, she added, appear to "have unlimited appetite for this kind of behavior and instead of being ashamed, give their blessing to the president."
Still, Pelosi said she would not push for impeachment, although she also indicated that she would not rule it out. "There are many ways to hold the president of the United States accountable... What matters is the truth, and the investigations that our committees will conduct will take us down fact-finding path and everybody should welcome that," she said.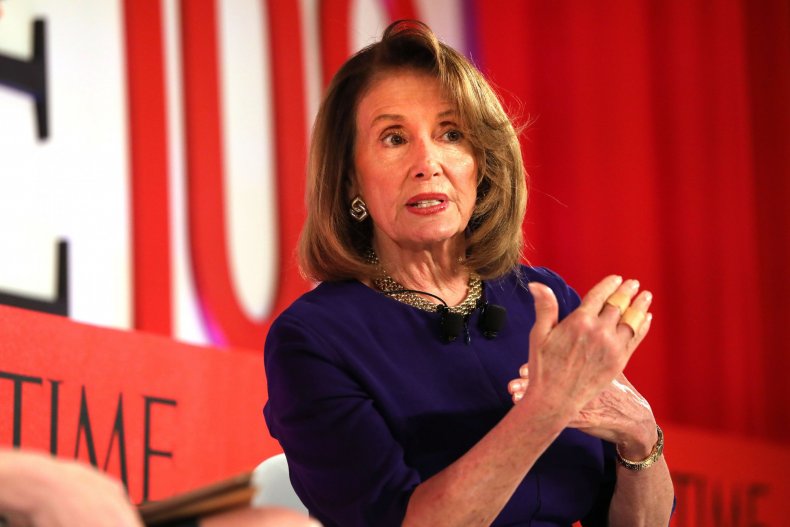 "If the fact-finding takes us [to impeachment] we have no choice, but we're not there yet. Impeachment is a step you have to take while bringing the American people with you, without prejudice, passion or partisanship but with a presentation of the facts."
Pelosi did not hold back on harsh words for the president. "This administration is an existential threat to our democracy," she said, repeating it twice at the Time 100 Summit in New York City.
"Our founders said 'the times have found us,' we think the times have found us and you. The urgency of now is so big. It is our destiny to make this fight for our country, for our Constitution, for our people, for this beautiful patch of land God gave us and for the world."
Pelosi said she read as much of the Mueller report as she could over the weekend and convened a Democratic caucus meeting on Monday, with 177 members on the phone for nearly 90 minutes. She said the members discussed their course of action going forward and made their cases for taking various routes according to the "road map" they had received in the Mueller report.
Despite reports of a growing divide in the Democratic Party between those who want to move forward with impeachment proceedings and those who support a wait-and-see approach, Pelosi said that she saw no major division within the caucus, largely because 54 percent of all Democrats sit on the six committees that have jurisdiction to investigate the Mueller evidence, and can undertake their own fact-finding missions.
"Impeachment may be a place the facts take us, but we shouldn't impeach for a political reason and shouldn't not impeach for a political reason," she said. "This is a moment in our history and it's not about politics, it's about patriotism."