Nancy Pelosi Was Set to Retire From Politics Before Trump Election Win in 2016: New Book
House Speaker Nancy Pelosi said the victory of Donald Trump in the 2016 election felt like "a mule kicking you in the back" and convinced her to remain in politics, according to an upcoming biography.
Assured that the Democratic contender Hillary Clinton would prevail over her GOP rival, Pelosi had an eye on retiring and spending more time with her family, according to the book written by USA Today Washington bureau chief Susan Page.
But despite her confidence that she would be able to step down after 30 years in Congress and no longer hold the distinction of being, at that time, the highest-ranking woman in the history of the U.S. government, she described her visceral shock when Trump had won.
She told the author that the feeling "was physical; it was actually physical," adding that it was "like a mule kicking you in the back over and over again."
"I was like, 'How could it be that person is going to be president of the United States?'" Pelosi said, according to USA Today, "the election of Donald Trump was stunningly scary, and it was justified to be scared."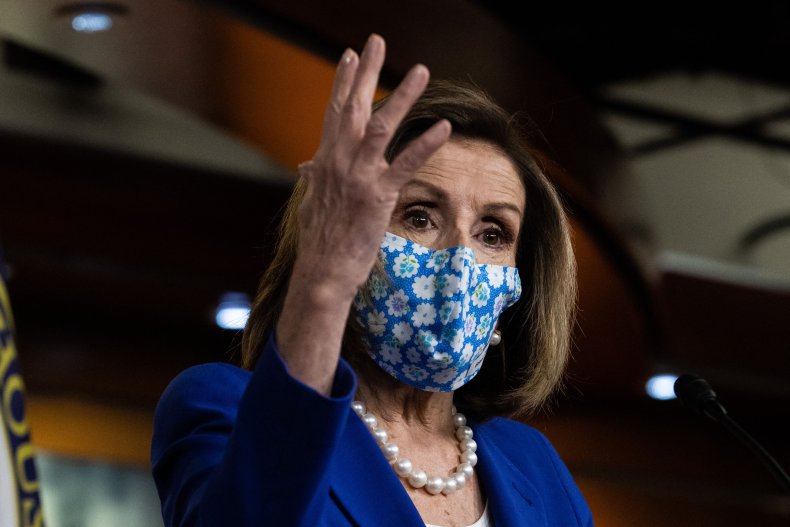 "How could they elect such a person—who talked that way about women, who was so crude and...to me, creepy," Pelosi added.
Page wrote that following Trump's victory, any plans that Pelosi had to step away from the political fray were instantly shelved.
The book, titled Madam Speaker: Nancy Pelosi and the Lessons of Power, is due out on April 20 and draws on numerous interviews with Pelosi as well as conversations with over 150 other friends, family members, political allies and adversaries.
However, after the defeat of Clinton, whom she had known since they met at the Democratic National Convention in 1984, Trump did try to reach out to her.
Trump reportedly told her in a phone conversation soon after his win, "we'll get some good things done," USA Today reported. "Don't forget, I was a supporter of yours. I think you're terrific," Trump allegedly added.
The book also described how for a while, Pelosi was one of the few political opponents of Trump who managed to avoid his Twitter barbs. However, over the course of Trump's tenure, they developed into fierce rivals.
Pelosi led two impeachment proceedings against Trump and made dramatic flourishes during two of his State of the Union addresses; famously delivering a sarcastic hand clap in 2019 and tearing up his speech in 2020.