In a wide-ranging question-and-answer interview with Washington Post reporter Joe Heim published Monday, House Speaker Nancy Pelosi said President Donald Trump was unfit for officer in multiple ways—but "just not worth" impeaching.
Heim asked Pelosi, the most powerful Democrat in the United States, to address increasing calls from members of the Democratic Party to impeach Trump. She responded by saying "I'm not for impeachment," then elaborated on how her perspective had evolved.
"I've been thinking about this: Impeachment is so divisive to the country that unless there's something so compelling and overwhelming and bipartisan, I don't think we should go down that path, because it divides the country," Pelosi said. "And he's just not worth it."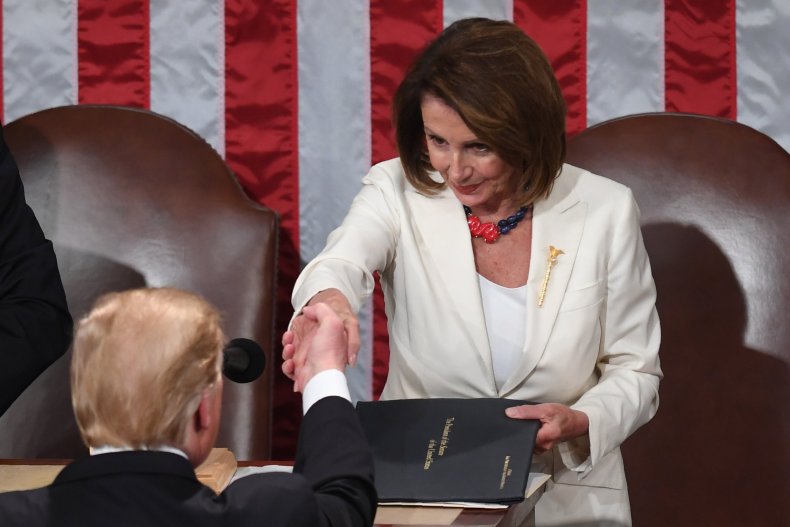 Heim followed up with a question about whether Trump was fit to be president.
Pelosi asked, "Are we talking ethically? Intellectually? Politically? What are we talking here?"
When Heim implied all of the above, Pelosi said, "No. No. I don't think he is."
"I mean, ethically unfit. Intellectually unfit. Curiosity-wise unfit," Pelosi said. "No, I don't think he's fit to be president of the United States."
Asked if the current political climate is the most divisive she has experienced in her 32 years in Congress, Pelosi said, "Yeah."
"Well, it's very divisive because of the person who is in the White House and the enablers that the Republicans in Congress are to him," she said, then told a cautionary tale about impeachment.
"It was terrible when we were here in the '90s and [Newt] Gingrich was speaker and impeached the president, Bill Clinton," she said. "There's no question that that was horrible for the country. It was unnecessary and the rest."
Pelosi added that it is not only the most divisive, but most serious political climate.
"We have a very serious challenge to the Constitution of the United States in the president's unconstitutional assault on the Constitution, on the first branch of government, the legislative branch," she said. "Serious, because again it's about our fundamentals; it's not about our politics."
Pelosi was rebuked for ruling out impeachment by Democrats including billionaire donor Tom Steyer, whose Need to Impeach campaign has gathered more than 7.5 million signatures urging Congress to begin proceedings to remove Trump.
"Speaker Pelosi thinks 'he's just not worth it?'" Steyer said in a statement. "Well, is defending our legal system 'worth it?' Is holding the President accountable for his crimes and cover-ups 'worth it?' Is doing what's right 'worth it?' Or shall America just stop fighting for our principles and do what's politically convenient."