Nancy Pelosi Says if Alexandria Ocasio-Cortez and 'The Squad' Are Offended by Her Scolding, It's 'Up to Them'
Speaker of the House Nancy Pelosi doubled down Thursday on her stern warning issued to progressive Democrats behind closed doors the day prior, in which she told her members not to publicly broadcast gripes with colleagues on Twitter.
Responding to criticism from freshmen liberals Alexandria Ocasio-Cortez of New York, Rashida Tlaib of Michigan, Ilhan Omar of Minnesota and Ayanna Pressley of Massachusetts—or "The Squad," as they've been referred to—Pelosi said that if they took offense to her scolding, the prerogative is "up to them."
"They took offense because I addressed—at the request of my members—an offensive tweet that came out of one of the member's offices that referenced our Blue Dogs and our New Dems, essentially as segregationists," Pelosi said during her weekly press conference. "Our members took offense at that. I addressed that. How they are interpreting and carrying it to another place, is up to them. But I'm not going to be discussing it any further."
The doubling down, which showed the California lawmaker's continued willingness to take on the outspoken and bombastic liberal wing of her party, came as the ideological disagreements between Pelosi and freshmen progressives over emergency humanitarian aid for detained migrants and the power wielded by new members spilled over into the public arena.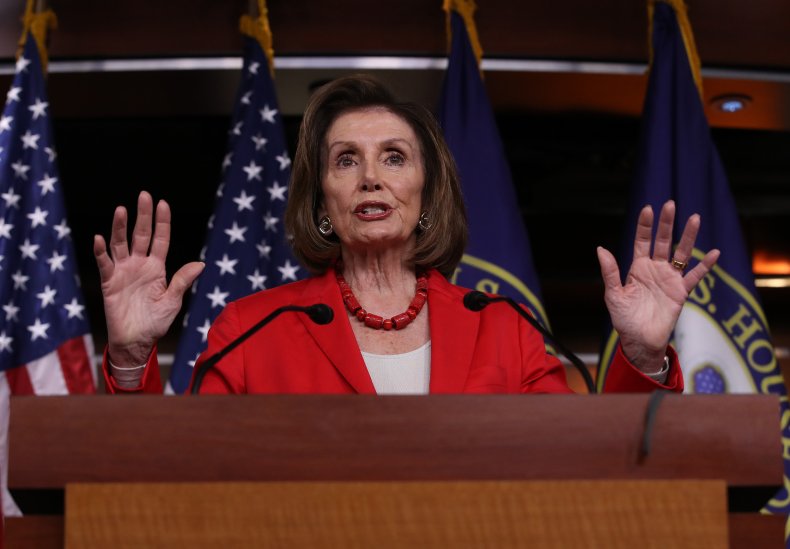 Update: "How dare they try to play the race card": Rift between Nancy Pelosi, "The Squad" boils over among Democrats
Pelosi questioned the power of "The Squad" in a recent New York Times interview over the group being the lone Democrats to vote against the House's original $4.5 billion humanitarian aid intended to improve conditions and to help alleviate overcrowding at border detention facilities. The group said they opposed providing further funding for immigration agencies under Homeland Security over the condition of detention facilities housing child migrants, despite the aid package limiting how the administration could spend the money and required that certain standards be met within the centers.
In response to the chamber then shifting its support to the $4.6 billion GOP-controlled Senate version of the bill, which did not include as many of the House's stronger conditions on how the money could be used, Representative Mark Pocan, co-chair of the Congressional Progressive Caucus, tweeted that moderate Democrats supporting the Senate version were part of the "Child Abuse Caucus."
Ocasio-Cortez's chief of staff, Saikat Chakrabarti, also issued a series of tweets criticizing Pelosi's stance on a number of issues, including impeachment and her view on "The Squad." He labeled Blue Dog Democrats—more centrist party members—as the "New Southern Democrats."
"They certainly seem hell bent to do black and brown people today what the old Southern Democrats did in the 40s," Chakrabarti tweeted, which he later deleted.
Pelosi chided her members during the party's weekly caucus meeting Wednesday, issuing a stern—but clear—message.
"You make me the target, but don't make our Blue Dogs and our New Dems the target in all of this, because we have important fish to fry," she said, according to a person in the room. "You got a complaint? You come and talk to me about it. But do not tweet about our members and expect us to think that that is just okay."
Ocasio-Cortez later went to The Washington Post, telling the outlet that she and her three freshmen colleagues viewed the remarks as "outright disrespectful."
"When these comments first started, I kind of thought that she was keeping the progressive flank at more of an arm's distance in order to protect more moderate members, which I understood," Ocasio-Cortez said. "But the persistent singling out... it got to a point where it was just outright disrespectful... the explicit singling out of newly elected women of color."
Pelosi denied that notion Thursday, saying her scolding should not be taken as wrongfully targeting specific members but rather as a way to keep the party united.
"What I said in the caucus yesterday had an overwhelming response from my members because they know what the facts are—what we responded to. We respect the value of every member of our caucus," she told reporters. "The diversity of it all is a wonderful thing. Diversity is our strength, unity is our power, and we have a big fight and we're in the arena, and that's all I'm going to say on the subject."