Nancy Pelosi Glares at Clapping Democrats After Trump Impeachment Vote, Gestures at Them to Cut it Out
House Speaker Nancy Pelosi was forced to rein in excitement from clapping Congress members on Wednesday as she announced the results of the House's historic vote to impeach President Donald Trump.
Blink and you might miss it, but the House speaker could be seen shooting lawmakers a withering look before gesturing for them to stop clapping in the seconds after she announced the adoption of the first article of impeachment against Trump.
"On this vote, the yeas are 230, the nays are 197. Present is one. Article 1 is adopted," Pelosi said, as lawmakers began to clap. The House speaker's lightning-fast gesture for them to cut it out came almost immediately after she slammed the gavel.
While it is unclear who exactly Pelosi's cutting motion was aimed at, it is unlikely that Republican lawmakers would have broke out in applause over Trump's unfolding impeachment.
Nearly all House Democrats voted for the charges laid against Trump, with the articles of impeachment accusing the U.S. leader of abusing his power and obstructing Congress.
Both charges revolved around the president's request that Ukraine aide in investigating 2020 political rival former Vice President Joe Biden and his son, Hunter Biden.
House Republicans stood united on Wednesday, voting against the U.S. leader's impeachment.
The graphic below, provided by Statista, illustrates the House vote on Trump's impeachment.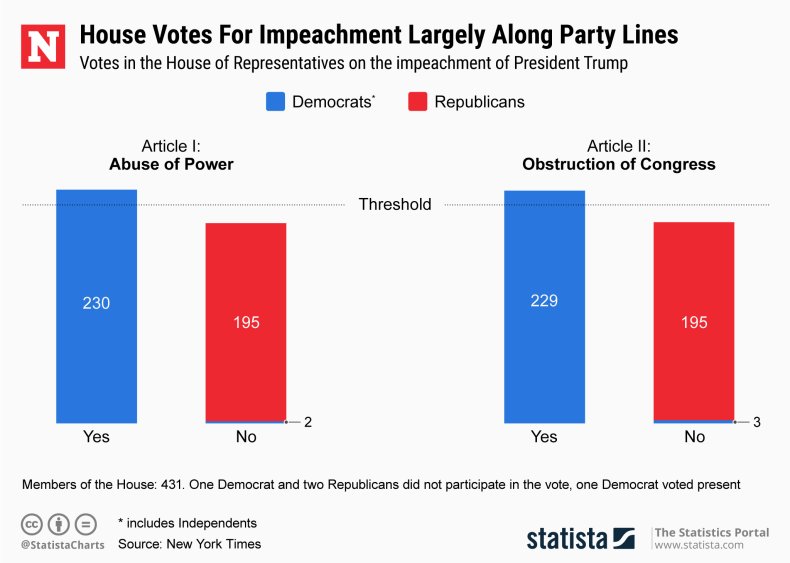 As the results unfolded, Trump was holding his own event, addressing supporters at a campaign rally in Battle Creek, Michigan.
By voting to impeach him, Trump said, House Democrats, had "cheapened" the act of impeachment.
"I'm not worried because it's always good when you don't do anything wrong, you get impeached," the president said. "That may be a record that will last forever, but you know what they have done? They've cheapened the impeachment process."
Trump is the third president to be impeached, joining former Presidents Bill Clinton and Andrew Johnson in the history books.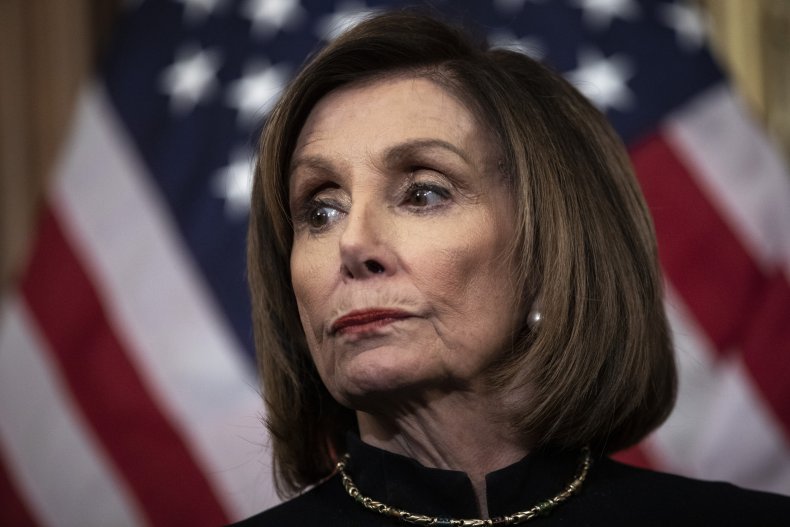 Former President Richard Nixon resigned before his near-certain impeachment over the Watergate scandal.
In a speech delivered following Wednesday's historic vote, Pelosi said it was "a great day for the Constitution of the United States."
"A sad one for America that the president's reckless activities necessitated us, our having to introduce articles of impeachment," she said.
However, Pelosi said: "I could not be prouder or more inspired by the moral courage of the House Democrats."
By voting to impeach Trump she said, Democrats had honored "the vision of our founders to establish a Republic, the sacrifice of our men and women in uniform to defend our democracy and that Republic and the aspirations of our children that they will always live in a democracy."
"We have tried to do everything we can to make sure that that is their reality," she said.
This article was updated to include an infographic.