Nancy Pelosi Says She Would've 'Gone Home' If Hillary Clinton Had Beaten Donald Trump
If Hillary Clinton had been elected president in 2016, Nancy Pelosi would have likely "gone home" and considered retirement, the House Speaker told CBS Sunday Morning's Jane Pauley this week.
The most powerful woman in the federal government, second in line to the presidency, said Sunday that she took on her title with a bit of regret. "Sadly, I was hoping that we would have an American woman president just two years ago," said Pelosi. "If Hillary Clinton had won and the Affordable Care Act would be safe, I would've been happy to go home. I have options!"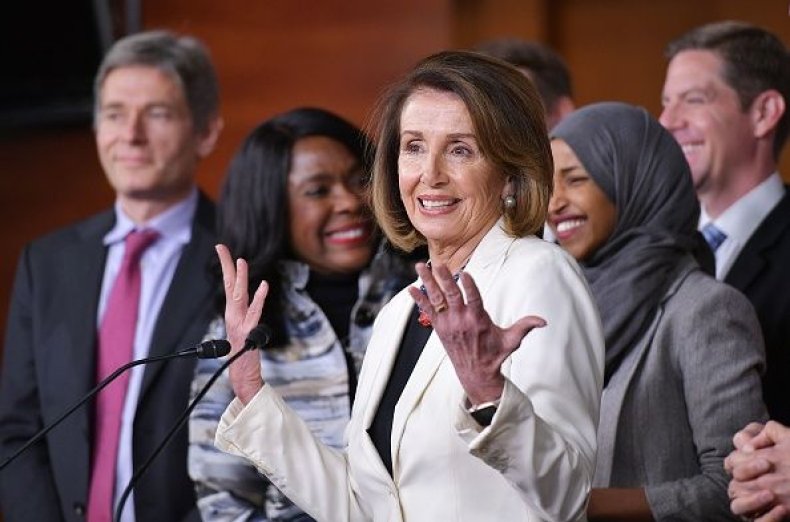 Pelosi will turn 79 years old in 2019. While a number of young Democrats in Congress had called for her to hand over her power to new blood, many ended up voting for her as House speaker. After promising to hold her position for only four years, Pelosi ultimately won the post with 220 votes.
It's President Donald Trump that keeps her from stepping down. If it weren't for the current president, she said, "I would've gone home."
Pelosi explained that she considered her current role "as more of a mission than job tenure, and when the mission is accomplished, then I can have that satisfaction that when I was needed to get the job done, I was there to do it."
Pelosi took the gavel for the second time last Thursday, and in an attempt to commit herself to the next generation, was sworn in while surrounded by dozens of kids. "I now call the House to order on behalf of all of America's children," she said.
Pelosi takes control of the House in the midst of the second longest government shutdown in history. President Trump, who took ownership of the shutdown more than two weeks ago, refuses to sign a spending bill unless it includes more than $5 billion to fund a wall on the U.S. southern border.
"If the president of the United States is against governance and doesn't care whether people's needs are met, or that public employees are paid, or that we can have a legitimate discussion, then we have a problem, and we have to take it to the American people," said Pelosi of the shutdown.
Pelosi called the idea of a wall along the U.S.-Mexico border "immoral, expensive and unwise." On Meet the Press Sunday morning, she said she would not negotiate with the president over a wall because "Democrats do not support the wall, and Republicans in the border states do not support the wall."