Nancy Pelosi Will Be the Highest-Ranking Government Official on U.S. Soil for at Least a Few Hours Next Week
To President Donald Trump's dislike, Democratic House Speaker Nancy Pelosi will reportedly be the highest-ranking government official in the United States for several hours next week while both he and Vice President Mike Pence are abroad.
On Monday, Trump will travel to a summit in Vietnam with North Korean leader Kim Jong Un while Pence will be in Colombia, three sources within the administration told Axios on Friday. While Pelosi's role does not change and the government line of succession would only be invoked if the president or vice president were incapacitated, it is an unusual occurrence for the House speaker to be the top-ranked official on U.S. soil, however briefly.
Inside the White House, there is concern that Trump and Pence's schedules were arranged to allow the situation, two of the sources said, according to Axios.
"It's rare and unusual, and usually they [the White House] try to avoid it," presidential historian Michael Beschloss told the media outlet.
A spokesperson for Pelosi confirmed to Newsweek that Pelosi will be in New York on Monday morning and Washington, D.C., that afternoon, adding that while it is rare that she will be the top-ranked official on American soil, it will not alter her normal duties. The White House did not immediately respond to a request for comment on Friday.
Trump and Pence, the latter of whom will be only a five-hour flight from the United States, both travel with secure communications and nuclear codes.
Monday will not be the first time Trump and Pence have been overseas at the same time. They were both abroad on November 11, 2018, when Trump was returning from France and Pence was en route to Asia. At the time, Republican Paul Ryan was House speaker.
Former President Barack Obama and former Vice President Joe Biden were both overseas for about 20 minutes in March 2013, when Obama was flying to Israel and Biden was traveling back from Italy. Republican John Boehner was House speaker at the time.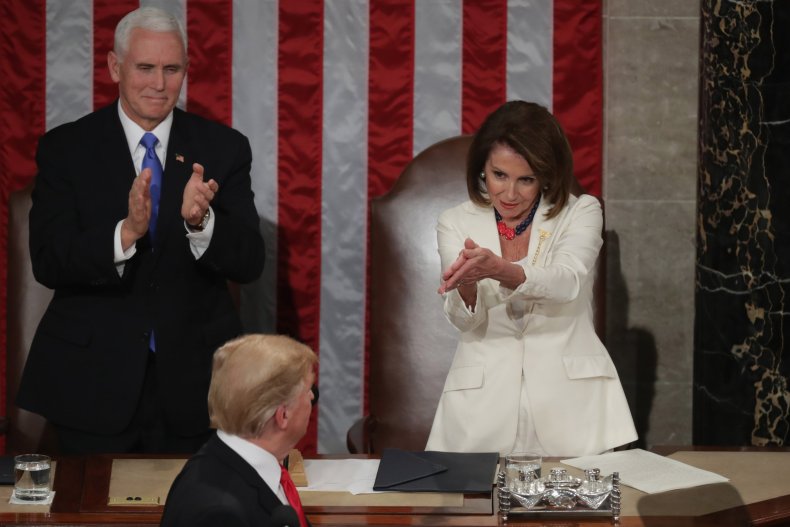 Pelosi, the highest-ranked elected woman in American history, reminded European leaders that Trump is not all-powerful in the U.S during a visit to Brussels earlier this week.
"We're not a parliamentary government even though we're parliamentarians," Pelosi said at a press conference, according to Politico. "We have Article 1, the legislative branch, the first branch of government, coequal to the other branches, and we have asserted ourselves in that way."
She also raised "the power of the purse," referencing the authority that Congress has to authorize budget requests by the president to fund executive programs and agencies.
Pelosi proved her power in late January, when she and House Democrats refused to grant Trump's demand for $5.7 billion to fund his border wall, and he caved to temporarily reopening government.