Nancy Pelosi Determined to Prevent '5 White Guys' From Running Washington
She's running.
In a Tuesday interview with The Boston Globe, House Minority Leader Nancy Pelosi reaffirmed her commitment to running for House Speaker if Democrats win in November. If she didn't, she said, she'd be leaving some of the country's biggest decisions up to a boys club made up of Senate Majority Leader Mitch McConnell, Minority Leader Chuck Schumer, House Speaker Paul Ryan's replacement and President Donald Trump.
"It's important that it not be five white guys at the table, no offense," Pelosi told the Globe. "I have no intention of walking away from that table."
Pelosi's intentions of becoming the next speaker—she feels certain Democrats will deliver on their promise of a "blue wave" to recapture the House—may be at odds with the wishes of the party's emerging class of new progressives who are eager for change in Democratic leadership.
Pennsylvania's special election earlier year brought contention over Pelosi's leadership to the fore, when Democrat Conor Lamb attempted to distance himself from the minority leader.
"My opponent wants you to believe that the biggest issue in this campaign is Nancy Pelosi. It's all a big lie," Lamb said of Republican candidate Rick Saccone in a campaign ad. "I've already said on the front page of the newspaper that I don't support Nancy Pelosi. The real issues are the ones that affect your lives."
Several Democrats in the House told Politico that they'd been paying close attention to how Lamb dodged attacks linking him to Pelosi, and, when he defeated Saccone, many saw a winning strategy for Democrats in 2018.
"If we're going to take the majority, it's going to be because we win districts like that," Texas Representative Filemon Vela told Politico in March. "Running against Nancy Pelosi is going to help you a lot more than running with her."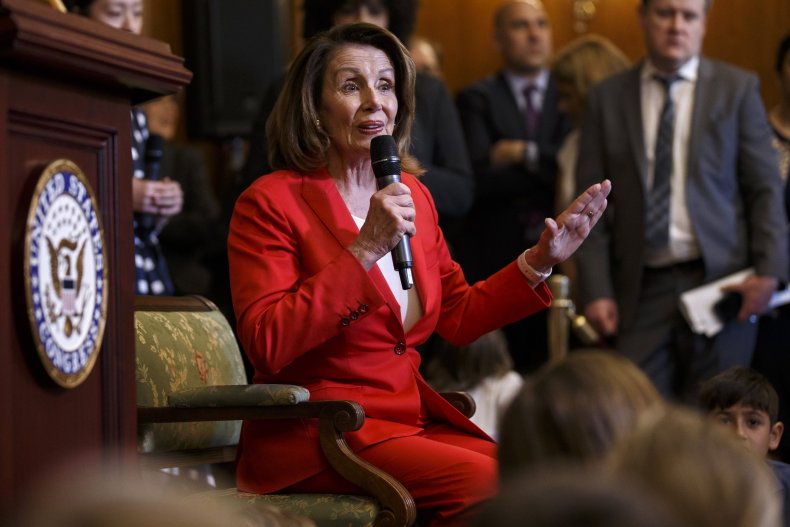 Pelosi's leadership remains a popular talking point for candidates on both sides of the aisle. As of last month, the minority leader featured in some 7,000 GOP ad spots, where strategists say she serves as a kind of shorthand for the problems with the Democratic Party.
At the time, a spokesperson from Pelosi's office told Newsweek the GOP criticism came from a place of desperation, as the party attempts to stave off a Democratic takeover in the House.
"It's impossible to make a midterm about anything other than the president and his party," the spokesperson said. "They're floundering."
As for Pelosi, she's hardly phased.
"Nancy Pelosi dons a suit of armor every day and eats nails for breakfast," her spokesperson added.