Nancy Pelosi Says Capitol Police Boosting Ilhan Omar Security, Condemns Trump's 'Hateful' 9/11 Tweet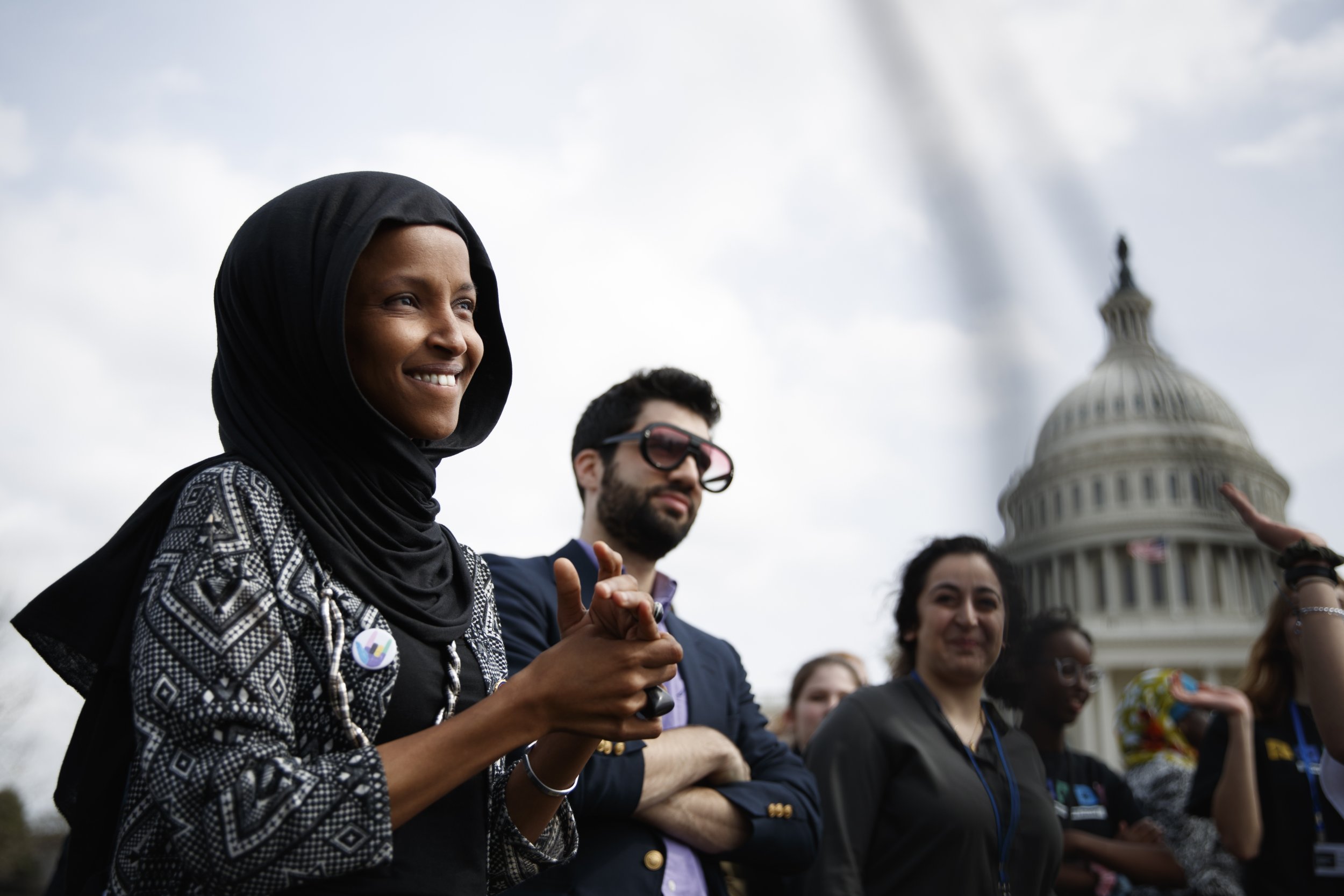 Speaker of the House Nancy Pelosi issued a statement Sunday demanding President Donald Trump take down the "dangerous" video showing Minnesota congresswoman Ilhan Omar alongside clips of the September 11, 2001, terrorist attacks. Pelosi also said she has taken additional security measures to ensure Omar's safety.
Pelosi and several other top Democrats had already criticized Trump's tweet, which had the caption "WE WILL NEVER FORGET!" and repeatedly shows Omar saying the phrase "some people did something" intercut with footage of the 2001 attacks. The Omar quote is an out-of-context statement taken from an Islamic rights event in March.
The Speaker and others have voiced concerns that the video opens Omar to threats and potential violent retribution from Trump's supporters. Pelosi's office issued the statement Sunday: "Following the President's tweet, I spoke with the Sergeant-at-Arms to ensure that Capitol Police are conducting a security assessment to safeguard Congresswoman Omar, her family and her staff. They will continue to monitor and address the threats she faces."
Pelosi's statement continued: "The President's words weigh a ton, and his hateful and inflammatory rhetoric creates real danger. President Trump must take down his disrespectful and dangerous video," the statement continued.
Omar was already targeted by at least one New York state man who was arrested last month after he threatened to kill Omar, one of the first two Muslim congresswomen ever elected in the U.S.
".@realDonaldTrump's dangerous video must be taken down," Pelosi tweeted Sunday. On Saturday, Pelosi previously condemned Trump's September 11 tweet about Omar.
"The memory of 9/11 is sacred ground, and any discussion of it must be done with reverence. The President shouldn't use the painful images of 9/11 for a political attack," Pelosi said in a statement. "It is wrong for the President, as Commander-in-Chief, to fan the flames to make anyone less safe."
Trump, who re-tweeted his own post a day later, appeared to have un-pinned the tweet from the top of Twitter account page Sunday afternoon. The original tweet itself is still on his timeline.
Omar's fellow first-term Congresswoman Alexandria Ocasio-Cortez said on Friday that she believed Omar's "life is in danger. For our colleagues to be silent is to be complicit in the outright, dangerous targeting of a member of Congress. We must speak out."
Several prominent Democrats, including Rep. Alexandria Ocasio-Cortez, Sen. Elizabeth Warren and presidential hopeful Beto O'Rourke said, following Trump's tweet, that the president could be inciting violence against Omar.
Appearing on CNN Saturday, Trump campaign board member Steve Rogers argued that the president would "never, ever endorse anyone committing an act of violence against anyone."
However, CNN's Victor Blackwell responded by pointing out that Trump, during the 2016 presidential campaign, had made a number of statements at rallies that could be seen as encouraging supporters to physically attack others.
"We've seen the president say that with the good old days that people would be taken out in stretchers at his rallies during the 2016 campaign," said the CNN host. "We've him say that what he'd like to do is punch somebody in the face. We've seen him promise to pay for legal bills if they were to attack a protestor at one of his rallies so what you're saying there just simply is not true."