Nancy Pelosi Calls Joe Biden 'Voice of Reason' on Coronavirus As She Endorses Him for President
House Speaker Nancy Pelosi has endorsed Joe Biden for president, calling the Democratic nominee a "voice of reason" amid the ongoing coronavirus pandemic.
In a campaign video released Monday morning, Speaker Pelosi said former Vice President Biden would be an "extraordinary president" who could lead the country out of the COVID-19 crisis.
In her video statement, Speaker Pelosi said: "Today, I am proud to endorse Joe Biden for President of the United States because he will be an extraordinary President. He knows how to get the job done."
After referring to his record on the Affordable Care Act and the financial crisis, the California Democrat said Biden would be a "voice of reason and resilience" who could "lead us out of this crisis" amid rising COVID-19 infections and widespread unemployment.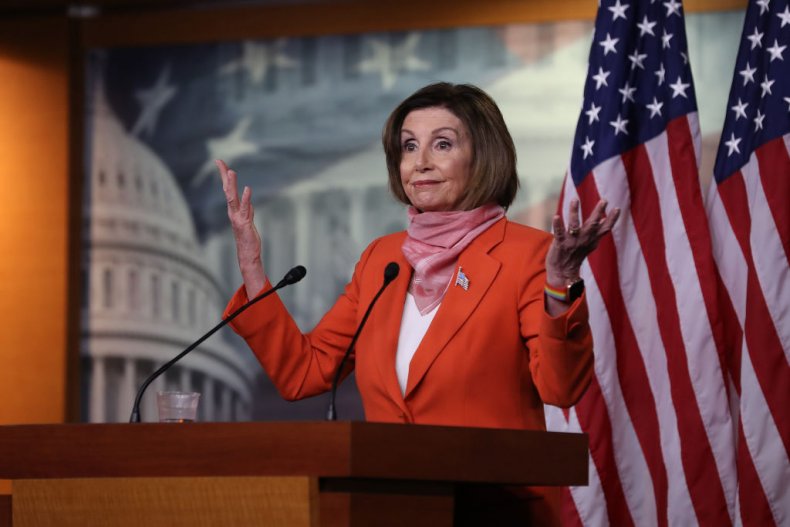 "Elections are about the future. Now more than ever, we need a forward-looking, battle-tested leader who will fight For The People: a President with the values, experience and the strategic thinking to bring our nation together and build a better, fairer world for our children," she added.
"For these and other reasons, I am proud to endorse Joe Biden for President: a leader who is the personification of hope and courage, values, authenticity, and integrity."
Newsweek has contacted the Biden for President campaign for further comment and will update this article with any response.
Speaker Pelosi's endorsement of Biden follows public backing from former President Barack Obama, Vermont Senator Bernie Sanders and Massachusetts Senator Elizabeth Warren earlier this month.
In an 11-minute video endorsement of his former vice president's 2020 campaign, Obama said: "Joe has the character and the experience to guide us through one of our darkest times and heal us through a long recovery.
"I'm so proud to endorse Joe Biden for president of the United States. Choosing Joe to be my vice president was one of the best decisions I ever made, and he became a close friend. And I believe Joe has all the qualities we need in a president right now."
As the presumptive Democratic candidate for president, Biden has not yet reached the required delegate count to win the nomination outright. But he no longer faces primary opposition, and has been endorsed by most former candidates in the race.
According to the Biden for President campaign, the ex-vice president has picked up more than 2,500 endorsements from national and local politicians so far.
At the time of writing, Real Clear Politics' head-to-head polling average puts Biden 5.9 percentage points ahead of President Donald Trump heading toward the November presidential election.