Nancy Pelosi Joins Democrats Calling for Trump's Immediate Removal From Office
Speaker of the House Nancy Pelosi joined many of her Democratic colleagues and one Republican in calling for President Donald Trump's immediate removal from office on Thursday in the wake of the Capitol being seized by thousands of pro-Trump insurrectionists who violently stormed the building.
The California Democrat warned that should Vice President Mike Pence and the rest of the outgoing commander-in-chief's Cabinet refuse to forcibly oust Trump through invoking the 25th Amendment, "Congress may be prepared to move forward with impeachment." No timeline was offered about when such action by the House might be carried out.
"Yesterday, the president of the United States incited an armed insurrection against America," Pelosi told reporters. "In calling for this seditious act, the president has committed an unspeakable assault on our nation."
"This man is deadly," she added, "to our democracy and to our people."
Dozens of Democrats, including Senate Minority Leader Chuck Schumer (D-N.Y.), have called for the swift removal of Trump from office, whether by the 25th Amendment or impeachment. Two GOP lawmakers, Reps. Adam Kinzinger (R-Ill.) and Steve Stivers (R-Ohio), have so far concurred that such drastic and immediate action is required.
Pelosi and Schumer called Pence Thursday morning, they said later that night, to urge him to invoke the 25th Amendment but had "not yet heard back from the vice president," a joint statement read.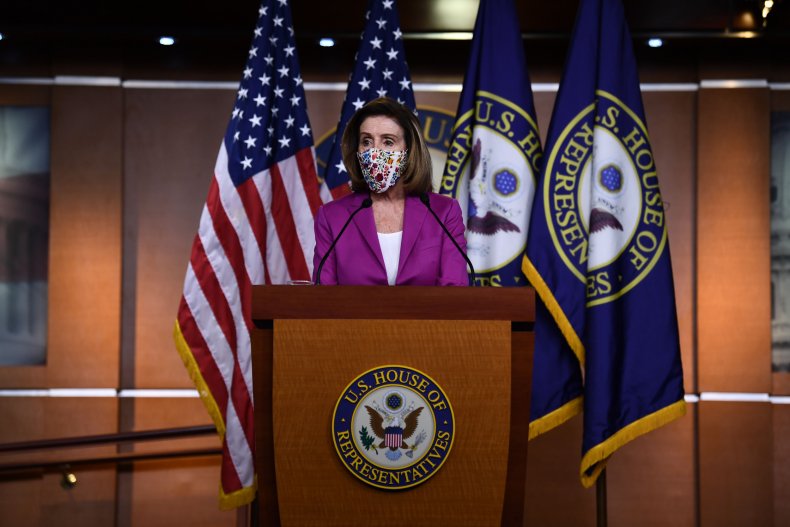 Despite Wednesday's hourslong delay of certifying Joe Biden's victory, a joint session of Congress made his election official at approximately 3:30 a.m. Thursday.
But despite the mob that had ascended on them just hours prior, forcing them to barricade themselves inside offices and flee to secret locations within the Capitol, roughly 140 congressional Republicans—led by Sens. Ted Cruz (R-Texas) and Josh Hawley (R-Mo.) in the Senate and Rep. Mo Brooks (R-Ala.) in the House—voted to overturn the results of a free and fair election.
Such actions, Pelosi, equivocated to Republicans acting as "enablers" to the "attempted coup on the part of President Trump and his supporters."
"Accountability is also needed for Republicans in Congress who promoted the extreme conspiracy theories that provoked the violence, encouraged the mob and who, after the desecration of the Capitol, went back to the House floor and continued to push the falsehoods that undermined this assault on our democracy," Pelosi said. "These Republicans abdicated their oath of office that was taken just three days prior to protect the American people and to support and defend the Constitution of the United States."
The political and procedural reality is that absent the 25th Amendment, Trump will most likely serve out his final 13 days in office. It is questionable whether Congress would have the time or political willpower to impeach and remove the president. But Pelosi and House Democratic leaders indicated they were prepared to move swift and impeach the president for a second time.
Despite little-to-no potential for actually convicting the president in the GOP-controlled Senate, Pelosi said that by Trump "inciting sedition" with bombastic rhetoric and ramping up the rioters at a rally before the siege on the Capitol, he "must be held accountable again."
"A threshold was crossed of such magnitude that there was no way that this president should be allowed to make any decision to rouse any troops of his Trumpites," she continued. "What's next? What happens today? Who knows, but we do know that he must be contained."
This story was updated to include that Pelosi and Schumer attempted to reach Pence by phone Thursday morning.