Nancy Pelosi Pledges 'Ironclad' Case Against Trump As Crowd Chants 'Impeach'
As cries for impeachment drowned out Speaker of the House Nancy Pelosi's speech at the California Democratic Party's annual convention in San Francisco on Saturday, the congresswoman vowed to continue to "investigate" the president.
"I told you this was like coming home for me," Pelosi joked to the Democratic audience agitating for an impeachment inquiry.
But Pelosi remained firm in her careful enunciations about how to pursue oversight of the Trump administration.
"With the power of the gavel, we will continue to legislate to make progress for the American people," she said. "But we will also investigate to defend our democracy and to hold this president and his administration accountable."
As she reprised the major themes from Special Counsel Robert Mueller's report on Russian election interference and possible obstruction of justice by Trump, impeachment calls echoed throughout the audience.
"Why is it that the president won't defend our democracy from this foreign threat?" she asked above the growing chorus calling for Trump's ouster. "What is the president covering up?"
Pelosi has been hesitant to explicitly call for impeachment, though some prominent members of her own party and vocal members of the Democratic base have been beating the drum for removing Trump from office since the Russia investigation identified key instances in which the president may have obstructed justice.
The Speaker has long said that an impeachment inquiry would be futile without Republican buy-in, as the actual trial for an impeachment proceeding would take place in the Senate, currently run by the Republican Party. What's more, removing a sitting president would require approval from two-thirds of the Senate, making it nearly impossible in the current climate.
In trying to dissuade her colleagues from embracing the impeachment fervor, Pelosi has made a host of appeals — to ears that appear to be growing increasingly reluctant to hear them — including one comment that Trump's conduct is becoming "self-impeachable," a term with no readily apparent meaning.
She told attendees at the California convention that the chairs of various committees in the House are hard at work "exposing the full extent of the president's wrongdoing and corruption and strengthening our hand to challenge the administration in court."
But those assurances may not be enough to appease a restless Democratic electorate who see the president as a figure long overdue for a constitutional redress.
"We will build an ironclad case to act," Pelosi said. "President Trump will be held accountable for his actions. In the Congress, in the courts and in the court of public opinion, we will defend our democracy."
For many Democrats, one form of accountability can't come soon enough.
According to a newly released Harvard-Harris poll, 60 percent of Democrats want to see the president impeached and removed from office. Another quarter of Democrats want him censured. One-in-four Republicans supports impeachment and removal or censure.
"Our investigations are breaking through the Trump administration's cover-up to get the truth," Pelosi cautioned. "We want the truth for the American people."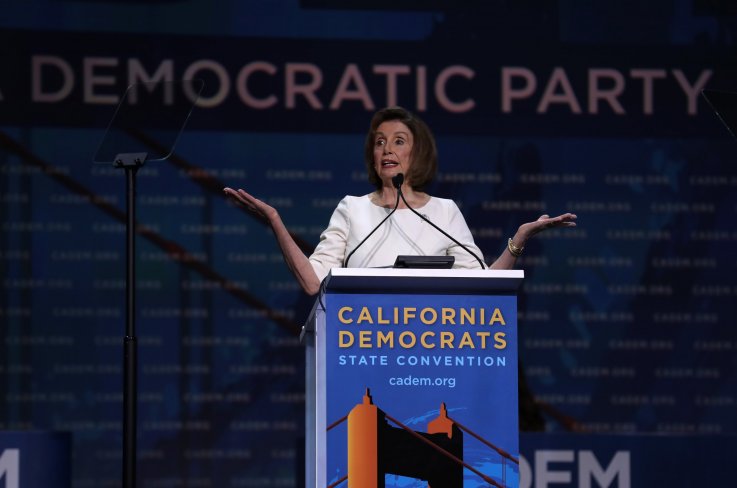 Nancy Pelosi Pledges 'Ironclad' Case Against Trump As Crowd Chants 'Impeach' | U.S.