Nancy Pelosi Is in President's Head, Trump Biographer Tells CNN's Don Lemon: 'She's Mommy and She's Not Treating Him Well'
Donald Trump's differences with House Speaker Nancy Pelosi have a deep-rooted psychological cause, the president's biographer has suggested.
Michael D'Antonio was having a lighthearted discussion on CNN with Don Lemon about Trump storming out of an infrastructure deal meeting with congressional Democratic leaders at the White House.
According to Senate Minority Leader Chuck Schumer, Trump shouted at Pelosi during the three-minute interaction before stomping off. Pelosi released a statement calling it a "temper tantrum."
Earlier, Pelosi had said Trump was "engaged in a cover-up" regarding the White House's refusal to hand over evidence about the president's actions and finances.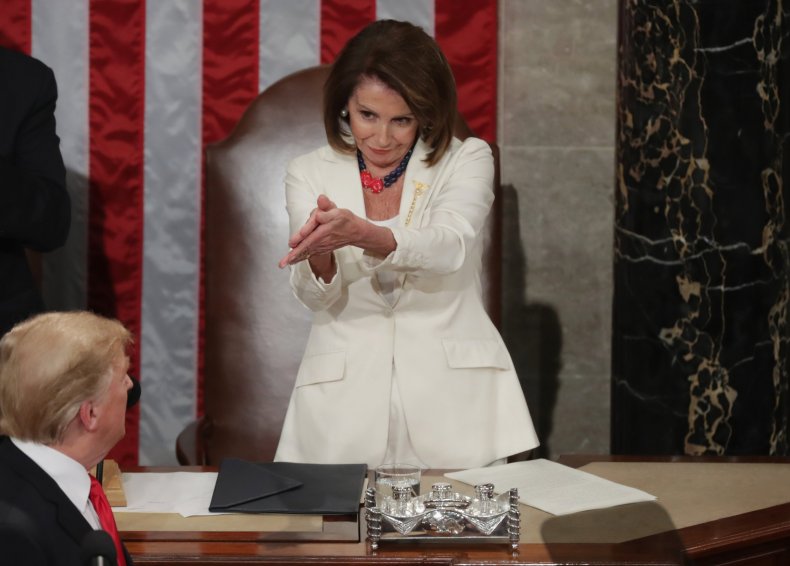 Trump later told reporters in the Rose Garden that if House Democrats continued to investigate him, there would be no deal on infrastructure and pointedly said: "I don't do cover-ups."
Lemon asked D'Antonio about Trump's tense relationship with the House Speaker.
"Why does he get so earthed by Nancy Pelosi?" he said.
D'Antonio replied: "She's Mommy and she's not treating him well," with Lemon barely suppressing a chuckle.
D'Antonio went on: "She's a powerful woman, a bit older than him, got authority. I don't think he likes it when women aren't taking care of him.
"Absolutely she lives in his head and what's weird is she doesn't have to do much, does she? She just has to say this is a cover-up. And what's amazing is his whole life has been a cover-up. There's not been a thing that he's claimed that has not been distorted.
"He walked out into the Rose Garden and covered-up the real reason why this meeting blew up. He was covering up as he's saying Donald Trump doesn't do cover-ups," he added, via Raw Story.
D'Antonio has often been at the sharp end of Trump's criticism. In January, after the biographer accused Trump of being "politically afraid" because polls showed he was being blamed for shutdown in Washington, the president described him as "a broken down hack who knows nothing about me."
His tweet also described D'Antonio as "a third-rate conman who interviewed me many years ago for just a short period of time has been playing his biggest con of all on Fake News CNN."
D'Antonio's book Never Enough: Donald Trump and the Pursuit of Success was published in 2015 and was based on interviews with the president, his son Donald Trump Jr., and first wife Ivana Trump.
The New York Times described it as a "damning account" of Trump's life.