Nancy Pelosi, Progressive Jewish Groups Rally Behind Rashida Tlaib After 'Outrageous' Republican Attacks
Speaker of the House Nancy Pelosi joined progressive Jewish groups to defend freshman Congresswoman Rashida Tlaib after she faced attacks from President Donald Trump and other Republicans over comments regarding Israel and the Holocaust.
Pelosi posted to Twitter on Monday afternoon, calling the attacks on Tlaib "outrageous" and saying that the representative's comments had been misrepresented. She wrote that Trump and Republicans "should apologize to Rep. Tlaib & the American people for their gross misrepresentations."
House Majority Leader Steny Hoyer also commented on the controversy through his official Twitter account. "If you read Rep. @RashidaTlaib's comments, it is clear that President Trump and Congressional Republicans are taking them out of context," he wrote. "They must stop, and they owe her an apology."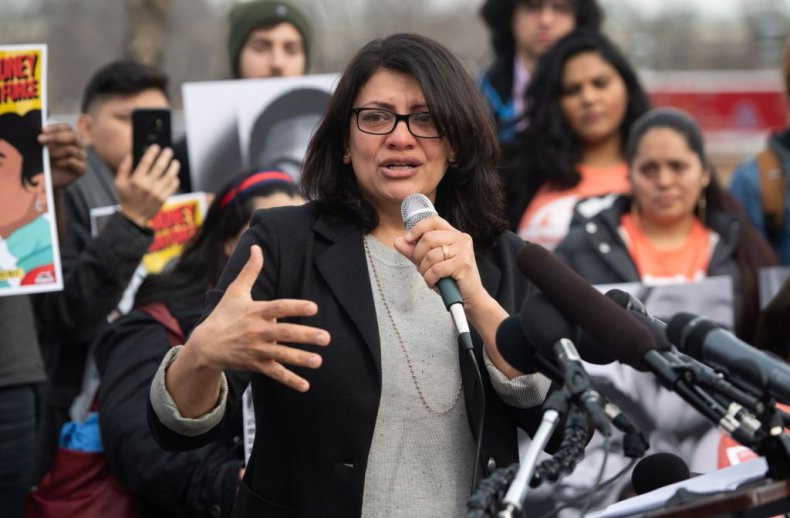 The comments from the Democratic leaders came after the progressive political action committee Justice Democrats issued an official statement supporting Tlaib and calling on Pelosi and Hoyer to do the same. The group responded to Hoyer's post, thanking him for "speaking out."
Tlaib, who is Palestinian-American and supports the Boycott, Divestment and Sanctions movement against Israel, discussed Israel and the Holocaust during an interview on Yahoo! News' Skullduggery podcast which aired on May 10. She suggested that a one-state solution would be an ideal way to resolve tensions between the Palestinian territorities and the Israeli government. Critics, however, jumped on her comments referencing the Holocaust.
"There's kind of a calming feeling I always tell folks when I think of the Holocaust, and the tragedy of the Holocaust, and the fact that it was my ancestors, Palestinians, who lost their land, and some lost their lives, their livelihood, their human dignity, their existence in many ways, have been wiped out," Tlaib said. She continued by explaining she was glad her ancestral homeland had become a safe haven for Jews, but the Palestinians had lost "their human dignity," and the situation needed to be rectified.
Republican critics lashed out at Tlaib for saying the Holocaust brought on a "calming feeling." Trump also took aim at the progressive congresswoman in a Monday Twitter post.
"Democrat Rep. Tlaib is being slammed for her horrible and highly insensitive statement on the Holocaust. She obviously has tremendous hatred of Israel and the Jewish people," the president wrote. "Can you imagine what would happen if I ever said what she said, and says?"
Rebecca Vilkomerson, the executive director of the American-Jewish group Jewish Voice for Peace, criticized the reaction from the president and Republicans.
"The most recent attacks on Rep. Rashida Tlaib are from the same playbook as previous attacks on Muslim leaders," Vilkomerson told Newsweek. "They are rooted in not just bad-faith misrepresentation of her words, but also in a distressing underlying Islamophobia. Weaponizing bogus accusations of anti-Semitism to de-legitimize leaders of color is deeply disrespectful to both Jewish and Muslim communities."
Yonah Lieberman, a representative for If Not Now, another American-Jewish group, shared similar sentiments in a comment to Newsweek.
"Rep. Tlaib made a nuanced comment about how two tragedies are intertwined: that of the Jewish people in Holocaust, and that of the Palestinian people after 1948. There is nothing anti-Semitic in pointing out, as she did, that the creation of a safe haven for Jews in Israel also led to Palestinian suffering," Lieberman said, and accused Republicans of making "false accusations of anti-Semitism" to shut down criticism of Israeli policies.
"It's deeply insulting to the victims of the Holocaust for Republicans to use this historical atrocity to attack those who are currently targeted by white supremacists and nationalists," he said.
Tlaib has stood by her comments and explained that they were misconstrued.
"It's more than just silencing a member of Congress," she tweeted Monday afternoon. "They are using my faith & ethnic background to promote their hate agenda that leads to more violence. The GOP has no policy agenda, and continues to enable a lawless President who doesn't care about protecting our democracy."