Nancy Pelosi Rejects 'Defund the Police' After Cori Bush Pushes It Again
Speaker of the House Nancy Pelosi dismissed the notion of "defunding the police" on Sunday after a renewed push from progressive Democrats.
Pelosi touched on the subject during an appearance on ABC's This Week after being pressed on the matter by host George Stephanopoulos. Prior to the interview, progressive Rep. Cori Bush of Missouri reiterated her support for the police reform slogan and referenced pressure from within the Democratic Party to change her stance.
"With all due respect in the world for Cori Bush, that's not the position of the Democratic Party," Pelosi said. "Community safety, protect and defend in every way, is our oath of office."
Falling in line with Pelosi, U.S. Rep. Ritchie Torres, a Democrat from New York, also said that "the defund police movement is dead."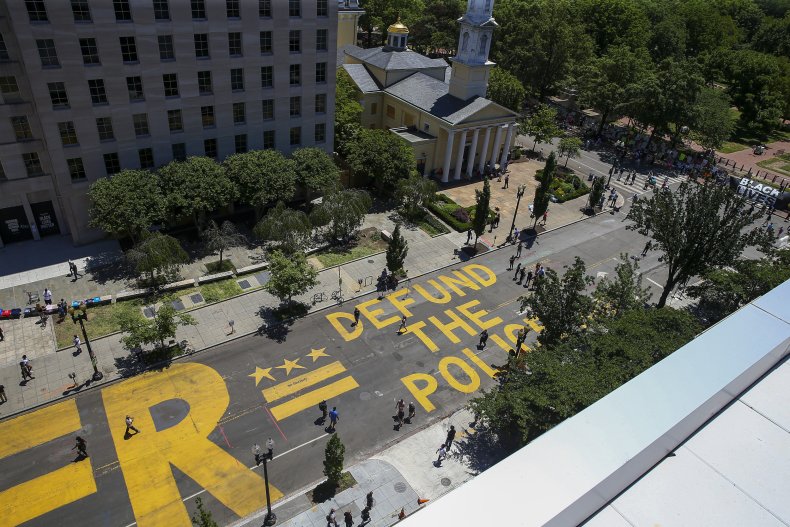 "The defund police movement is dead in New York City—and good riddance," Torres, a freshman congressman representing the South Bronx, said on February 3. "And any elected official who's advocating for the abolition and/or even the defunding of police is out of touch with reality and should not be taken seriously."
Bush made her comments during an interview with Axios on Wednesday. The lawmaker said that if Democrats lose the House majority in the upcoming midterm elections, it will have been because of their failure to pass promised legislation and not because of progressive support of the "Defund the Police" movement, as some moderates have asserted.
"I always tell [fellow Democrats], 'If you all had fixed this before I got here, I wouldn't have to say these things,'" Bush explained. "'Defund the police' is not the problem. We dangled the carrot in front of people's faces and said we can get it done and that Democrats deliver, when we haven't totally delivered...If [Republicans] take the majority, it's just done as far as trying to get the legislation across."
Without naming names, Bush also confirmed that colleagues in Washington have told her that the "Defund the Police" stance has created problems in the districts. Despite this pushback, she said that she will not drop the slogan until meaningful police reforms are passed.
Pelosi also praised the likes of Democratic Rep. Karen Bass of California and New York Mayor Eric Adams for their new anti-crime plans in her interview. Contrary to the "Defund the Police" ethos, Bass has called for an increase in hiring and budget for the Los Angeles Police Department.
Newsweek reached out to Bush's office for a comment on this story, but has not heard back in time for publication.