Nancy Pelosi 'Satisfied' With How Joe Biden Responded to Tara Reade Sexual Assault Allegation
House Speaker Nancy Pelosi, the capital's top Democratic lawmaker, has said she is "satisfied" with how presumptive presidential nominee Joe Biden has responded to a sexual assault allegation from former Biden staffer Tara Reade.
Pelosi, who represents California, weighed in on the allegation during a CNN interview on Thursday. The speaker was asked whether she believed Biden should directly address the accusation. Although Biden's campaign has strongly denied the veracity of Reade's account, the former vice president has not publicly discussed the matter.
"I have great sympathy for any women who bring forth an allegation, and I'm a big strong supporter of the Me Too movement," Pelosi said. "I think it's made a great contribution to our country. And I do support Joe Biden. I'm satisfied with how he has responded.
"I know him. I was proud to endorse him on Monday. Very proud to endorse him. And so I'm satisfied with that," she said.
When CNN host Alisyn Camerota pressed Pelosi further, noting that Biden has not publicly addressed the allegation himself, Pelosi said it's a matter that the Democratic contender "has to deal with."
"But I am impressed with the people who worked for him at the time saying that [they] absolutely never heard one iota of information about this. Nobody ever brought forth a claim or had anybody else tell them about such a claim," she continued. "But again, we have an important election at hand."
Pelosi also asserted that she has backed Biden because he's "a person of great values, integrity, authenticity, imagination and a connection to the American people." She described the former vice president as "the personification of hope for our country."
Reade worked for Biden when he served as a senator from Delaware. She alleges that in 1993 he sexually assaulted her by penetrating her with his fingers without her consent in the hallway of a Capitol Hill office building after she brought him a gym bag.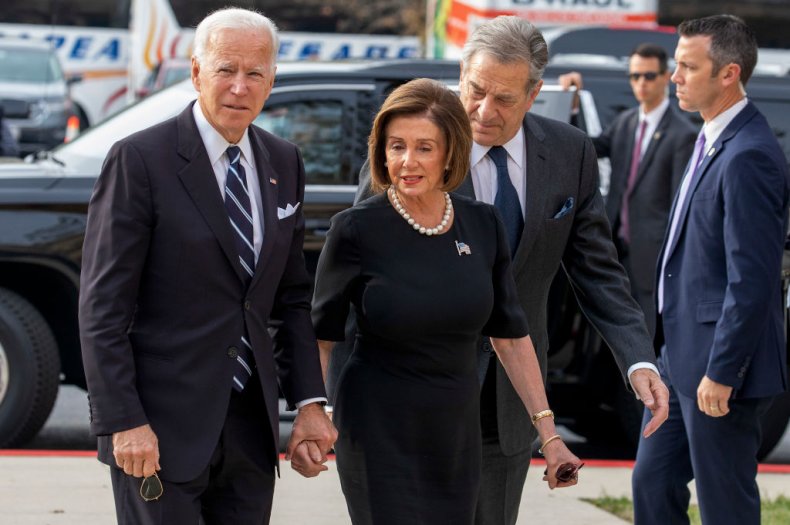 Her brother and an unidentified close friend have confirmed to multiple media outlets that she told them about the incident shortly after it occurred. Two other women, a neighbor and a former colleague, have come forward to say that Reade told them about the incident in the mid-1990s.
Biden's campaign has said it is important for any woman's allegations to be heard and vetted by journalists. However, it has firmly denied that the assault took place. Multiple former Biden staffers, who worked for him in the Senate at the time that the assault allegedly occurred, have said such behavior was entirely out of character for the man they worked for.