Nancy Pelosi Says It's Fair Game to Go After Ivanka Trump, Jared Kushner: 'They Are Advisers to the President... Not Their Children at Home'
While congressional Democrats are divided on how hard to investigate President Donald Trump's family members—particularly his daughter and senior White House adviser, Ivanka Trump—House Speaker Nancy Pelosi said they were fair game for scrutiny.
"Whover falls into that net, falls into that net," Pelosi told The Washington Post on Thursday. "They are advisers to the president. They have security clearances. This is not their children at home."
Ivanka Trump and her husband, Jared Kushner, have served in the West Wing since Donald Trump took office. Ivanka Trump has been working on issues such as workforce development and paid family leave, while Kushner has been tackling Middle East peace and the U.S. criminal justice reform.
Their top-secret security clearances were controversial. CNN reported that the president pressured then-chief of staff John Kelly and White House counsel Don McGahn to approve a security clearance for Ivanka Trump. And the Post reported that Ivanka then nudged her father to give Kushner security clearance despite career intelligence officials' concerns that he could be influenced by his foreign contacts.
Two House Democratic committee chairmen shared Pelosi's view on the matter.
"Jared Kushner and Ivanka don't receive any immunity from public or congressional investigation because they're related to the president," Representative Jamie Raskin of Maryland, a member of the House Judiciary and Oversight and Reform Committees investigating Trump, told the Post. "A family member who accepts official governmental responsibilities or participates in illegal activity has no special immunity from investigation."
House Judiciary Committee Chairman Jerrold Nadler, a New York Democrat, said, "They have to be as accountable as everybody else. We've got to do our job… We are not crossing any lines."
But other Democratic leaders hesitated to target Trump's children.
Representative Gerald Connolly of Virginia, who sits on the House Oversight and Reform Committee, told the news outlet it would be "too high-profile" and "very dicey business."
Representative Stephen Lynch of Massachusetts, also on the Oversight and Reform Committee, said that going after the president's children should be the "last resort" but that lawmakers should get them to testify publicly if there is no other way to question them. "They're part of the operation, so they're integral. I think there's just a sense of decency that you don't do that unless you really have to. We're not out there to cause family problems," Lynch told the Post. "But in this case, like I said, there is no exemption for anyone. If we have to get the information, we have to get it."
A lawyer for Ivanka Trump and Kushner did not immediately respond to a request forcomment from Newsweek on Friday.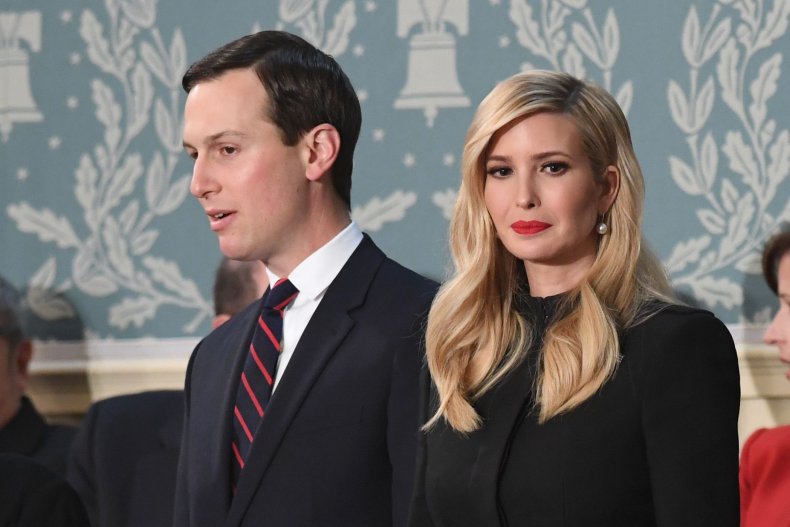 President Trump is sensitive to criticism to his children, particularly his daughter, and in the past reportedly urged them to leave Washington.
In September 2017, Politico reported that the president, after hearing criticism of his daughter, told her, "Baby, you're getting killed, this is a bad deal."