Nancy Pelosi Says Maxine Waters Should 'Absolutely Not' Apologize for 'Confrontational' Comment
House Speaker Nancy Pelosi (D-Calif.) told reporters on Monday that Representative Maxine Waters (D-Calif.) has no reason to apologize for comments she made in Minnesota over the weekend that resulted in backlash from Republicans.
Waters was accused of inciting violence after telling demonstrators protesting police brutality in Brooklyn Center, Minnesota—where Duante Wright, a 20-year-old Black man, was shot and killed by a police officer—that they need to "get more confrontational" in the fight for police reform.
Pelosi staunchly rejected the idea of apologizing, saying that Waters' comments were appropriate in the context they were used.
"No, Maxine talked about confrontation in the manner of the civil rights movement," Pelosi said. "I myself think we should take our lead from the George Floyd family. They've handled this with great dignity, and no ambiguity or lack of—misinterpretation by the other side. No, I don't think she should apologize."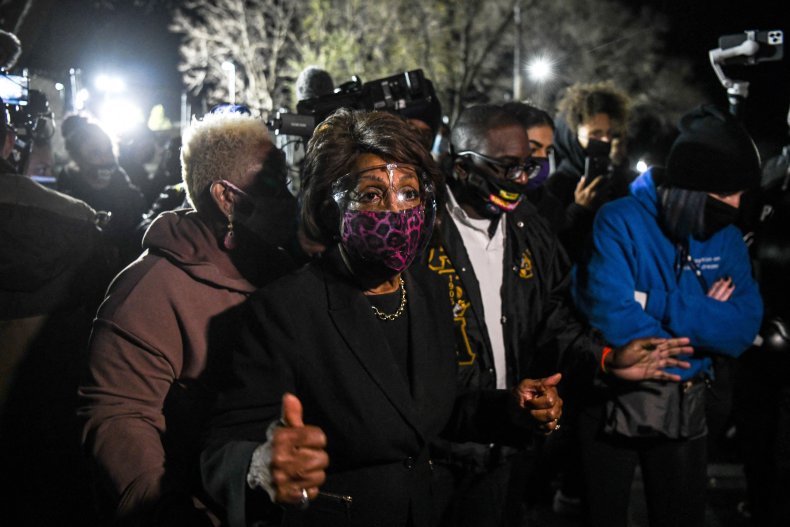 Pelosi's response comes as the jury deliberates in the trial of former Minneapolis Police Officer Derek Chauvin in Floyd's death.
GOP lawmakers took to the House floor Monday to rebuke the comments, threatening to strip Waters of her title as chairwoman of the Financial Services Committee. House Republican Leader Kevin McCarthy of California responded that he would act if Pelosi did not punish Waters.
"Maxine Waters is inciting violence in Minneapolis—just as she has incited it in the past. If Speaker Pelosi doesn't act against this dangerous rhetoric, I will bring action this week," McCarthy said on Twitter on Monday.
In a press conference Monday, White House press secretary Jen Psaki avoided outright condemnation of Waters' comments but appeared to separate the White House from the lawmaker's stance. Psaki emphasized that protests should remain "peaceful" even in times of racial anguish like that resulting from the shooting of Wright and the death of Floyd.
"Well I can speak to the president's view, he has been very clear that he recognizes the issue of police violence against people of color, communities of color as one of great anguish and it's exhausting and quite emotional at times," Psaki said.
"His view is also that exercising First Amendment rights and protesting injustice is the most American thing that anyone can do," she continued. "But as he also always says, protests must be peaceful. That's what he continues to call for and what he continues to believe is the right way to approach responding."