Nancy Pelosi Says 'Nobody In The Country' Knows Better Than Donald Trump That He Shouldn't Be President
Speaker of the House Nancy Pelosi didn't hold back during an interview with 60 Minutes regarding her opinions on the capabilities of President Donald Trump.
"I think that there's nobody in the country who knows better that he should not be president of the United States than Donald Trump," Pelosi said when asked to describe the president.
60 Minutes journalist Lesley Stahl then asked if Pelosi thought Trump was aware he should not be president.
"I think he does. Yeah," Pelosi said. "But I respect the office he holds and, uh, he's not-- worth the trouble of saying you're so horrible we can't work together. No, we need to work together."
Working together was a frequent call from Pelosi during the interview, including among members of her own party.
"You are contending with a group in Congress: Over here on the left flank are these self-described socialists, on the right, these moderates. And you yourself said that you're the only one who can unify everybody. And the question is can you?," Stahl asked.
"By and large, whatever orientation they came to Congress with, they know that we have to hold the center. That we have to be m- go down the mainstream," Pelosi said.
The congresswoman later shrugged off assertions that the Democratic party is fractured due to progressive voices like New York Rep. Alexandria Ocasio-Cortez, a group that Pelosi said was "like five people."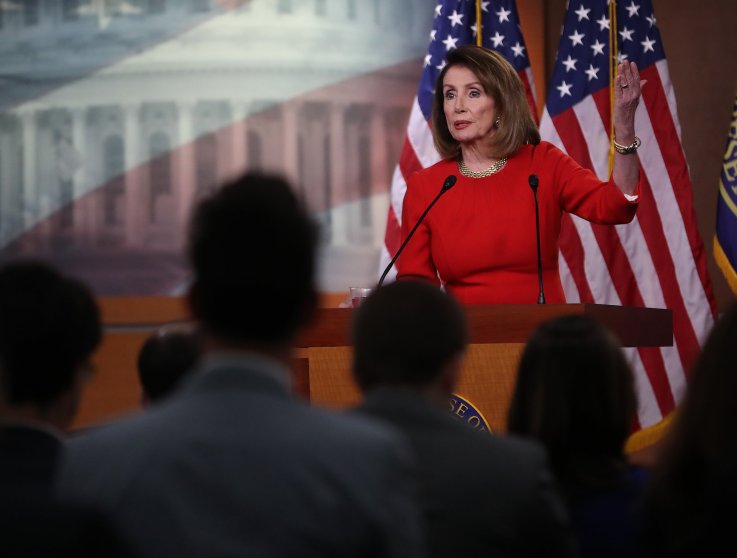 To illustrate the divide between members of the party, Stahl cited calls from progressives for Medicare for all. "Medicare for all — it's not only being pushed by some members of your caucus, but also some of the presidential candidates. And it is allowing the president to say you're all socialists," Stahl said.
"Do you know that when we did Med - when Medicare was done by the Congress at the time, under Lyndon Johnson, Ronald Reagan said, Medicare will lead us to a socialist dictatorship. This is - this is an ongoing theme of the Republicans," Pelosi said, before adding that she rejects socialism "as an economic system."
"If people have that view, that's their view. That is not the view of the Democratic Party," Pelosi said.
Later in the interview, the California Democrat said that she feels the country is strong enough to survive Trump's term as president.
"I think our future is strong enough - built on a strong foundation to withstand everything including the current occupant of the White House. I don't think for two terms though," she said.
Trump responded to Pelosi's interview later on Sunday, tweeting that 60 Minutes interview was a "puff piece."
"Such a 'puff piece' on Nancy Pelosi by @60minutes, yet her leadership has passed no meaningful Legislation. All they do is Investigate, as it turns out, crimes that they instigated & committed. The Mueller No Collusion decision wasn't even discussed-and she was a disaster at W.H.," Trump wrote.
Updated 10:06 p.m. (04/14/19): This article has been updated to include Donald Trump's tweet about 60 Minutes' interview with Nancy Pelosi.
Nancy Pelosi Says 'Nobody In The Country' Knows Better Than Donald Trump That He Shouldn't Be President | U.S.