Nancy Pelosi Says Russia 'Had a Hand' in Trump Ukraine Whistleblower Debacle
House Speaker Nancy Pelosi, who officially launched an impeachment inquiry into President Donald Trump earlier this week, suggested that Russia may have "had a hand" in the Ukraine whistleblower scandal.
Pelosi appeared on MSNBC's Morning Joe on Friday for her first television interview since beginning the impeachment inquiry. The California Democrat told co-hosts Mika Brzezinksi and Joe Scarborough that Trump is violating the Constitution and must be held accountable.
"Well first let me say that this is no cause for any joy," Pelosi said. "This is a very sad time for our country. The impeachment of a president is as serious as our congressional responsibilities can be, apart from declaring war or something."
Pelosi added that Democrats and Republicans have to come together to put "country over party."
Brzezinski later asked Pelosi to explain to viewers why the president's actions regarding his communication with Ukraine's president were wrong and "extremely dangerous."
Pelosi said she acknowledged the need for the president to talk with foreign leaders and how some of those conversations may want to be "held close to the vest." But she added that it is not the president's job to "shakedown leaders of other countries using taxpayer dollars" for their own political benefit.
The House leader also slammed Trump for allegedly trying to cover-up the communication, noting that "two wrongs do not make a right. And the President's going to have to answer that. And they know how wrong it is."
Pelosi went on to compare the situation to Russian interference in the 2016 election, telling Morning Joe: "By the way, I think Russia has a hand in this." She did not elaborate further or provide an explanation of what she thinks Russia's role is in the Ukraine debacle.
"But we saw what the Russian disruption of our election last time, their interference, 100 percent confidence of the intelligence community, high confidence in the intelligence community that the Russians disrupted our election, that was wrong," she said.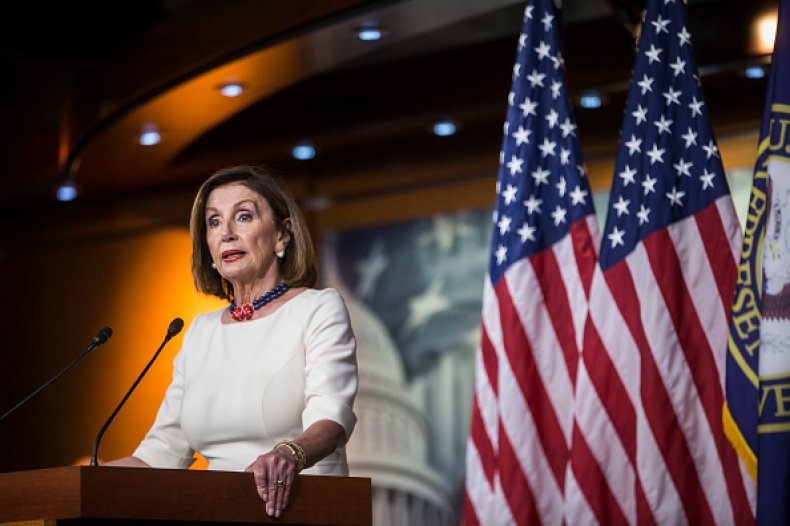 Pelosi officially announced the impeachment inquiry on Tuesday, following reports that he pressured Ukrainian President Volodymyr Zelensky to investigate former Vice President Joe Biden and his son Hunter.
"The President must be held accountable. No one is above the law," Pelosi said. "Actions taken to date by the President have seriously violated the Constitution."
Since her announcement, it's been reported by several news outlets that at least 218 lawmakers in the House (the exact number of votes needed to impeach Trump in the chamber) support moving forward with impeachment. As of Wednesday night, 217 Democrats and independent Representative Justin Amash favored the inquiry.
Trump has slammed Democrats for the impeachment inquiry and even suggested putting a stop to it upon returning to the White House from the U.N. General Assembly in New York on Thursday.
"What these guys are doing—Democrats—are doing to this country is a disgrace and it shouldn't be allowed," Trump told reporters. "There should be a way of stopping it, maybe legally through the courts."