Nancy Pelosi Says Trump Firing Esper Shows He Intends to Create 'Chaos' in Final Days of Presidency
House Speaker Nancy Pelosi reacted to Mark Esper's sudden dismissal on Monday, calling Donald Trump's decision to fire the defense secretary "disturbing" in a statement released soon after the president's announcement. The California Democrat suggested Esper's termination indicated Trump's resolve to create discord in Washington before leaving the White House.
"The abrupt firing of Secretary Esper is disturbing evidence that President Trump is intent on using his final days in office to sow chaos in our American Democracy and around the world," Pelosi said in the statement. "Continuity and stability are always important during a presidential transition; they are absolutely imperative at this moment, as this historically erratic Administration prepares for its departure."
Trump announced Esper's firing in a tweet on Monday afternoon. The president also said Christopher Miller, a national security official who previously led the federal counterterrorism center, will replace Esper as acting secretary of defense.
"Chris will do a GREAT job!" Trump wrote. "Mark Esper has been terminated. I would like to thank him for his service."
Esper's dismissal fueled suspicions that others in the administration could face termination before Trump's term ends in January and Joe Biden takes office. Since voting data began to tip in Biden's favor in the days after the polls closed, Trump has launched numerous efforts to challenge the election's results.
While the handful of lawsuits backed by his campaign are not expected to stand up in court, many anticipate the president will not leave office quietly. In light of Esper's firing, some suggest the president will dismiss other federal officials with whom he has clashed during his time in the White House.
"It is concerning that reports show that this firing was an act of retribution by the President, allegedly for Secretary Esper's refusal to send active-duty military troops to crack down on peaceful demonstrations against police brutality," Pelosi said in Monday's statement. She was referring to reports of Trump's outrage after Esper pushed back against his calls to deploy the military to areas where protests broke out over the summer.
"Most disturbingly, however, the timing of this dismissal raises serious questions about Trump's planned actions for the final days of his Administration," the House speaker continued. "Again and again, Trump's recklessness endangers our national security. It is disturbing and dangerous that, at this precarious moment, our military will now be led by an official who has not been confirmed for this position by the Senate."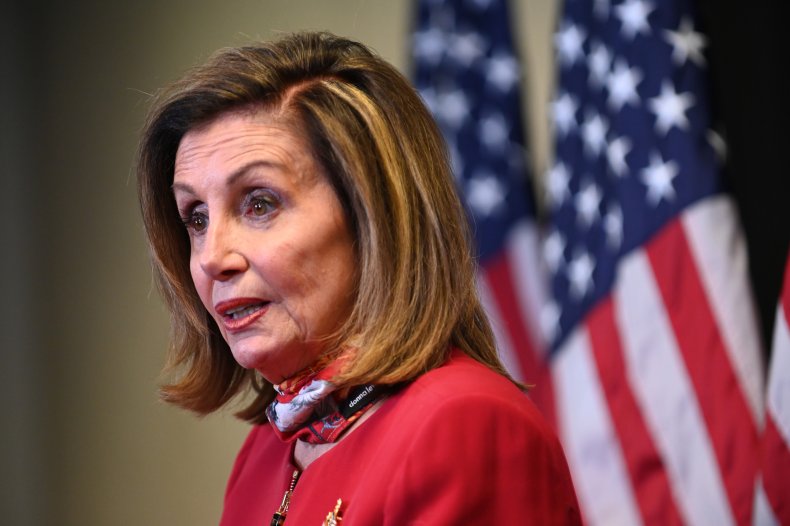 Democratic Senator Mark Warner, the vice chairman of the Senate Intelligence Committee, shared Pelosi's concerns. In a separate statement, he urged Trump to refrain from removing additional intelligence or national security officials who were previously confirmed by the Senate.
"I'm deeply troubled by President Trump's firing of Defense Secretary Mark Esper just 72 days before a new president will be inaugurated and during a growing global pandemic," Warner said. "There is no doubt our adversaries are already seeking vulnerabilities they can exploit in order to undermine American global leadership and national security during this transition period."
Newsweek reached out to the White House for comment but did not receive a reply in time for publication.