Nancy Pelosi Says U.S. 'Needs a Strong Republican Party'
Representative Nancy Pelosi said the U.S. needs "a strong Republican Party" in order for voters to have two choices at the ballot box. But she said the leadership exhibited by her successor, House Speaker Kevin McCarthy, "is not it."
Speaking to MSBNC's Morning Joe on Wednesday, Pelosi paraphrased Abraham Lincoln's famous quote that "public sentiment is everything" as she argued that the GOP needed to reevaluate its current state for the sake of the American people.
"I will say this—you'll be shocked, probably—I think the country needs a strong Republican Party [like] we need a strong Democratic Party...but this is not it," Pelosi said. "It isn't our judgment about what it should be. It's their judgment, but it's a missed opportunity for America."
McCarthy's speakership, which began just a month ago, is off to a shaky start. His election took a humiliating 15 votes over the course of four days—the longest speaker vote since before the Civil War—and came at the expense of concessions the California Republican made with some of his most right-wing members.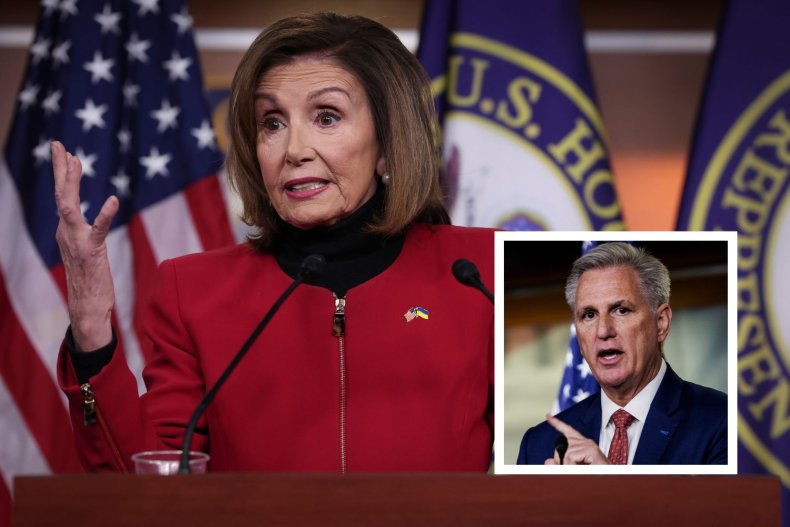 On Wednesday, Pelosi said she told McCarthy to "just get it done" and that she thought it was "inept" for a party leader to be unable to rally their members. The Democrat cautioned that the obstacle McCarthy was up against revealed the bigger issue facing the GOP.
"The problem they offer our country is greater than [the speaker vote]," she said. "That's indicative of it. We need to have clarity about what the argument is about. The public has to understand this is what the choices are."
The current state of the national Republican Party has been the center of significant political debate in the wake of the 2022 midterms, and a series of intraparty feuds have cast doubt about who is leading the GOP in a post-Trump era and about which politicians Republican voters actually support.
After the party suffered a disappointing midterm result that had been expected to be a resounding win, Republicans and their donors were quick to begin pointing fingers over who was to blame for the Democratic-controlled Senate and slim House majority.
While some called for the party to abandon former President Donald Trump over the candidates he endorsed but lost in the GOP primaries, others called for Republican National Committee (RNC) Chairwoman Ronna McDaniel to be replaced. However, neither of those criticisms stopped Trump from announcing his 2024 presidential bid days after the midterm elections or McDaniel from winning reelection to her post last month.
Newsweek reached out to the RNC for comment.