Speaker of the House Nancy Pelosi attacked President Donald Trump Saturday, accusing the commander-in-chief of using "threats and temper tantrums" to force Mexico into a deal that she labeled "unconscionable and irresponsible."
Trump announced Friday night that his administration had reached a tentative deal with Mexico that would stop the president from following through on his threat to slap tariffs on all imports from Mexico in exchange for cooperation from Mexico with curbing migration along America's southern border.
Pelosi's official response to this news was less than congratulatory.
"President Trump undermined America's preeminent leadership role in the world by recklessly threatening to impose tariffs on our close friend and neighbor to the south," wrote the Democratic congresswoman from California.
Of particular concern to Pelosi was the agreement's expansion of what has become known as the "Remain-in-Mexico" policy, which seeks to keep asylum-seeking Central American migrants on the Mexico side of the border until after U.S. officials have determined their eligibility to migrate to America.
Pelosi said she was "deeply disappointed" by this expansion, claiming it "violates the rights of asylum seekers under U.S. law and fails to address the root causes of Central American migration."
The Remain-in-Mexico program is the subject of an ongoing legal challenge. It was initially put on hold by a federal judge, but an appeals court subsequently allowed the policy to continue.
Pelosi continued by implying that Trump had overstepped his authority and acted where Congress ought to have.
"President Trump must stop sabotaging good-faith, constructive, and bipartisan efforts in Congress to address this complex problem in a humane manner that honors and respects our most cherished national values," she wrote.
Pelosi continued: "The Trump Administration must also do much more to cooperate in a meaningful way with Mexico in cracking down on smuggling networks. Its failure to do so thus far is unconscionable and irresponsible."
"Threats and temper tantrums are no way to negotiate foreign policy," concluded the statement.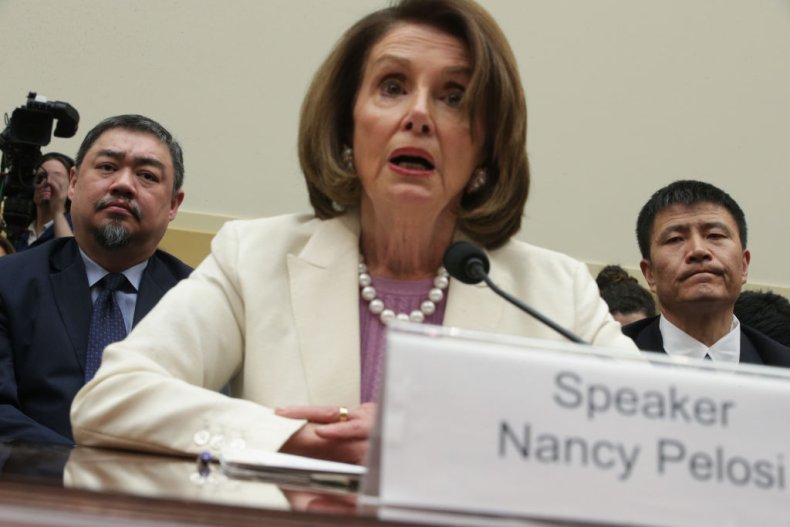 Pelosi was not the only Democratic leader to criticize the president's deal with Mexico.
Senate Minority Leader Chuck Schumer jokingly called the agreement an "historic night!" in a Friday evening tweet.
"Now that that problem is solved, I'm sure we won't be hearing any more about it in the future," said the senator, tongue planted firmly in cheek.
For his part, Trump has been celebrating what he appeared to view as a major victory for his administration, claiming that the deal will both work to slow down migration and to improve sales of U.S. agricultural products to Mexico.
The president did, however, take time out on Saturday to criticize Pelosi and others.
"Nervous Nancy Pelosi & the Democrat House are getting nothing done," he wrote on Twitter. "Perhaps they could lead the way with the USMCA, the spectacular & very popular new Trade Deal that replaces NAFTA, the worst Trade Deal in the history of the U.S.A. Great for our Farmers, Manufacturers & Unions!"