Speaker of the House Nancy Pelosi sought assurances from General Mark Milley, chairman of the Joint Chiefs of Staff, that then-President Donald Trump wouldn't be able to use nuclear weapons during his last days in office, according to a new book.
Pulitzer Prize-winning Washington Post journalists Carol Leonnig and Philip Rucker make the claim in their book, I Alone Can Fix It: Donald J. Trump's Catastrophic Final Year, which is due for release on Tuesday, July 20.
It was already public knowledge that Pelosi had spoken to Milley about Trump and his access to nuclear weapons, but the contents of the conversation hadn't been disclosed.
Leonnig and Rucker write that Pelosi was one of several lawmakers who spoke to Milley by phone following the firing of Defense Secretary Mark Esper in November 2020.
"We are all trusting you," Pelosi reportedly told Milley. "Remember your oath."
Following the deadly Capitol riot on January 6, Pelosi told Milley she was concerned Trump could use nuclear weapons, describing the former president as "crazy,""dangerous" and a "maniac."
Milley told her: "Ma'am, I guarantee you these processes are very good.
"There's not going to be an accidental firing of nuclear weapons," the general said.
"How can you guarantee me?" Pelosi asked.
"Ma'am, there's a process," Milley said. "We will only follow legal orders. We'll only do things that are legal, ethical, and moral."
According to the book, Milley and other members of the Joint Chiefs of Staff were concerned that Trump and his allies might attempt a coup or take other illegal action following his defeat in the 2020 election. They reportedly discussed a plan to resign rather than carry out orders they considered illegal or dangerous.
Former President Trump issued a statement to Newsweek on Thursday through his spokesperson, Liz Harrington.
"Nancy Pelosi is a known nut job," Trump's statement said. "Her enraged quotes that she was afraid that I would use nuclear weapons is just more of the same. In fact, I was the one who got us out of wars, not into wars. And I was the one who got respect for our Country again, not like now when the leaders of the entire World are laughing at us. They didn't laugh when I was there."
Pelosi revealed that she had spoken to Milley about Trump and nuclear weapons in a letter to House Democrats on January 8 and had asked him about preventing "an unstable president" from using the nation's military or nuclear arsenal.
"This morning, I spoke to the Chairman of the Joint Chiefs of Staff Mark Milley to discuss available precautions for preventing an unstable president from initiating military hostilities or accessing the launch codes and ordering a nuclear strike," Pelosi wrote.
"The situation of this unhinged President could not be more dangerous, and we must do everything that we can to protect the American people from his unbalanced assault on our country and our democracy," she said.
Colonel Dave Butler, a spokesperson for Milley, confirmed Pelosi's phone call with the general at the time, saying: "He answered her questions regarding the process of nuclear command authority."
Pelosi gave an interview to the new book's authors and expressed concerns about a future president following in Trump's footsteps.
"We might get somebody of his ilk who's sane, and that would really be dangerous, because it could be somebody who's smart, who's strategic, and the rest," Pelosi said.
"This is a slob. He doesn't believe in science. He doesn't believe in governance. He's a snake oil salesman. And he's shrewd. Give him credit for his shrewdness," she added.
Newsweek has asked Pelosi and the Joint Chiefs of Staff for comment.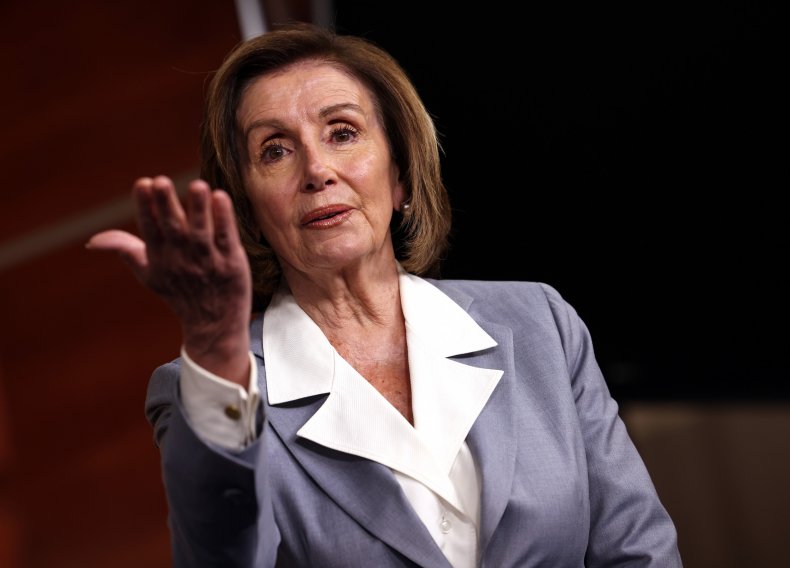 Update 7/15/21 9.50 a.m. ET: This article was updated to include a statement from former President Trump.