Nancy Pelosi Elected House Speaker: 5 Things to Know About California Democrat After She Wins Vote for Second Time
Nancy Pelosi, a California Democrat, was elected House speaker on Thursday, taking the reins for a second, and most likely last, go-round. The 78-year-old force of nature, who received 220 votes of the 430 cast, will have a busy few months ahead of her as she rewrites rules, attempts to end the government shutdown over border wall funding, and establishes the Democratic agenda for this session of Congress.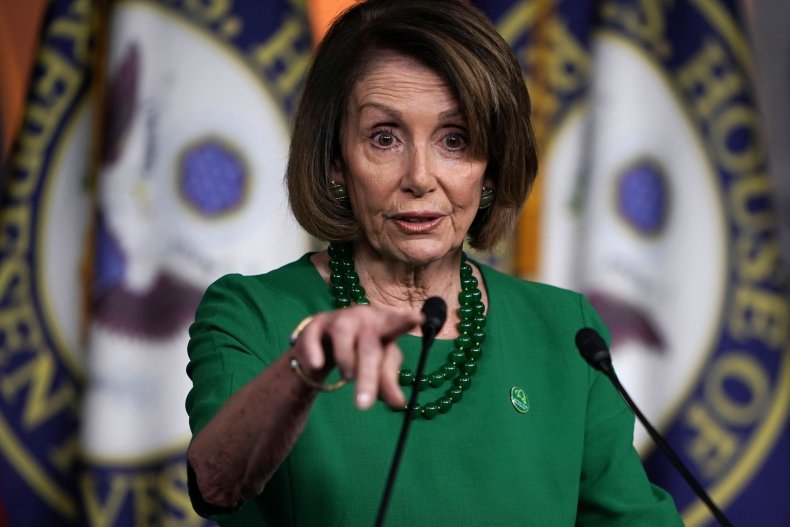 Here are some things you might not know about her:
1. She was the first and second woman ever sworn in as speaker of the House
Pelosi broke barriers when she was first elected speaker in 2007 under former President George W. Bush. Not only did she become the first woman to ever hold the speakership, she also became the first Italian-American and Californian to do so.
"This is a historic moment—for the Congress, and for the women of this country. It is a moment for which we have waited more than 200 years. Never losing faith, we waited through the many years of struggle to achieve our rights," she said after accepting the gavel.
Later in 2007, President Bush devoted the first few minutes of his State of the Union address to congratulating Pelosi. "Tonight, I have a high privilege and distinct honor of my own—as the first president to begin the State of the Union message with these words: Madam Speaker," he said to a standing ovation.
As Pelosi reclaimed the role she lost when Republicans took control of the House in 2011, she will join another rarefied club: two-time speaker. The last time a speaker was re-elected after losing and regaining the House majority was in 1955.
2. She comes from a political family
Pelosi grew up entrenched in the Democratic Party. Her father, Thomas D'Alesandro Jr., was a Maryland congressman and the mayor of Baltimore. Pelosi said that as a young girl, she would practice her penmanship by filling out a book where her father kept track of political favors paid and owed.
She attended the inauguration of President John F. Kennedy and interned for Senator Daniel Brewster while in College.
After college, Pelosi moved to San Francisco and worked as a fundraiser for the Democratic Party, serving as both Democratic Senatorial Campaign Committee finance chair and chair of the California Democratic Party.
3. She didn't run for office until she was 47
Pelosi has spent her career in politics but did not run for office until her oldest child was a senior in high school. Her moment came in 1987 when Congresswoman Sala Burton was diagnosed with cancer and decided not to run for re-election; she instead threw her support and contacts behind Pelosi. Pelosi narrowly won her primary and went on to win the general election. She has since been elected 16 more times.
4. She stood up against the AIDS crisis
As a congresswoman representing San Francisco in the late 1980s and early 1990s, Pelosi saw the devastation of the HIV/AIDS crisis firsthand and was an early advocate for government intervention. Upon being elected to House, the 47-year-old Catholic mother of five worked to fund programs that educated the public about the disease and searched for a cure.
In her first speech as a congresswoman, Pelosi said, "Now we must take leadership, of course, in the crisis of AIDS. And I look forward to working with you on that." That meant going head-to-head with the president at the time, Ronald Reagan, who opposed funding such programs.
Pelosi said that it was her Catholic faith that made her feel strongly about ending the crisis. "We are all God's children," she said, "and that includes gay people."
5. She's raised more money than any congressional Democrat
Since becoming the Democratic House leader, Pelosi has raised more than any other leader in history. She has long been known for her talent at fundraising, which has cemented her as a necessary figure in the party.
This midterm season alone, Pelosi raised $135 million for Democrats.