Nancy Pelosi and Steve Mnuchin Fail to Agree on Stimulus Deal Yet Again
Speaker of the House Nancy Pelosi announced Wednesday afternoon that her chamber would proceed with a vote on its updated coronavirus relief package later in the day, after hopes of striking a bipartisan agreement with Treasury Secretary Steven Mnuchin did not pan out.
"Today, Secretary Mnuchin and I had an extensive conversation and we found areas where we are seeking further clarification," Pelosi said in a statement. "Our conversations will continue.
"We will be proceeding with our vote tonight on the updated Heroes Act in order to formalize our proffer to Republicans in the negotiations to address the health and economic catastrophe in our country."
Mnuchin revealed Wednesday morning his plans to meet with Pelosi later that afternoon for their first in-person conversation since August 7. The two have had several lengthy phone calls over the past few days amid mounting pressure to reach a deal before the November 3 election.
The secretary entered Pelosi's office in the Capitol Building around 1:15 p.m. ET, according to Politico reporter Jake Sherman. "I'm going to see the Speaker, see if we can make some good progress today," Mnuchin told reporters before going inside.
White House Chief of Staff Mark Meadows, who has joined in on negotiation talks in the past, met with Senate Majority Leader Mitch McConnell at the same time, but their conversation lasted for about 30 minutes, Sherman tweeted.
McConnell did not sound hopeful that a deal would be reached Wednesday following his meeting with Meadows. When asked about the potential for a bipartisan agreement now that Pelosi and Mnuchin were meeting in-person, McConnell told reporters: "We're very, very far apart."
Ahead of his conversation with McConnell, Meadows seemed more upbeat that progress had been made. "I've seen substantial movement, yes," Meadows told Politico's Playbook. "And certainly the rhetoric has changed."
Mnuchin's meeting with Pelosi lasted for about 90 minutes. The secretary left Pelosi's office to enter a huddle with McConnell around 2:45 p.m. Thirty minutes later, word broke that a deal had not been struck, and that the Democratic-controlled House would forge on with its plan to vote Wednesday night on the proposed Health and Economic Recovery Omnibus Emergency Solutions (HEROES) Act.
Upon leaving McConnell's office, Mnuchin acknowledged that "a lot" of progress was made over the past few days. "We still don't have an agreement but we have more work to do," he said, according to reporter Jennifer Shutt. "And we're going to see where we end up."
Pelosi and her top Democratic colleagues had agreed in a private call Wednesday morning that they would be prepared to vote on the bill as soon as that afternoon, before members depart for the October recess, CNN reported.
If Mnuchin and Pelosi could reach an agreement Wednesday, "that is what we will move," House Majority Leader Steny Hoyer told reporters. If not, House members would vote on the Democratic bill.
The House released its updated HEROES Act Monday evening. The proposed legislation is a pared-down version of the original bill it passed in May, with lawmakers agreeing to bump down the price tag from $3.4 trillion to $2.2 trillion.
The bill includes measures that would provide another round of direct payments to American individuals and families, improve the Paycheck Protection Program (PPP) and provide more funds to bolster education, according to a one-page summary highlighting the bill's provisions.
McConnell, who proposed a so-called skinny stimulus package valued at around $500 billion, dismissed the updated House legislation on Wednesday as "too high" and "outlandish." He blamed Senate Democrats for preventing the bill from moving forward "presumably because they thought it didn't do enough."
"I've made it clear and my colleagues have as well that we would like to see another rescue package," McConnell told reporters Wednesday.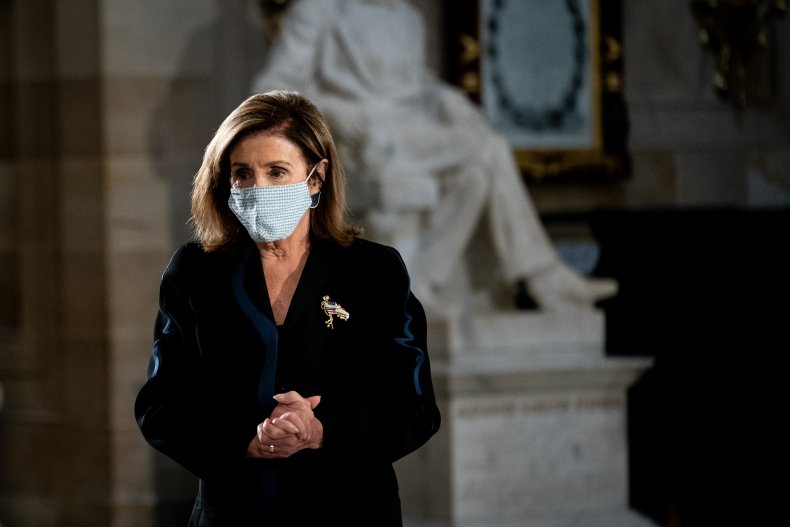 Wednesday's talks were scheduled in hopes that a negotiation could be reached ahead of several looming deadlines. The federal government's fiscal year is set to end at midnight Wednesday, with the House already voting to push the deadline to December.
The Senate is expected to vote in agreement of the continuing resolution later Wednesday, meaning that a government shutdown is not likely, Roll Call reported.
Nonetheless, lawmakers wanted a deal that would provide a second round of much-needed relief to the struggling economy and to Americans affected by the coronavirus pandemic.
Ideally, the deal would be reached before the November 3 election, as Senators are expected to be busy with preparations for the confirmation hearing of Supreme Court nominee Amy Coney Barrett.
Mnuchin described during an appearance on CNBC Wednesday morning what his counter-offer to Pelosi and McConnell would look like, saying it's "very similar" to what the Problem Solvers Caucus, a bipartisan group of lawmakers, put forth in their $1.5 trillion package earlier this month.
Pelosi has pushed back against the proposed amount, which is lower than what the Democrats want. "We can only go so far," she said.
Mnuchin's offer reportedly has an "escalator clause," according to Sherman, meaning that the bill's top-line price tag could be bumped up to $2 trillion.
During the same Wednesday morning phone call, Pelosi and her colleagues said that outstanding issues on reaching a bipartisan deal included funding for state and local governments, and liability reform for businesses, Politico reported.
These two issues have been at the heart of the months-long stalemate between Republicans and Democrats in reaching a deal. The updated HEROES Act provides $436 billion for state and local governments, something Republicans have dismissed as a non-starter, according to Politico.
The GOP, in contrast, has advocated for small businesses to have liability protection in case workers get sick with COVID-19, claiming this to be a necessary step in reopening the economy. Top Democrats, however, have stood firm in their opposition to such a measure.
Negotiations between Pelosi and Mnuchin will continue Thursday, and if a deal with the White House is possible, House members may be kept in Washington, D.C. beyond tomorrow, Politico reporter John Bresnahan tweeted.
Newsweek contacted the White House for comment but did not hear back in time for publication.
Update (09/30/20, 4:31 p.m.): This article has been updated to include additional comments from McConnell.