China's Most Advanced Fighter Jets Compared to U.S. F-22 Raptor
Speaker Nancy Pelosi arrived in Taiwan on Tuesday despite threats from China, which reportedly patrols airspace near the island with powerful fighter jets.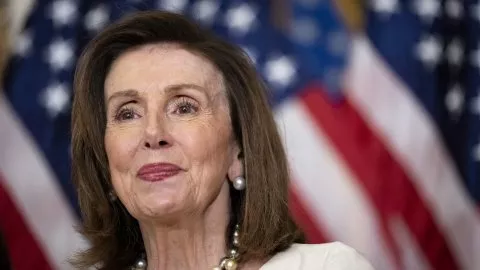 Pelosi's trip makes her the highest ranking U.S. official to visit the island in 25 years and has been met with a strong response from Chinese authorities. Relations between China and Taiwan have long been strained, as Taiwan claims independence but China insists that it controls the island. The trip from Pelosi, a California Democrat, has made relations between the U.S and China more tense in recent weeks.
China deployed 150 J-20 fighter jets, considered to be China's most powerful fighter jet, to the Taiwan Strait in June 2021 amid tensions with Taiwan, according to a report from the South China Morning Post.
Meanwhile, China has also sent Su-30 fighter jets to the Taiwan Strait, where one of the jets had an "unsafe" encounter with an American military plane in June, Politico reported. Here is how those two fighter jets compare to America's F-22 "Raptor" fighter jets, touted as one of the military's most advanced jets and which have previously been sent to the Pacific region amid strained U.S.-China relations.
F-22 Moves Faster, but J-20 Can Travel Further
The F-22 can fly as fast as 1,500 miles per hour, exceeding the maximum speed of the J-20, which maxes out at about 1,321 miles per hour, and the Su-30, which travels as fast as 1,317 miles per hour.
When it comes to travel range, however, the J-20 can travel slightly further than the F-22 without having to stop to refuel. The F-22 has a travel range of 1,864 miles, while the J-20 is estimated to have a range of about 2,000 miles, according to aviation website Executive Flyers.
China's Su-30 fighter jet, meanwhile, has a range of about 1,864 miles, according to Aerocorner. It is generally considered to be less powerful than the J-20, making it less of a threat against the F-22 in potential combat.
F-22 Widely Viewed as Strongest Jet
The J-20 is believed to be the most powerful fighter jet in China's military, but many experts still believe that America's F-22 would prevail in a matchup between the two planes—though the extent of the J-20's capabilities is not fully known.
According to international affairs magazine National Interest, the J-20 jet is considered to be "potentially less maneuverable" than an F-22 due to its larger size. The F-22 is also able to sustain quicker speeds for a longer period of time, according to the magazine.
The F-22 is also able to fly higher than the J-20—and its more advanced stealth technology, experienced pilots and China's difficulty producing a stronger engine would also give it an advantage, according to Insider.
U.S.-China Relations Strained as Pelosi Lands in Taiwan
As Pelosi landed in Taiwan Tuesday morning, Chinese jets were reported flying over the Taiwan Strait. Her visit comes after weeks of threats from China. On Monday, Chinese Foreign Ministry Deputy Director Zhao Lijian warned the visit would lead to "serious consequences" as China views it as a threat to the One China unification policy.
"China will take resolute and strong measures to defend its sovereignty and territorial integrity. As for what measures exactly we will take, let's wait and see if she dares" to make the visit, he said.
International relations experts have expressed concern that her visit could spark an international crisis or an escalation of tensions between China and either the U.S. or Taiwan. But at home, both Democrats and Republicans have praised Pelosi for not standing down amid the threats from China.
{{#isDisplay}} {{/isDisplay}}