Nancy Pelosi Tests Positive for COVID Hours After Being Near Joe Biden
House Speaker Nancy Pelosi has tested positive for the coronavirus, her deputy chief of staff announced on Twitter Thursday.
Pelosi's positive test came a day after she was with President Joe Biden and several other prominent lawmakers and officials to witness the signing of the Postal Service Reform Act of 2022.
The White House said Biden tested negative Wednesday night and, in accordance with the U.S. Centers for Disease Control and Prevention's definition, is not considered a close contact of Pelosi, according to The Wall Street Journal's Ken Thomas. Over the past couple of days, Biden saw Pelosi at White House events and had some brief interactions with her, the White House said, according to Thomas.
Pelosi's positive test is the newest development in a coronavirus outbreak in Washington that is affecting members of Congress, Biden's Cabinet, White House aides and others. Texas Representative Joaquin Castro and California Representative Adam Schiff tested positive after attending the Gridiron Club dinner, as did a top aide to Vice President Kamala Harris, The Washington Post reported.
On Wednesday, Attorney General Merrick Garland and Commerce Secretary Gina Raimondo also announced they had tested positive for the virus. Like Castro and Schiff, Garland and Raimondo were at the Gridiron dinner, according to the Post.
In total, more than a dozen people have tested positive since the event. Washington, D.C., Mayor Muriel Bowser, who also announced a positive test Wednesday, was not at the dinner, the Post reported.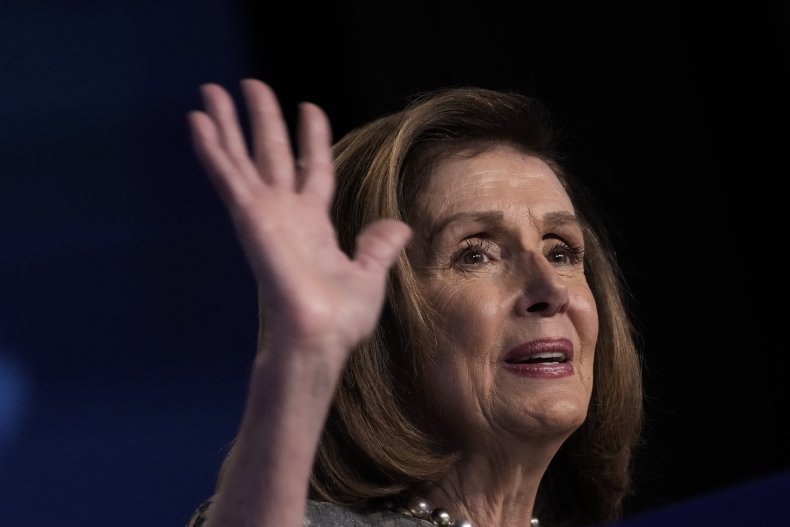 Pelosi's deputy chief of staff, Drew Hammill, said that she is asymptomatic and is fully vaccinated as well as boosted.
"The Speaker will quarantine consistent with CDC guidance, and encourages everyone to get vaccinated, boosted and tested regularly," he tweeted.
Hammill added in another tweet that a congressional delegation to Asia that Pelosi was supposed to lead would be postponed.
Some reporters received the news about Pelosi while waiting for her to appear at a weekly press briefing. In a video posted on Twitter by The Recount, one member of the press was heard saying "this is why we wear masks" after hearing about the speaker's positive test.
Pelosi tweeted about her positive test Thursday afternoon, saying she was "grateful" to be vaccinated and for the kind wishes she's received.
"Please get vaccinated and boosted if you haven't already. COVID is still a public health challenge. Let's keep up the fight to protect our care," her tweet said.
Overall, coronavirus cases have been declining in the U.S. after a wave of the Omicron variant peaked earlier this year. Despite D.C. being classified as having "low" community spread for the virus, the Post's tracker shows that the district is seeing a slight uptick in cases.
Most of the political figures who have tested positive, such as Pelosi, appear to be experiencing mild or no symptoms. The Justice Department said in its announcement of Garland's positive test Wednesday that he was not experiencing any symptoms.
The Justice Department has not provided any updates on Garland's condition since the announcement. His positive test came hours after he held a press briefing Wednesday alongside several other high-ranking officials, including Deputy Attorney General Lisa Monaco and FBI Director Christopher Wray
Raimondo was experiencing mild symptoms and, being fully vaccinated and boosted, was "confident that the vaccine has prevented her from experiencing more significant symptoms," the Commerce Department said in a statement Wednesday.
Schiff tweeted Tuesday that he was feeling "fine," while Castro said in a tweet the same day that he was experiencing mild symptoms.
Newsweek reached out to the White House for comment but did not hear back by publication time.
Update 4/7/22, 1:55 p.m. ET: This story was updated with comments from Nancy Pelosi, as well as more information and background.