Nancy Pelosi Told Donald Trump He Was 'Scaring the Children of America' With Threats of ICE Raids
President Donald Trump over the weekend backed off a threat to have Immigration and Customs Enforcement (ICE) conduct massive nationwide raids to deport "millions" of migrants illegally in the United States, an act that House Speaker Nancy Pelosi says came after she phoned the president last week.
"When I spoke to the president, I said, 'Look, I'm a mom, I have five kids, nine grandchildren and children are scared. You're scaring the children of America, not just in those families, but their neighbors and their communities,'" the California Democrat said Monday while discussing immigration at an event in Queens, New York.
"He didn't say what he was going to do, but the president said, 'Oh, I'll let you know. I'll let you know,'" Pelosi continued. "He went into, 'Well, people broke the laws.' A violation of status is not a reason for deportation. That's just not so."
ICE was expected to conduct raids in 10 major cities across the country on Sunday. But a morning tweet by Trump scratched the effort, with the president saying he would hold off for two weeks in order to offer lawmakers a chance to fix the matter legislatively by amending asylum and immigration laws.
"I want to give the Democrats every last chance to quickly negotiate simple changes to Asylum and Loopholes," Trump wrote. "This will fix the Southern Border, together with the help that Mexico is now giving us. Probably won't happen, but worth a try. Two weeks and big Deportation begins!"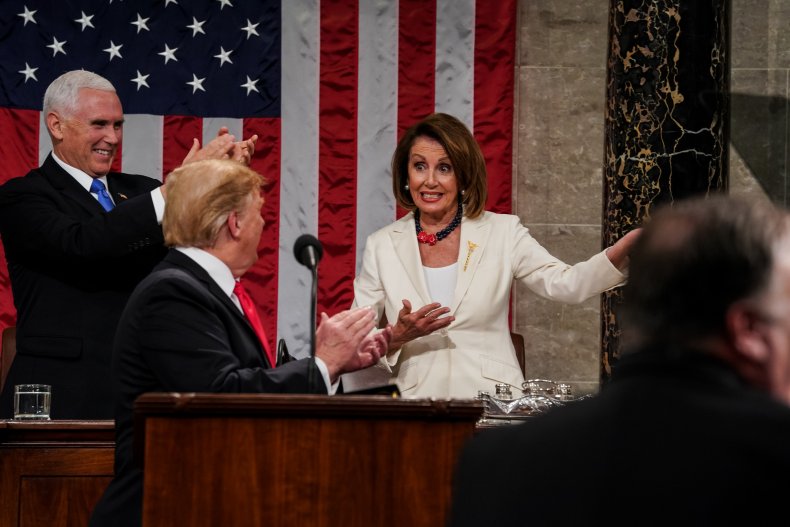 Pelosi characterized Trump's plan as a "mean-spirited approach," urging those in danger of potentially being deported to know their legal rights when interacting with immigration authorities.
"Unless they have a warrant, they have no business coming into your home to search," she said. "Know your rights... This is not America. This is not what we do to people. We do not break up families because of a status violation. That's just not right."
Pelosi further said that the House this week will pass legislation to "meet the humanitarian needs at the border," which has seen a record influx of apprehensions in recent months. The GOP-controlled Senate has already introduced a $4.59 billion border supplemental bill of its own to provide additional funding for border operations, such as more detention beds and shelters.
In May, there were more than 132,000 apprehensions by U.S. border officials along the U.S.-Mexico border, nearly three times the number in January, according to data from U.S. Customs and Border Patrol. The number of border apprehensions has risen sharply this year compared to years past, resulting in a strain on border resources.
Over the weekend, Pelosi continued to lambast Trump's deportation plans, which in a statement she called "heartless" and a "brutal action which will tear families apart and inject terror into our communities."