Nancy Pelosi Touts 'Full Program of Events' for Washington's 1/6 Commemoration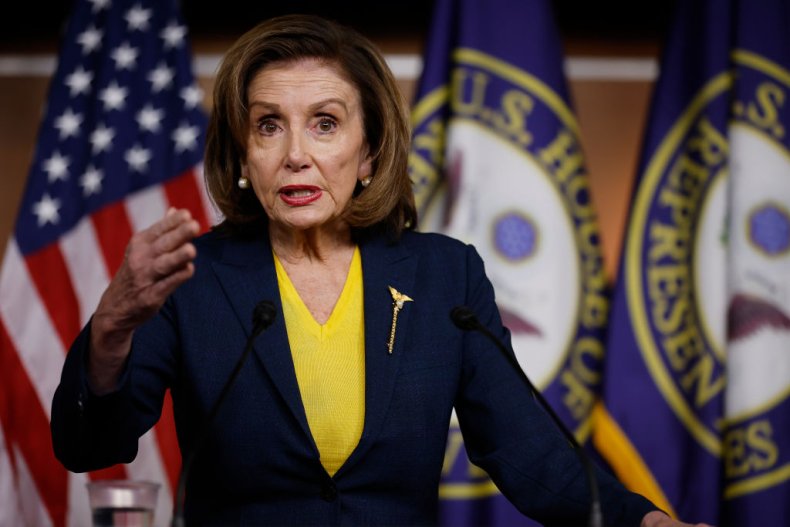 Speaker of the House Nancy Pelosi (D-Calif.) is urging House members to attend a "full program of events" to commemorate the one-year anniversary of the January 6 Capitol insurrection.
While the House is not scheduled to be in session Jan. 6, 2022, Pelosi asked colleagues to join her for events in commemoration of the riot at the Capitol in a message on Thursday. The events will include members gathering on the House floor at noon for a prayer, a pledge and a moment of silence for those who died after a group of former President Donald Trump's supporters stormed the building in an ill-fated attempt to stop Congress from certifying President Joe Biden's 2020 election win.
The live-streamed program will then move to the Capitol complex's Canon Caucus Room, where historians Doris Kearns Goodwin and Jon Meacham will engage in a discussion on establishing and preserving "the narrative of January 6th," moderated by Librarian of Congress Dr. Carla Hayden. Representative Jason Crow (D-Colo.) will host an opportunity for members to "share their reflections of the day" in the same room. The day of remembrance will conclude with a prayer vigil held on the Capitol steps.
"As we enjoy the Holiday Season with loved ones, we are preparing to mark one year since the January 6th assault on the Capitol," Pelosi wrote in her "Dear Colleague" message. "I write to make you aware of the activities that will be held that day. The House will not be in session, but a full program of events is being planned, based on Member input."
"These events are intended as an observance of reflection, remembrance and recommitment, in a spirit of unity, patriotism and prayerfulness," she added. "The patriotism and courage of our Members as we prepare for this difficult day is an inspiration, for which I sincerely thank you."
Newsweek reached out to House Minority Leader Kevin McCarthy (R-Calif.) for comment.
Meanwhile, Trump, who was impeached by the House for an unprecedented second time for inciting the insurrection, has announced his own plans to mark the occasion. In a statement on Dec. 21, the former president said he would be holding a Mar-a-Lago press conference focused on his stance that the 2020 election was stolen from him. Trump's claims of election fraud have been rejected more than 60 times in courts across the nation. All of his allegations of a stolen election have been unfounded.
Trump took aim at disloyal Republicans as well as the House Select Committee to Investigate the January 6th Attack on the U.S. Capitol, which he referred to as the "Unselect Committee," for being "highly partisan political hacks" who refuse to investigate "the rigged Presidential Election of 2020." The ex-president has in recent months taken to calling the insurrection a mere "protest," while claiming that "the real insurrection" was Biden's victory.
"I will be having a news conference on January 6th at Mar-a-Lago to discuss all of these points, and more," Trump wrote. "Until then, remember, the insurrection took place on November 3rd, it was the completely unarmed protest of the rigged election that took place on January 6th."