Nancy Pelosi Suggests Trump is Treating Mexico Like 'an Enemy' by Threatening Tariffs
The president is treating Mexico how he should be treating Russia.
That was the message from House Speaker Nancy Pelosi Wednesday on President Donald Trump's threat to impose tariffs on Mexican goods next week unless the country "substantially stops the illegal inflow of aliens coming through its territory" and into the United States.
"I think this is dangerous territory. This is not the way to treat a friend," Pelosi told reporters. "It's not the way to deal with immigration. It's not the way to meet the humanitarian needs at the border."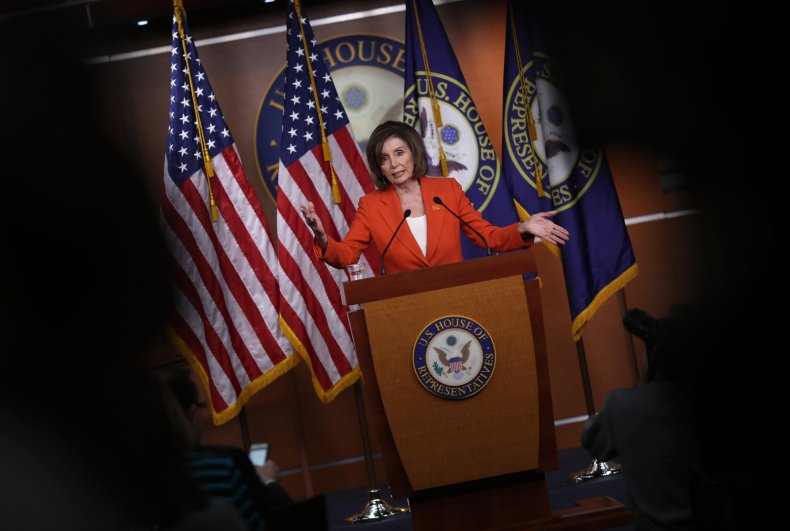 Trump continues to face fierce bipartisan backlash over his stated plan to implement a 5 percent Mexican tariff on Monday, increasing it by another five percent at the beginning of each month thereafter. Republican senators have warned of a potential veto-proof majority, should Congress take legislative action to curb any tariffs implemented by the president using his executive powers under the International Emergency Economic Powers Act (IEEPA). Such an act, not previously used by Trump to raise or impose tariffs with other countries, offers more wide-ranging powers to presidents in the face of an "unusual and extraordinary threat" in regard to national emergency declarations—which the president declared with Mexico earlier this year to obtain more southern border wall funding.
It is unclear whether Trump would need to declare a second national emergency in order to impose the tariffs.
Pelosi said the IEEPA was not intended for "imposing tariffs on our allies," stating Trump decided to "treat Mexico as an enemy."
"This is from the same president of the United States, when all of the intelligence agencies and the Mueller report have clearly said that Russia made an assault on our elections, he won't defend our country from that happening in the future," the California Democrat said. "From a president who says the assault that Russia made on our elections is a hoax."
Pelosi continued: "That's not supporting and defending the constitution of the United States."
In addition to voicing their opposition, Republican senators warned Trump last week that imposing such tariffs would hurt American consumers—as tariffs typically do—and could derail the new trade agreement designed to replace NAFTA, known as the United States–Mexico–Canada Agreement (USMCA). The USMCA still needs congressional approval, something that tariffs against one of the countries that's part of the trade agreement could jeopardize. Congress also has unfinished negotiating to conduct with the administration about the trade deal.
Mexico is the United States' largest trading partner, accounting this year so far for 15 percent of the total goods America trades, or a little more than $150 billion, according to data from the U.S. Census Bureau compiled by Statista and shown in the chart below.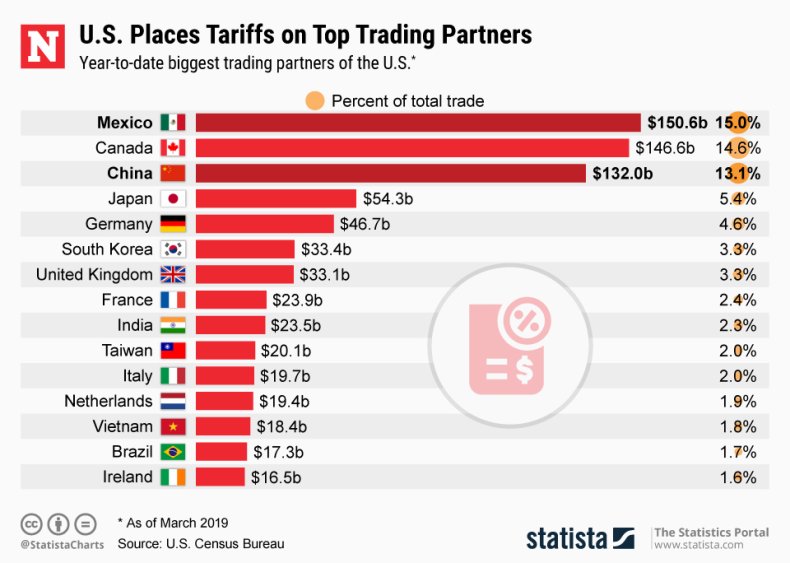 Amid House Democrats' plans next week to host a series of high-profile hearings on the Mueller report and the party's inner quarrels on an impeachment inquiry, Pelosi went on to suggest that the president's tariff threat was a distraction to potential wrongdoing laid out in the Mueller report and Democrats' numerous House investigations. She also disregarded labeling the tariffs as "policy," classifying them instead as "notion-mongering."
"Let's face what it is. It's a distraction from the Mueller report," Pelosi said. "And it's served its purpose, right? Here we are. Here we are."