Pelosi Says Trump's Attacks on Yovanovitch Are Part of 'His Own Insecurity as an Imposter'
In an interview with CBS' Face the Nation from Friday, House Speaker Nancy Pelosi blasted President Donald Trump for his Twitter attacks of former U.S. ambassador to Ukraine Marie Yovanovitch during the congressional impeachment inquiry hearing, calling them a reflection of "his own insecurity as an imposter."
Face the Nation host Margaret Brennan asked Pelosi about Trump's tweets attacking Yovanovitch while she was giving her testimony at the hearing. Trump began his tweet with: "Everywhere Marie Yovanovitch turned went bad."
Pelosi noted that Trump's knowledge of his own error was the source of his decision to tweet about Yovanovitch. "He made a mistake, and he knows her strength, and he was trying to undermine it." She went on to denounce the president's decision to tweet about Yovanovitch. "People don't insult people, especially when they're giving testimony before the Congress of the United States."
Brennan pointed out that the White House stated that Trump wasn't seeking to intimidate Yovanovitch, just voice his opinion. Pelosi answered: "The words of the president weigh a ton. They are very significant, and he should not frivolously throw out insults. But that's what he does."
The congresswoman also said of Trump's insults: "I think part of it is his own insecurity as an imposter. I think he knows full well that he's in that office way over his head. And so he has to diminish everyone else."
During Yovanovitch's testimony House Intelligence Chairman Adam Schiff, who is leading the impeachment inquiry, accused Trump's tweets of attempting to intimidate the witness. Yovanovitch said in her testimony that remarks Trump made about her during his phone call with Ukrainian President Volodymyr Zelenskiy sounded threatening. "I was shocked and devastated that I would feature in a phone call between two heads of state in such a manner,"Yovanovitch said in her testimony.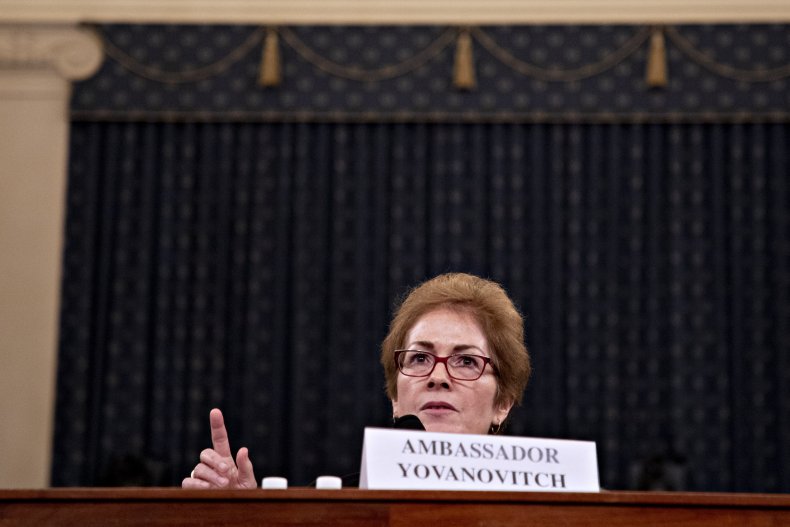 While many thought Yovanovitch's testimony was brave and powerful, including Fox News host Chris Wallace, Republicans were quick to try to discredit the former ambassador. Representative Devin Nunes did not find her testimony important and called it an "employment disagreement with the administration."
Yovanovitch countered Nunes' point. "I don't disagree that the president has the right to withdraw an ambassador at any time. I do wonder why it's necessary to smear my reputation falsely," she responded.
Pelosi's interview with Margaret Brennan will air on Face the Nation this Sunday morning on CBS.