Despite speculation to the contrary, House Speaker Nancy Pelosi is reportedly running for reelection in her San Francisco-based congressional district. But she is expected to honor a term-limit deal she made with a group of House Democrats ready to oust her in 2019, returning in a much-diminished role.
Party leader since 2003 and speaker from 2007 through 2011 and again since 2019, Pelosi has accrued a legacy that Democrats have good reason to regret. She largely managed to let down both the progressive and moderate wings of her party. Though she was never popular at the national level, her weak performance has been somewhat surprising given her successful first run as House speaker.
Since Democrats recaptured the House in the 2018 election, Pelosi has continuously caved to the fringes of her party. As I wrote in Abuse of Power, her collapse in leadership led to the first Trump impeachment, which likely lowered the bar for future presidential impeachments. More recently, her governance contributed to the failures of President Joe Biden's first year in office, and she may have set a precedent for a congressional investigation that will one day come to haunt Democrats.
The conventional wisdom today is that Republicans will rout Democrats in 2022 to retake the House. While nothing is certain, it now appears that Pelosi will be less relevant in the next Congress, after having squandered the time she had as speaker.
When the Democrats won back the House in 2018, 21 Democratic representatives—including 13 freshmen—vowed during their campaigns not to vote for Pelosi as speaker. They were a mix of far-left progressives in deep blue districts where Pelosi seemed out of touch and moderates running in red and purple districts that didn't like her politics.
Without the pledge to oppose Pelosi, some of the moderates would not have won, and some of the progressives would have been primaried.
Pelosi was forced to negotiate a deal with these never-Nancy Democrats. She agreed that she and the leadership team—House Majority Leader Steny Hoyer (D-Md.) and House Majority Whip James Clyburn (D-S.C.)—would term-limit themselves to four years. The deal garnered 220 votes, enough for Pelosi to be reelected speaker, though 12 Democrats still voted for someone else to be speaker and three abstained.
Pelosi steered sweeping health care reform and financial regulation legislation when she was speaker the first time. So there was reason to think, despite her shaky ground with members, she could succeed. But that didn't happen.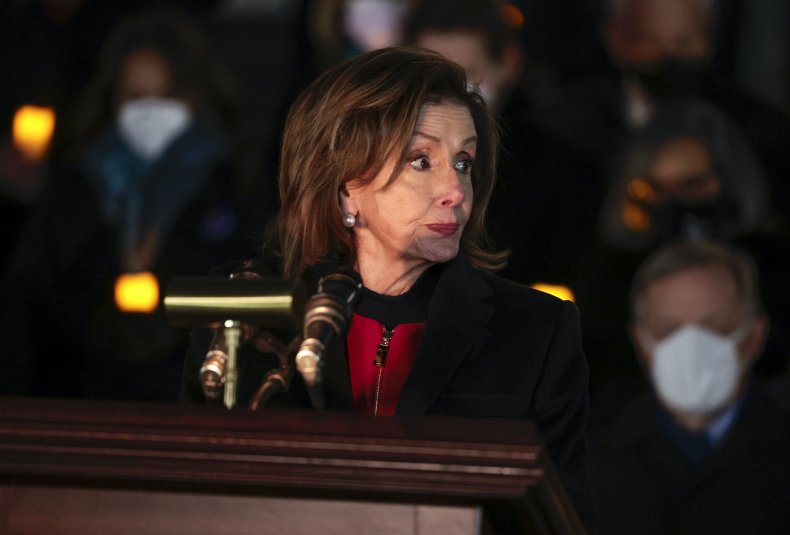 Pelosi was still walking a tightrope after reelection as speaker. At one point, she was bold enough to confront the Squad, four freshman House progressives led by Rep. Alexandria Ocasio-Cortez. But they got the best of her, paving the way to big House losses in 2020 even while Joe Biden won the presidency.
It was with a slim 222-213 majority that Pelosi opted to start the Jan. 6 select committee, naming seven Democrats and two Republicans to the panel.
The riot at the Capitol was horrible and deserved a credible, bipartisan investigation. But the House speaker apparently decided partisanship was more important, appointing the discredited Rep. Adam Schiff to the committee while rejecting House Minority Leader Kevin McCarthy's picks as being too partisan—ensuring the GOP leader would boycott the committee.
Under traditions of the House, the size of the majority determines the ratio of committees, and both party leaders select members.
Breaking with these traditions in the formation of the Jan. 6 committee might have granted the Democrats a short-term boost, but it also paves the way for a future Republican majority to appoint a select committee stacked with Republicans to investigate Democrats.
After Pelosi stacked an investigative committee and weaponized and cheapened impeachment, the fact that Sen. Ted Cruz and others are now talking about impeaching Joe Biden can't be encouraging for the Democratic Party.
Finally, while the Left loves blaming Sen. Joe Manchin for its failures, it was Pelosi and Senate counterpart Charles Schumer who committed the profound political malpractice that helped tank the 46th president's first year. They allowed the fringe of their party to corner them into making "Build Back Better," a $3.5 trillion monstrosity, their key agenda item, while yawning off the $1.2 trillion bipartisan infrastructure bill.
Whatever you think of his legislative successes, Biden had the chance to boast about accomplishing something Donald Trump and Barack Obama only talked about: bringing the parties together to pass a major infrastructure bill. He could have called it a year and taken a victory lap. Yet, along with Schumer and Pelosi, he tried to ignore party moderates and lost. In the process, progressives also got nothing—other than airtime and social media cred for the Squad. Politically, everyone forgot about the infrastructure package.
Any of these alone would have been problematic. Combined, it makes Pelosi's tenure as party leader a debacle.
Fred Lucas is chief national affairs correspondent for The Daily Signal and the author of Abuse of Power: Inside The Three-Year Campaign to Impeach Donald Trump.
The views expressed in this article are the writer's own.