House Speaker Nancy Pelosi on Monday faced criticism after saying that the $600 direct payments included in a new economic relief package are "significant."
During a lengthy speech on the House floor, Pelosi said that Democrats were pushing for $1,200 direct payments, the amount paid out under the Coronavirus Aid, Relief and Economic Security (CARES) Act, but they faced resistance from Republicans.
"We also have in the legislation direct payments, which were not in the Republican bill, to America's working families," Pelosi said during the speech. "I would like them to have been bigger, but they are significant and they will be going out soon."
Pelosi's comments came after legislators agreed on a $900 billion relief package on Sunday. But social media users quickly criticized her for calling $600 payments significant.
"You are wrong @SpeakerPelosi - The payment checks are NOT significant. I think you know that," Twitter user Annie wrote. "Madam Speaker tell us how people should spend this $600 - to feed their family? To pay rent? To heat their homes? To pay for medications? Tell us how long this money has to last."
Mehdi Hasan, a political analyst for MSNBC News, wrote, "These may be her most tone-deaf remarks since she joked about her luxury freezer full of gourmet ice cream on a late night comedy show."
"Dear @SpeakerPelosi: NO, they are not. You should feel ashamed for this statement," Twitter user Fateful Anime wrote.
"$600 wasn't enough nine months ago, and it isn't enough now. People are still starving and facing eviction, and six hundred measly dollars is not enough to sustain them," she continued. "Try harder."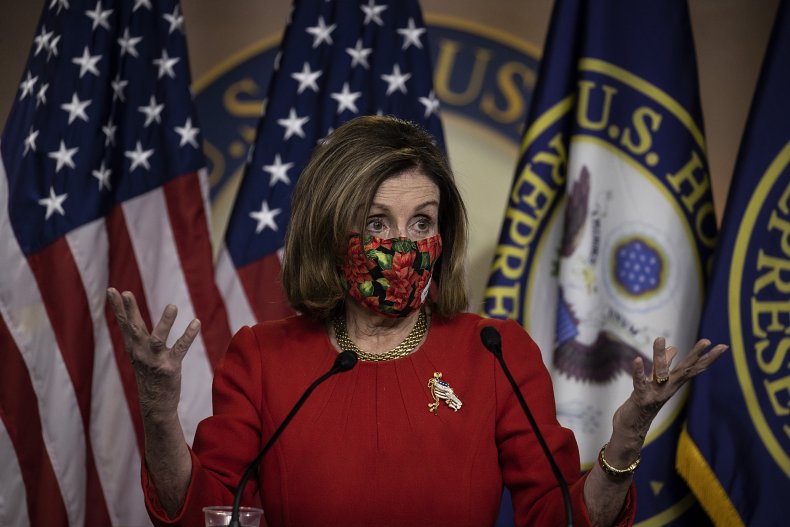 Other social media users compared Pelosi to French queen Marie Antoinette, who supposedly said "Let them eat cake" after hearing her people were suffering from starvation.
"With a bunch of 'let them eat cakes' moments over the course of the pandemic, culminating with this abhorrent excuse for only giving working class people $600 as a stimulus check, Nancy Pelosi is all but guaranteeing a speaker vote floor fight," Twitter user Michael Latin wrote.
Socialist Gardener tweeted, "Nancy Pelosi is a Marie Antoinette democrat. #LetThemEatCake."
"$600 does not cover the median rent in any of the 50 states. 'Let them eat cake...'," Twitter user James Thomas wrote.
And Twitter user Sara wrote, "A modern day version of 'let them eat cake'."
Newsweek reached out to Pelosi's office for comment but did not receive a response in time for publication.