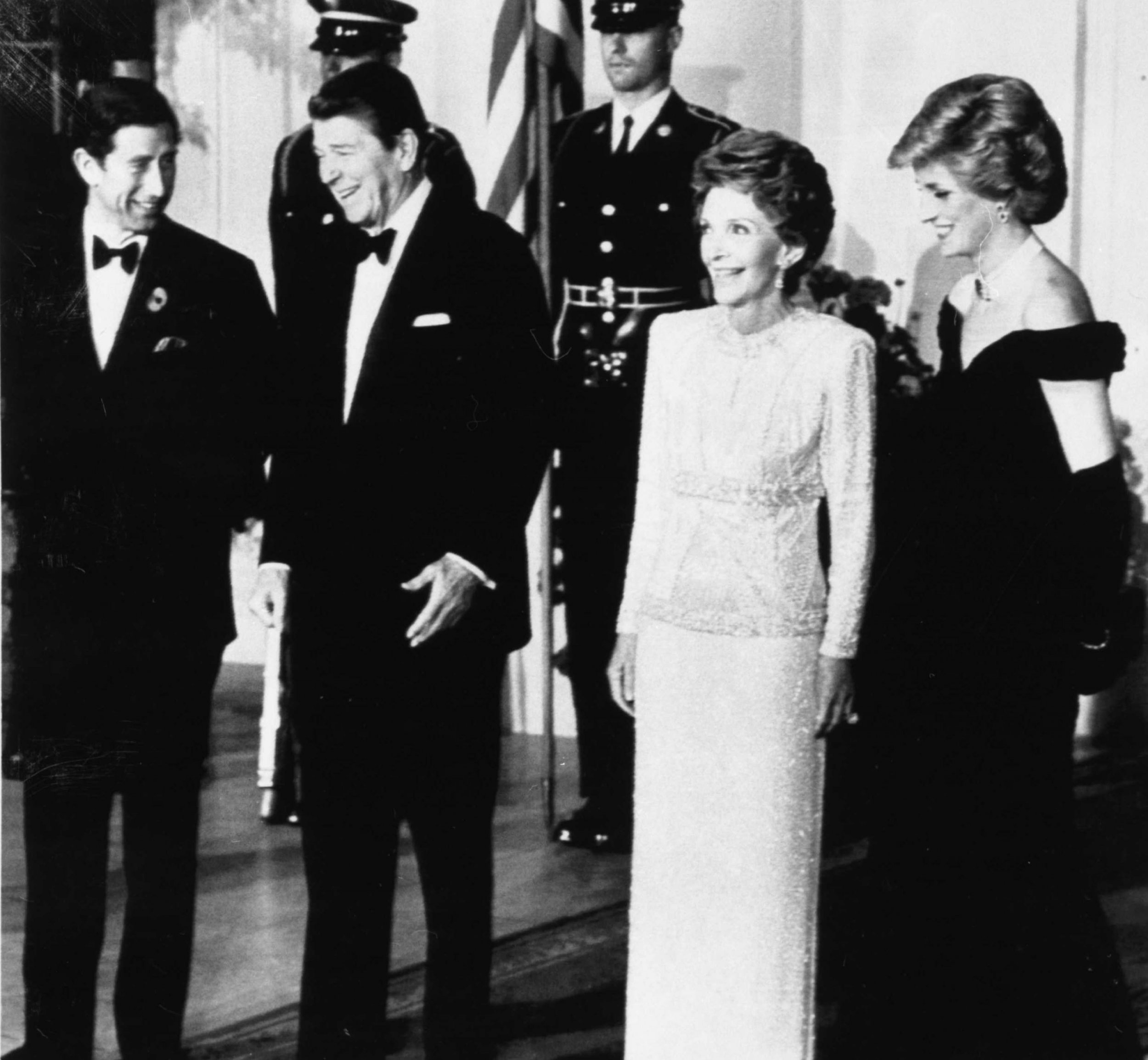 Newsweek published this story under the headline of "An American Favorite" on September 15, 1997, after the death of Princess Diana. This article was written by then first lady, Nancy Reagan. In light of the upcoming 20th anniversary of Princess Diana's death and a recent interview with her brother, Newsweek is republishing the story.
WHEN I HEARD THE NEWS REPORTS ABOUT DIANA AND GOT OVER THE initial shock and surprise, I immediately thought of Grace Kelly. I had sat next to Diana at Princess Grace's funeral in 1982, and I couldn't believe that now she, too, had died in a terrible car accident. That was not the only echo: like Grace, Diana was a beautiful young princess who seemed to have all the world before her.
I first met Diana during the days immediately leading up to the royal wedding in 1981. Prince Charles had been a friend since Ronnie was governor, and we had him to the White House for dinner alone after the engagement was announced. It was after Ronnie was shot, and Charles was considerate about not keeping him up too late. I remember him being so concerned about Ronnie, and excited about the wedding.
Ronnie couldn't go to London because the doctors didn't want him to travel so far. But he insisted that I go. Before the wedding there were parties, of course, and that's where I first met Diana. The thing I remember most was how young she was, young and happy. I was sure it was going to be a wonderful marriage. We all thought it would be. It really did seem like the fairy tale that people still talk about.
One of my favorite memories of Diana was being with her children. I visited them several times at Kensington and once took a needlepoint rocker chair to young Prince William. Like most small boys he seemed more fascinated with the box it came in than in the gift itself. What is it about boxes and small boys? I remember William playing under the stairwell, and he seemed to want me to join him, so I took off my shoes and we had a wonderful time playing together. I know everyone talks about the problem in the Waleses' marriage, but I remember their home being very warm. Those boys are Diana's greatest legacy.
Then there was the fun-loving Diana we saw at the White House. I've seen those photographs of her dancing at the White House with John Travolta countless times since her death. Of all the dinners we had, that one attracted the most attention. I had asked Diana and Charles to give me a list of people they would like invited, and John Travolta was on her list. After the dinner, someone got word to me that Diana really wanted to dance with John, and so I told him that the princess was hoping he would dance with her. When they began dancing together, everyone cleared the floor. It was a wonderful, magical moment.
But magic doesn't last, and it always costs more than you can imagine. When Ronnie first became president someone told me, "You realize you'll never have a private life again." And I said, "Yes, I know." But I didn't really understand. I never would have dreamed that one network would go so far as to use lenses powerful enough to get pictures of Ronnie having breakfast inside the ranch. I actually started holding up a sign, when we went horseback riding, that declared JUST SAY NO! as a way of taking advantage of the media's constant presence to get out my anti-drug message.
I understand the difficulty of maintaining privacy while living in the public eye, and Diana, in the end, appeared to be struggling to find her own role and identity. She reached out and touched many people, particularly the young who identified with, or at least understood, her struggles. They saw her as a woman who shared the same dreams and fears they all have. And it was what we shared with her that makes her loss so painful.