After challenging one of the best drummers in rock and roll history to a drum-off, a ten-year-old musical whiz has a new challenge ahead of her.
"Hey everyone, Dave Grohl has just responded to my battle request. I can't wait to watch it, let's see what he says," Nandi Bushell says in the opening her latest video, posted to her YouTube channel on Saturday.
Bushell, who lives in the United Kingdom, has been drumming since she was five and played her first live gig at age seven. Since then she's built up a massive social media following, including more than half a million followers on Instagram and more than a hundred thousand subscribers on YouTube, where she posts videos of drum covers of songs from System of a Down, Rage Against the Machine, Muse and the Red Hot Chili Peppers. She's also played with or had social media interactions with some of her favorite rockers.
"Dave Grohl, I challenge you to a drum-off," Bushell says, in a video posted August 17. "I hope you enjoy my cover of 'Everlong,' by Foo Fighters."
Grohl, who was the drummer for Nirvana before starting the Foo Fighters in 1994, responded this week.
"Nandi, in the last week I've gotten at least a hundred texts from people all over the world saying, 'This girl is challenging you to a drum-off, what are you going to do?'" Grohl said, after opening his response video with a drum segment from the Foo Fighters song "Everlong."
Having met Bushell's challenge, Grohl put up one of his own, challenging the young drummer to master a song by the rock supergroup Them Crooked Vultures, which includes Josh Homme of Queens of the Stone Age and John Paul Jones of Led Zeppelin in addition to Grohl's on drums.
"This is my response to your challenge, so now the ball is in your court," Grohl said. "This is a song called 'Dead End Friends.'"
"Epic! That was awesome," Bushell said, before dancing around her room excitedly. "I am going to checkmate you."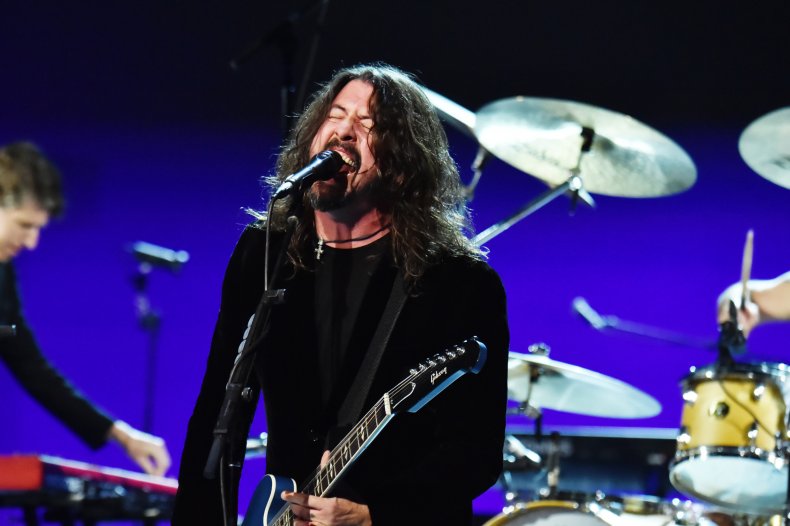 "Thank you, Dave," Bushell's father can be heard saying from off-camera. "We have one very, very happy daughter."
This isn't the first time one of Bushell's virtuouso covers has garnered attention from rock stars. After covering Rage Against the Machine's "Guerrilla Radio," Tom Morello sent her a guitar and in 2019 Bushell jammed with Lenny Kravitz in London.
I can't believe Dave Grohl actually accepted my drum battle," Bushell tweeted. "Now it's my turn to learn 'Dead End Friends.'"