Nanny Hit by Truck While Pushing Infant to Safety Dies From Injuries: 'Guardian Angel'
A nanny in New York City who was hit by a pickup truck last month as she pushed a one-year-old out of harm's way died on Friday.
Arcellie "Celi" Muschamp, 52, was struck by the vehicle on December 20 after she pushed a stroller carrying the baby across an intersection in Brooklyn, according to the New York Daily News, which first reported on her passing.
"My mom was the most selfless person ever and that shows with her actions," Muschamp's daughter, Rahzel Muschamp, told the paper. "She truly loved the kids she looked after her."
In a post on a GoFundMe page raising funds for Muschamp's medical care, Patrick Mullen, the baby's father, wrote Friday that Muschamp died as a result of her injuries.
"My wife and I will forever consider her the guardian angel of our son Rowan, whom she saved through her actions and sacrifice. Our thoughts remain with her family and children during this time. Bless her soul," Mullen wrote.
In an earlier post on the GoFundMe page, Mullen said that Muschamp had been hospitalized with critical injuries following the incident.
"Our son Rowan was amazingly unscathed in the incident and based on eyewitness accounts Celi helped save him from almost-certain serious injury or death by pushing his stroller out of harm's way as the vehicle approached. The doctors have called it a miracle and Celi is truly our hero," Mullen wrote.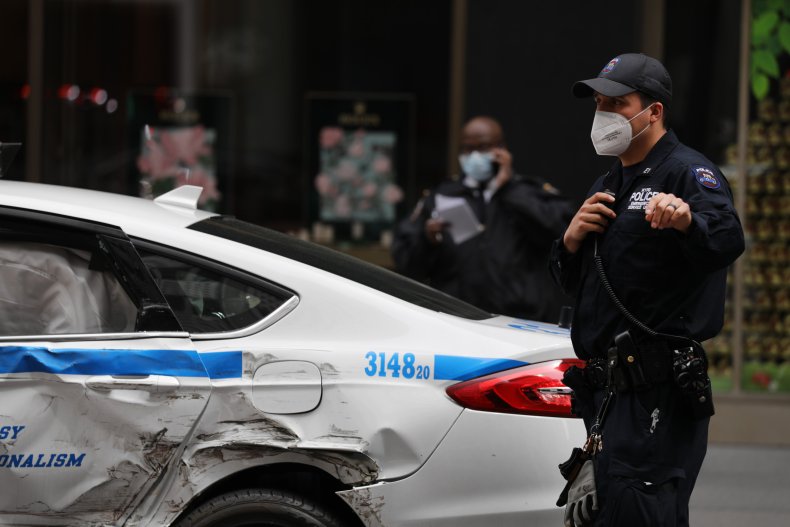 In a post on the page on December 22, Muschamp's family said she had been put into a medically-induced coma "as her brain is recovering from the trauma."
In an initial report about the crash, a witness of the events recounted the incident.
"The nanny must have, at the very last minute, pushed the stroller ahead of her," witness Larry Weissman told the New York Daily News. "We don't think the pickup truck hit the stroller. It would have gone flying."
"This poor woman, and the baby," Weissman added. "Right before Christmas. Two families. I was just thinking about them."
The driver of the pickup truck has not been criminally charged in connection with the incident, according to Daily News. But Muschamp's daughter told the paper that she believes the driver should face charges.
"Everyone wants justice,"Rahzel Muschamp said. "It's hard to fathom that someone will get away with killing someone. This can't be something someone could get away with."