Fact Check: Was Naomi Biden's White House Wedding Shoot 'Staged'?
President Joe Biden's granddaughter, Naomi Biden, was married on the South Lawn of the White House on Saturday just one day before the president's 80th birthday.
Naomi, the daughter of the president's son Hunter Biden, was married to Peter Neal during a privacy ceremony but the couple took part in a photoshoot for Vogue magazine.
Photos of the newlyweds were featured in an article now available on Vogue's website, which also included a photo showing first lady Jill Biden and Naomi Biden as its lead image.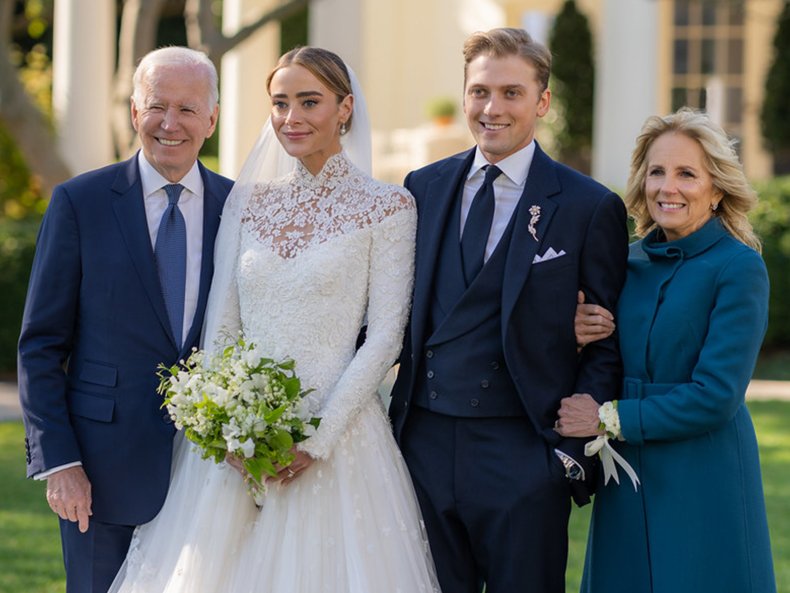 The Claim
Some journalists took to Twitter following the publication of Vogue's wedding shoot and pointed out that the White House had previously said that the event would be a private, family affair and that members of the press would not be permitted to be present.
Katie Rogers, White House correspondent for The New York Times, wrote: "I had reporting in Oct about Vogue being tapped to cover this and I was waved off. Official explanation is that Vogue wasn't there the day of."
"Loophole = the family staged a 'wedding at the WH' shoot beforehand. 'Private' per @PressSec = not for the White House press corps."
Ashley Parker, senior national political correspondent for The Washington Post, shared Rogers' tweet and added: "I spent four years covering the Trump WH and two years covering the Biden WH. What's fascinating is that they both lie, albeit in v different ways. Trump team was shameless, whereas Biden team is too cute by half."
Fox News' White House correspondent Jacqui Heinrich tweeted: "Nothing says privacy quite like a full Vogue spread."
Several news outlets also published articles about journalists' complaints regarding the wedding, with Fox News running an article with the headline: "Biden White House slammed by liberal journalists for denying access to wedding, called liars."
Some on social media went further, with user @merrytexas tweeting: "Staged days before wedding: Fake wedding photos just like fake Biden White House!"
And an article on the conservative website American Briefing, citing some of the aforementioned journalists, ran with the headline: "Exclusive: Biden Family 'Staged' White House Wedding of Eldest Granddaughter"
The Facts
White House Press Secretary Karine Jean-Pierre told reporters at a press briefing on Friday, November 18 that "the wedding of Naomi Biden and Peter is a private one" and called it "a family event."
"And Naomi and Peter have asked that their wedding be closed to the media, and we are respecting their wishes. This is something that the couple has decided," she said.
Jean-Pierre also said "we will be releasing pictures, photos, and a statement from the President and the First Lady following the ceremony."
She did not reveal that Vogue had taken photos the previous day, though the implication that the timing of the shoot was hidden or misstated is misleading.
Vogue's article makes clear that the photos were taken on Thursday, November 17—two days before the wedding ceremony. A caption underneath a photo of Naomi and Jill Biden reads: "[p]hotographed at the White House on Thursday, November 17, 2022, by Norman Jean Roy."
"On the Thursday of Vogue's prewedding shoot, the White House is a flurry of preparation," the article says.
The photos show Naomi Biden in her wedding dress. The article also included two photos of Biden and her new husband taken at the White House on November 19 by wedding photographer Corbin Gurkin.
It's also not unusual for couples to stage photo shoots in advance of the big day, as various users said in response to the post.
In response to Fox News' Jacqui Heinrich, Twitter user @maudi63 wrote: "The Vogue pics were taken 2 days before the wedding. Lots of people do pre wedding photo shoots. The ceremony was private. Pics were made available on the IG of the wedding planner a few hours later."
While most wedding photo shoots take place on the day of the event, there are "no written rules about it," writes Jason Mann, a Wisconsin-based lifestyle photographer with more than 17 years of professional experience.
"If time is an issue for you and you prefer spending more time with your guests [...] you can always schedule an appointment with your photographer before or after the wedding. This will allow you to take your time when shooting the photos and make sure that they look perfect in every respect," Mann wrote in his blog.
Event planner Bryan Rafanelli, who was cited in Vogue's article, posted some photos of the wedding to his Instagram page, where they are still available to view.
The Ruling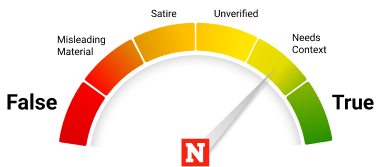 Needs Context.
Naomi Biden and Peter Neal were married at the White House on Saturday, November 19, with family and friends in attendance.
The wedding was not staged before Saturday, as some comments implied, but Naomi and Jill Biden participated in a prewedding photo shoot on Thursday, November 17, where the then bride-to-be wore her wedding dress.
It's not uncommon for couples to arrange photo shoots in advance of their wedding day.
Newsweek has asked the White House and Vogue for comment.
FACT CHECK BY NEWSWEEK