Naomi Campbell Calls Out Facebook for Blocking Nigerian Police Brutality Post 'Like Some Fake Virus Story'
Naomi Campbell raged against Facebook censoring her post urging Nigerian President Muhammadu Buhari to end police brutality as violent crackdowns on protesters continue in the African country.
Posting to multiple social media platforms on Wednesday, Campbell shared a screen capture of her censored Facebook post, along with an all-caps condemnation of the social media giant's initial decision to "block" an image in the post by marking it as containing "false information." Facebook said that the post had been incorrectly flagged and censored. The original, uncensored image was available on Campbell's page a short time later.
"HOW DARE YOU BLOCK ME FROM POSTING THESE IMAGES AND VIDEOS FROM SHOWING THE TRUTH!" Campbell wrote. "PEOPLE ARE DYING AND YOU BLOCK IT LIKE SOME FAKE VIRUS STORY!!!"
"INSTAGRAM AND FACEBOOK INSTEAD OF PROTECTING THESE PEOPLE AND LETTING THE TRUTH COME OUT, YOU BLOCK IT AND ALLOWE TROLLS AND HATE HARM AND HURT PEOPLE!" she added. "SHAME ON YOU!!!! FREE THE TRUTH!!"
Facebook policy includes a prohibition on certain types of information deemed to be false or misleading. As Campbell's post alluded to, many posts have been censored or removed this year for spreading false information about the COVID-19 pandemic.
Campbell's original Facebook post asked Buhari to "please stop the violence that is killing the Bright and promising future of Nigeria" by closing the police squad, accompanied by a photo showing a Nigerian flag covered with what appears to be blood, which Facebook insists was censored in error.
"We are aware of an issue where some posts in support of #EndSARS are being incorrectly flagged as false in our systems," a Facebook spokesperson told Newsweek in a statement. "We are working quickly to resolve this."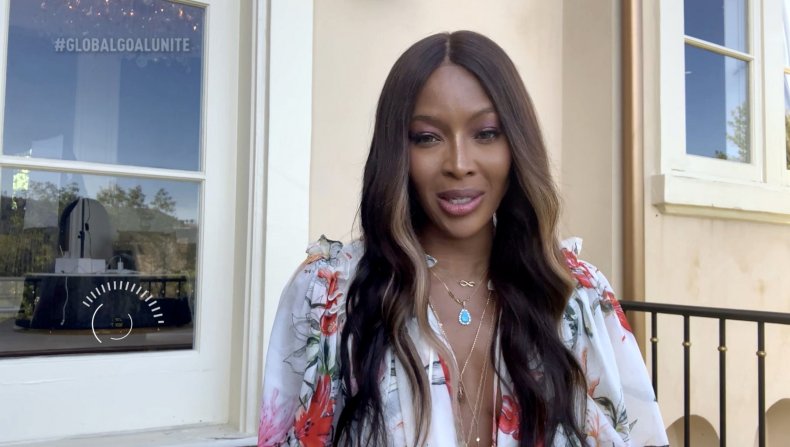 In Nigeria, protests have been taking place for weeks after the hashtag #EndSARS quickly spread online, urging the country's notoriously brutal Special Anti-Robbery Squad police unit be shut down. The protests have become increasingly violent in recent days, with multiple participants having lost their lives.
The violence has sparked international outcry, with many calling for Buhari to resign. Recent reports and viral videos allege that the Nigerian military opened fire on protesters in Lagos, killing and injuring an unverified number of people. The Nigerian Army took to social media to dub the allegations "fake news."
In March, Campbell made headlines when she was photographed at an airport wearing a hazmat suit as a precaution before boarding a flight as the pandemic intensified. During a recent appearance on the YouTube show Hot Ones, the model and actress said that the she would donate the outfit to be displayed after being asked by an unspecified museum.