Naomi Osaka Reveals What She Said When She Met BTS's Suga at NBA Game
Tennis star Naomi Osaka and Suga of BTS joined a number of celebrities in Japan on Thursday for an NBA game between the Golden State Warriors and the Washington Wizards. Osaka later revealed on Twitter what she said to the K-pop idol when they met.
Suga, whose full name is Min Yoongi, was an honorary guest of the Warriors at the Saitama Super Arena north of Tokyo, meeting up with players as they prepared for their preseason games against the Wizards. The South Korean performer was approached by one of his fans during the game, who turned out to be Japanese Haitian Olympic athlete Osaka.
"lol so I told Suga that autumn leaves is a great song," Osaka tweeted on Friday. She followed it up with another tweet that read, "I don't know why but that was the one thing I made up my mind to tell him if we ever bumped into each other," followed by the skull emoji and Face with Tears emoji.
"Autumn Leaves" is a song by BTS that was written and produced by Suga and featured on the Seoul-based group's 2015 EP, The Most Beautiful Moments in Life Pt. 2.
Osaka has never shied away from letting her fans know that she is a K-pop fan, and a member of the BTS ARMY, an acronym that stands for "Adorable Representative M.C. for Youth." The 24-year-old athlete tweeted another song by BTS in 2019 called "Make It Right," which was co-written with Ed Sheeran.
"You didn't hear it from me but this is the best song off the album lol," Osaka tweeted at the time.
She also attended one of their concerts in Los Angeles in 2021, posting several videos from the show on her Instagram.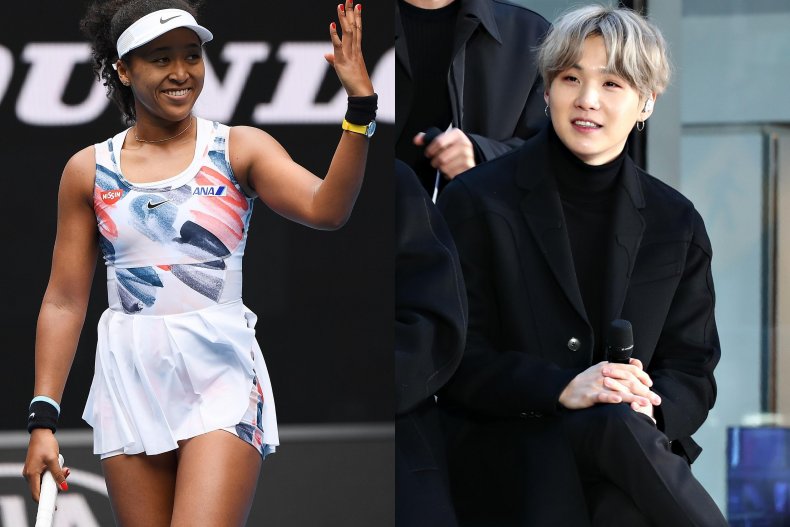 Osaka wasn't the only fan of Suga at the game on Thursday. Several Warriors players appear to be fans of the Korean rapper as well, including Steph Curry, Jordan Poole and Andre Iguodala.
Prior to the game, BTS shared a photo of Suga holding up a custom-made jersey with the number 3, which originally belongs to Poole. The photo was retweeted by Curry, who wrote, "Love the jersey SUGA!! See you soon."
Videos of Suga speaking with Iguodala about his music were posted by NBA Japan, and Poole was seen with a signed BTS album as a gift as well.
Curry took a video with Suga for his kids, Riley and Ryan, who are reportedly big fans, and later gifted Suga with his own shoes from the game.
The Warriors are playing the Wizards in two 2022 preseason games this weekend at the arena in Saitama, Japan, marking the first visit to the country for both teams and the 15th and 16th NBA games ever to be held in Japan.
Newsweek reached out to a representative for Osaka, Suga and the Warriors for comment.