'Narcos: Mexico' Season 2: Where Is Netflix's Drug Kingpin Félix Gallardo Now?
Miguel Ángel Félix Gallardo may have been living in the lap of luxury in the first few episodes of the Netflix original series Narcos: Mexico Season 2, but the Mexican drug lord's lavish lifestyle won't last long.
As history has shown, Gallardo would eventually be brought down by the Drug Enforcement Administration. Now 74, the man who was once Mexico's most powerful kingpin is behind bars serving a 37-year sentence for the kidnapping and killing of DEA agent Enrique "Kiki" Camarena, in addition to an initial 40-year sentence on drug trafficking, bribery and weapons charges.
Gallardo, also known as "El Padrino" or "The Godfather," grew to power in the 1970s after he managed to band a number of Mexican gangs together to establish one single enterprise known as the Guadalajara Cartel. As depicted on Season 1, Gallardo fostered deals with Colombian cartels to pump drugs into the United States through Mexico during a time when the government was increasing its efforts to prevent illegal trafficking in Florida.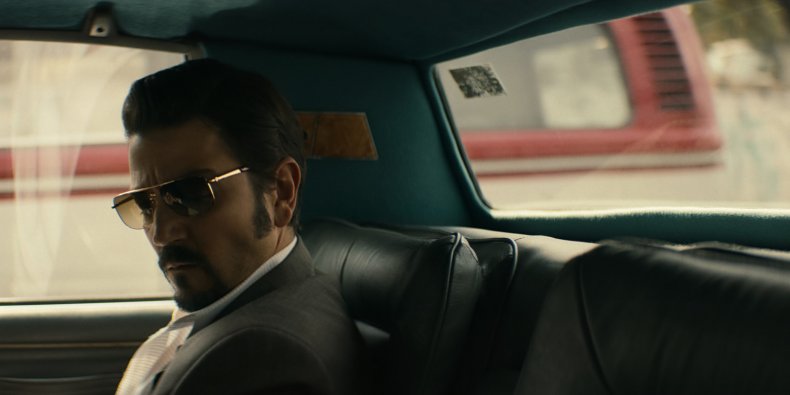 Camarena put the spotlight on Gallardo after he posed as an undercover worker at a marijuana plantation run by the cartel. The seizure and eventual destruction of the plantation crippled the Gallardo's operations. As an act of retaliation, Camarena was kidnapped in broad daylight in Guadalajara on February 7, 1985. It took a month for federal agents to discover his body, which was heavily battered and showed signs of torture.
Camarena's death sparked international attention. President Ronald Reagan's administration put the pressure on Mexican President Miguel de la Madrid to capture those responsible for Camarena's brutal murder, and the DEA launched Operation Leyenda—the biggest homicide investigation ever conducted by the department, which is chronicled on Season 2 of the series.
Gallardo was suspected of playing a role in Camarena's death almost immediately, but it would take years for the U.S. government to catch him. While Gallardo's cronies Ernesto Fonseca and Rafael Caro Quintero were arrested in 1985, the chief drug lord managed to remain on the run until April 1989. Authorities found him in Guadalajara and arrested him while he was still in his bathrobe, according to Mike Vigil, former chief of international operations for the DEA.
"We coordinated with the Mexican national police," Virgil revealed in a 2017 interview with Business Insider. "We started to do wire intercepts and we tracked him to a residence in Guadalajara—he never left Guadalajara, that was his power base."
Upon his capture in 1989, Gallardo was convicted for charges pertaining to his drug ring. It wasn't until August 2017 when a federal judge in Mexico's Jalisco state convicted Gallardo for the death of Camarena.