'Narcos: Mexico' Ending Explained: Will There Be an El Chapo Spin-off?
Narcos: Mexico Season 3 may be its final outing but it is left with an open-ending.
Charting the history of the Mexican drug war between the Juárez, Tijuana and Sinaloa cartels, the series gives definitive ends to some characters and leaves the door open for several others.
Amado Carrillo Fuentes (José María Yazpik) apparently dies on the operating table after getting plastic surgery ⁠—more on that later⁠—, while the Arellano Felix family are still in business but are struggling with the loss of Ramón (Manuel Maslava).
However, it is the fate of Joaquín "El Chapo" Guzmán (played by Alejandro Edda) and the possibility of a future spin-off focused on him that is probably of most interest to fans.
How the Narcos: Mexico Season 3 finale sets up an El Chapo spin-off
The second half of Season 3 recounted El Chapo's 1993 arrest and saw him begin life in prison and spread his influence in the penitentiary with the help of Ernesto "Don Neto" Fonseca Carrillo (Joaquín Cosío).
Realizing he could take over the Sinaloa cartel fully, El Chapo makes this desire a reality by betraying Don Neto and the cartel's leader Héctor Luis Palma Salazar (Gorka Lasaosa) and getting them sent to a different, more secure prison.
He calls the shots now and has gotten several inmates to become his bodyguards, even the prison officers do what he tells them to do.
His final scene in the season shows him having a visitation from El Mayo (Alberto Guerra), who says that he thinks it's time El Chapo "rethink his living arrangement".
This is a clear reference to the real-life drug lord's escape from prison in 2001, he managed to evade authorities up until 2014 and was the leader of the Sinaloa cartel during this period.
El Chapo escaped prison a second time in July 2015 and he was recaptured in January 2016. He is currently still in prison.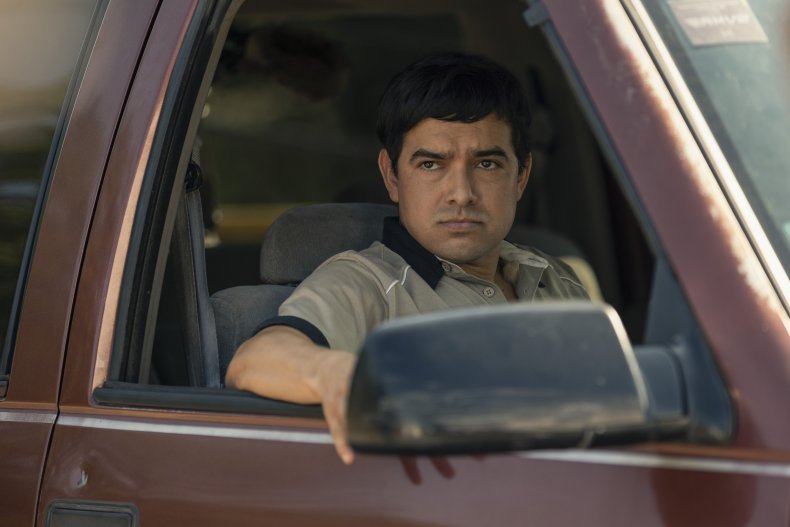 Will there be an El Chapo spin-off?
Given El Chapo's fascinating prison escapes and his time as leader of the Sinaloa cartel, a spin-off focusing on him would be a logical move on Netflix's part.
Showrunner Carlo Bernard spoke to Newsweek about the possibility of the Narcos team reuniting to do a spin-off, but fans will be disappointed to know it's not looking likely anytime soon.
Of Narcos: Mexico's open ending, Bernard said: "Well I think it was trying to... it's not so much setting up another spin-off which there are no plans for, it's more just trying to capture an ending that felt emotionally real, a sense that these stories don't end entirely.
"We know the stories that these people are based on continue so it was trying to find moments where the story could be resolved in a satisfying way but you're still speaking to the larger reality that is, of course, the narrative continues beyond the frame of this season.
"So, it was just about balance, finding some resolution but implying that obviously the story continues."
Is Amado Carrillo Fuentes alive?
Season 3 of Narcos: Mexico also features a post-credits scene which shows Amado's love interest Marta (Yessica Borroto Perryman) at the house he'd set up for the two of them in Chile which suggests he was still alive.
Earlier in the episode it was suggested that the drug lord had died while getting plastic surgery, which is historically accurate, but the show doesn't show his body following his apparent demise.
DEA Agent Jaime Kuykendall (Matt Letscher) tells Walt Breslin (Scoot McNairy) that the body the Mexican police ID'd as Amado had "vanished", and when Marta returns to the house in Chile there are two glasses of wine at the piano.
Not only were there two glasses but the toy airplane that Amado had been carrying with him the entire season is also seen on the piano, and there was no point at which he could have given this to Marta because he was still seen holding it while trying to evade the police.
While Amado isn't physically seen after he enters hospital, the post-credits scene does suggest that he had lived to see another day and had successfully managed to escape detection and reunite with Marta, leaving the drug trade behind him like he had planned.
Narcos: Mexico Season 1-3 is available to watch on Netflix now.